16 Apr 2022
Now a golfing haven, Abu Dhabi has become an oasis of every imaginable human want, settled on an island along the Persian Gulf.
By Benny Teo
A region of exoticism with real-life Aladdin-styled sheikhs speeding along in Bentleys and Bugattis, the Middle East is a world artificially created from the heat of the desert to become a man-made oasis of a post-modern paradise.
This slick and glistening capital of the United Arab Emirates presents a fascinating mix of tradition as well, with history tracing back to 3,000 BC. Here, you'd find such visages of Bedouin lifestyle in The Corniche Park, the White Fort, the Heritage Village and Women's Craft Centre. But you'll also see a rendition of the Lourve here and of course, that opulently fabulous Ferrari World.
Golf in Abu Dhabi got its first 'Hello World' when Tiger Woods played for the first time in the HSBC Abu Dhabi Championship back in 2012. It was far more than just a feather in the cap for the oil-rich emirate because Woods's last day head-to-head with eventual winner Robert Rock was just part of Abu Dhabi making an even grander statement, which is to capture a significantly bigger slice of a global golf tourism market flushed with billions of dollars of green fees and other travel revenue.
Traditionalists back then found it quite mind-boggling that such desert outposts had begun to compete with the world's great golf destinations. Dubai has led the way for Gulf golf for several years now, with the Emirates Golf Club and Dubai Creek Golf & Yacht Club well established, but what Abu Dhabi has created is arguably superior.
Incredible engineering and irrigation have created the lushest fairways and greens here, with wonderful shapes to the holes and plenty of water hazards.
The Abu Dhabi Golf Club, managed by Troon Golf, with its distinctive clubhouse in the shape of a falcon, has been hosting the Abu Dhabi HSBC Golf Championship since 2006. This year's 17th iteration moved the event to Yas Links, a Kyle Phillips (of The Grove and Kingsbarns) design that is also managed by Troon Golf, and has matured into a course that has proven to be much tougher than its predecessor, judging by the winning score of this year's winner, Thomas Pieters, whose four-day score of 10-under-par is the lowest in the history of the tournament. Robert Rock's 13-under score of 2012 is a not-so-close second.
As a sure sign of a maturing golfing destination, Abu Dhabi now has six great courses, including the Troon Golf managed Saadiyat Beach Golf Club designed by one of golf's original Big Three, Gary Player.
Abu Dhabi enjoys its best weather from November to April – dry and constantly sunny, with little humidity, and cool nights. You might even need a jumper on some mornings if you tee off early enough, but beyond April, it starts to get unbearably hot.
Transport links are excellent, with an ultra-modern airport less than half an hour away from all three courses, and regular non-stop flights with most major European and Asian airlines.
It is not impossible to play three rounds as a long weekender, though a five-night break is far more civilised than three, when you'll probably need overnight flights both ways.
As its name suggests, it is the Middle East, and is located centrally enough for just a 6.5-hour flight from either London or Singapore – and it also has some of the best hotels in the region, including Shangri-La, The Ritz-Carlton, The St Regis and Dusit Thani. For luxury and royalty, a stay at the Emirates Palace should offer many incredibly Instagrammable photos and videos.
The Eagle has landed
A 15-minute drive from the airport – taxis are metered, modern and good value – takes you to Abu Dhabi Golf Club and the adjoining 172-room Westin Golf Resort and Spa. This elegantly designed five-star hotel, dominated by a huge marble-floored, sandstone-walled lobby which leads out onto the practise range, provides a convenient and luxurious base for golfers in the city.
Most rooms have balcony views onto the 18th and 9th holes. The Westin's legendary 'The Heavenly Spa', with six treatment rooms, offers anything from a golfer's massage to full body wraps and the 50-minute GentleMan's treatment. Adding to that are six restaurants, including its main dining outlet, Fairways, whose buffet spread leaves nothing to chance, offering continental, Lebanese, Chinese and Indian varieties – and that's just breakfast alone.
The pristinely conditioned course plays long off the championship tees at 7,440 yards. On some holes the distances are frightening – it's hard to believe the 493-yard 16th is just a par 4 – but that's just one aspect of the challenge. What looks like lush, light rough off the fairway is in fact tightly bunched grass that can be devilishly difficult to get out of. You can be constantly trying to take as low a club as possible just to claw back the distance to the pin that you've lost.
The greens and bunkers, as you'd expect for a course hosting such major tournaments, are beautifully manicured. Most greens are pretty flat but they are lightning fast, so a featherlight touch with your putter is often required. This is not a course to wow you with fabulous views from high tees even though coming up the 18th with the iconic clubhouse ahead of you is memorable.
There is also a more forgiving 3,229-yard nine hole course that you can also play at night, under floodlights, particularly popular once the summer heat starts.
By the Bay
A great strength of Abu Dhabi's golfing puzzle is its variety. If the earlier Abu Dhabi Golf Club can look Augusta-like on some holes with its huge, bright greens, then Yas Links takes you to the east coast of Scotland in 20 minutes. This 7,414-yard championship course, as mentioned previously, is designed by Kyle Phillips, who also created Kingsbarns near St Andrews.
It has deceptively rolling fairways protected by sand mounds full of tall pampas grass and even an impressive stretch of water that consists of 1.8 million cubic metres of fill dredged from the sea to create a mangrove-lined bay. And to cap it all, the greens are lightning fast and full of treachery.
I particularly liked the 481-yard par four 9th, the longest par four on the front nine. A straight drive takes you over water, with any right fade giving you vital extra yardage on the fairway. A long iron is needed again to get you near the hole, which is protected by a long bunker to the right on the water's edge.
As with any great course, your final three holes heading back towards the clubhouse are memorable, all hugging the water to your left. The 19th – Hickory's sports bar, in an Andalucian-styled clubhouse – is a very welcome short hop off the final green. If you need to wind down further, players can take a dip in an infinity pool with views of the Yas coastline or relax in their well-appointed steam rooms.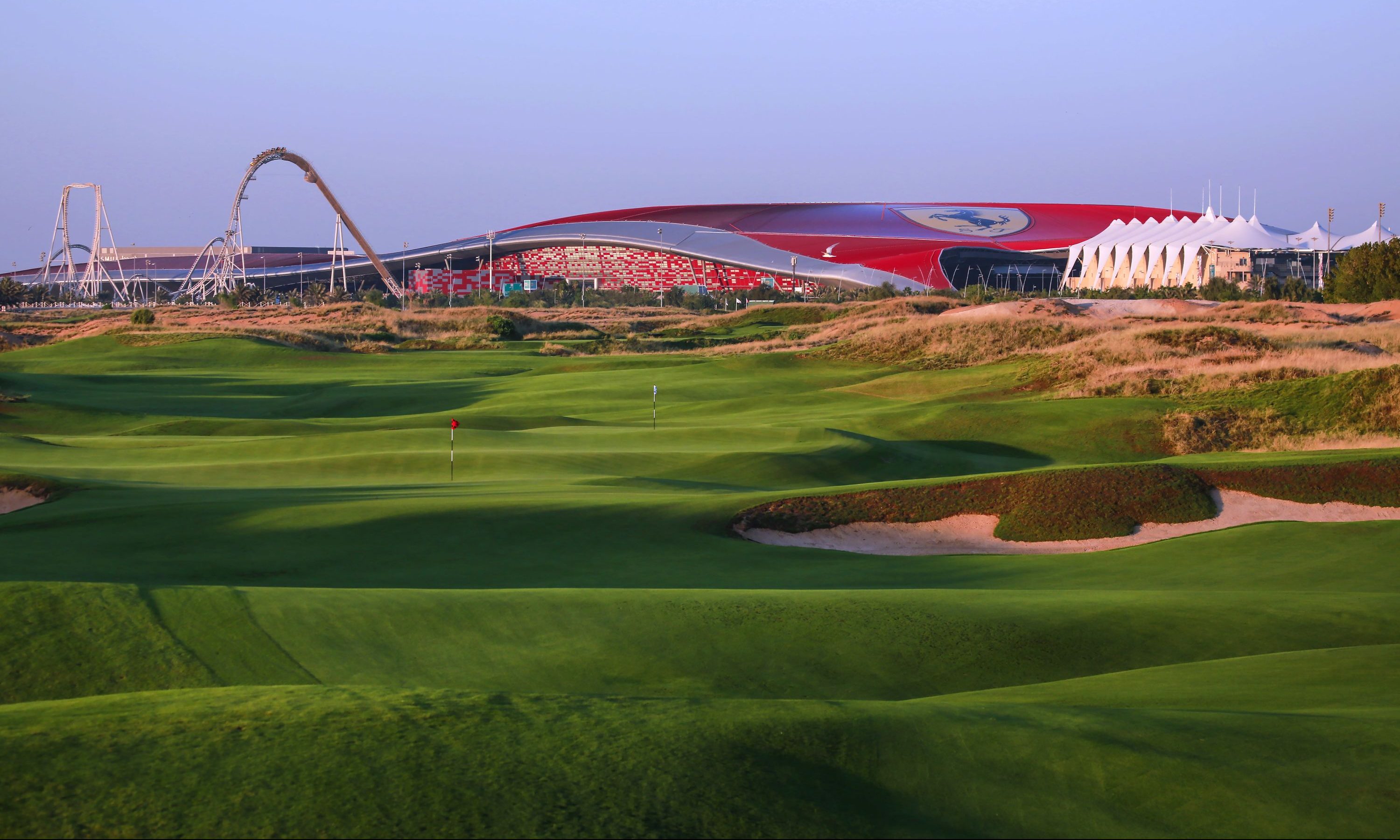 With Yas Links' proximity to the Formula One track and Ferrari World, there are plenty of options for staying nearby. Splash out at the Viceroy, with its stunning grid shell wraparound design and minimalist chic or choose a more budget option such as the Yas Rotana or Radisson.
Beach in the Desert
Lying offshore from Abu Dhabi City and the result of a hugely ambitious $28 billion development project that has sprung up hotels, a marina, and a prestigious cultural zone set to include the first Louvre Museum outside Paris, and a Guggenheim Museum designed by legendary architect Frank Gehry – is Saadiyat Island.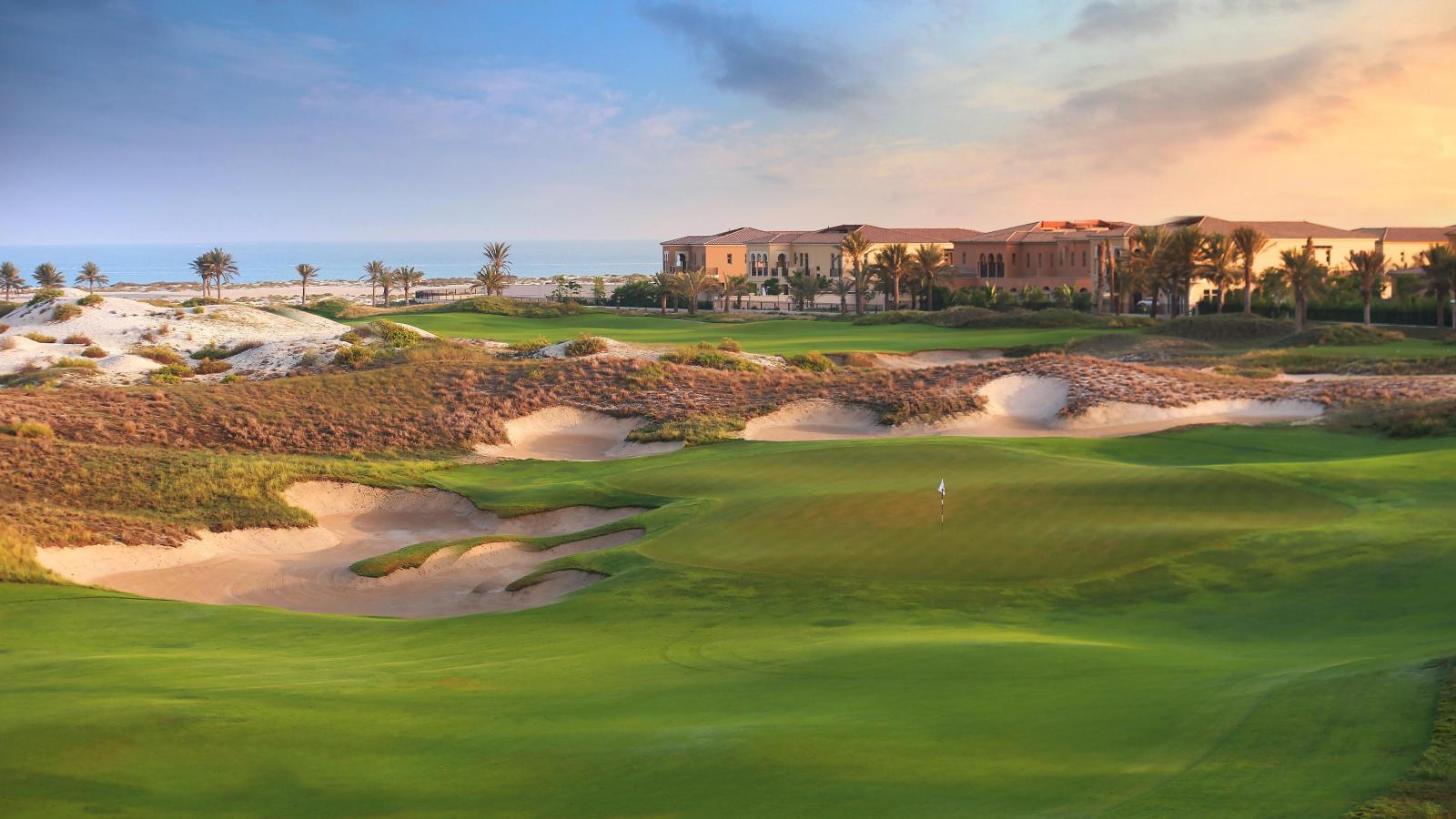 There too is the Gary Player-designed, 7,803-yard Saadiyat Beach Golf Club, which meanders around the huge St Regis hotel, with excellent use made of the seaside location.
What Saadiyat Island may lack in leisure attractions like Yas, it makes up for with a stunning coastline and its long stretch of white sands on a turquoise blue gulf. The golf course too benefits from this. After the fifth hole, named Dolphin's View, you hug the coast at the front of the hotel for the par 3 6th, to be met with spectacular views. On some holes, there is more sand than grass, with access to some greens through incredibly narrow channels and over monstrous bunkers. The 16th in particular looks like something from the moon.
The St Regis is a sprawling, 377-room hotel offering impressive luxury, and the best access to the beach. All the services and facilities you might expect of a five-star hotel are here, including plenty of food and drink outlets, most notably the '55th & 5th', complete with piano bar and sumptuous armchairs to sink into.
For those wanting something a little different, along the same stretch of beach is the Park Hyatt Abu Dhabi Hotel and Villas, offering 306 rooms, landscaped gardens and four swimming pools.
A Thousand Arabian Nights
Many a golf tourist is likely to wonder what kind of apres-tee Abu Dhabi can offer, and in fairness it is not that obvious. You might not expect a thriving bar scene here but there are surprising numbers of über-cool watering holes in the city's many top-end hotels. Try 'Hemingway's' in the Hilton, 'PJ O'Reilly's' in the Royal Meridien, or the 'Belgian Café' at the Intercontinental.
'Lemon & Lime' at the Westin Abu Dhabi is stylish and offers an impressive range of cocktails. For something a bit different, try shisha and snacks on the terrace at 'Hubby Bubbly' at the Holiday Inn.
Abu Dhabi will never be as freewheeling as Dubai, but it doesn't need to be. Anywhere where money talks like it does here is sure to have an impressive restaurant scene, and so it has proved. Branches of international names such as Hakkasan, Marco Pierre White and Benihana can be found here.
Like Dubai, Abu Dhabi spreads out for miles, with all manner of self-contained new districts, but the more interesting strolls are still in the city centre and on the waterfront. The Corniche offers the most pleasant walks with its green spaces, playgrounds, cafes such as le Boulanger (perfect for a hookah pipe smoke with views across the water) and beach access. On late afternoons, Arab families gather for picnics and barbecues while next to them, expect to see Indian workers playing cricket.
Other examples of extravagance include the aforementioned Emirates Palace, which at $33 billion, is the world's most expensive hotel; Ferrari World has the world's fastest rollercoaster, the Formula Rossa, accelerating to 240kmh in just 4.9 seconds and is also the largest theme park; The Sheikh Zayed Grand Mosque is the third largest mosque in the world, which also happens to house the world's largest hand-woven carpet, measuring 5,627m2, and on it goes.
For the ladies, retail options are aplenty with the most famous being the Marina Mall. Sited on a breakwater sticking out from the Corniche and opposite the Emirates Palace Hotel, it is a bustling scene, especially on Fridays, with shoppers trotting across its designer stores and jewellery shops, and money changers doing a roaring trade.
Another mega shopping mecca, the Yas Mall, is situated on Yas Island, that covers an area of approximately 235,000 square meters. Yas Mall is laid out in a series of streets, avenues, boulevards and squares and even has its own Town Centre, located at the centre of the complex connecting four of its five main corridors or avenues. Ferrari World Abu Dhabi is also connected to the mall.
From sights to waterways, golf and retail, all clad in the charm of an eclectic mix between old and very shiningly new. When it comes to living it up, Abu Dhabi certainly knows how to show up a good time, but only when you can splash the cash.