12 Oct 2022
Following the success of the inaugural event in 2021 despite Covid conditions, the second edition of Portfolio Golf in 2022 was a much anticipated get together for the business and luxury lifestyle like-minded.
Organised by Portfolio Magazine, it was the 1st of September when thought leaders and game changers of industry and business gathered at no less than Singapore's premier golf club, the Sentosa Golf Club.
The business of golf and networking got underway at The Tanjong course, site of the HSBC Women's Champions tournament and set against the Singapore Straits with views of metropolitan Singapore all around and inspired by iconic sand belt golfing experiences.
With acknowledgement for their partnership and generous contributions, Portfolio would like to thank patron Credit Bureau Singapore, main sponsor Mitsubishi Electric Asia, lifestyle sponsor Interparfums, Hole-In-One sponsors Cornerstone Wines, McLaren, New World La Plume Niseko Resort and W. Atelier, whisky partner The Glenlivet, golf partner TaylorMade; as well as partners Audio Technica, AXOR, beyerdynamic Asia, Bluesound, BOSS, Carlsberg Singapore, Chopard, Edox, Garmin, Hansgrohe, HJ Real Estate, Horizon Hills Golf & Country Club, Huawei, Insta360, Jupiter 57, Kordel's, Kota Permai Golf & Country Club, Namiki, novita, Oakley, Park Regis Singapore, Pattana, Pilot Pen Singapore, Pure Water, Ruhens, Sennheiser, Smeg, Soleus, Somersby, The Els Club, Wolfgang Puck, XTRA and YOU-C1000.
Flights
Privileged once again to enjoy the continued patronage of the Credit Bureau of Singapore, Portfolio Golf 2022 had guests abuzz with the prospect of scoring a Hole-In-One at each of The Tanjong's par 3s. Hole 4 featured a 5-year term membership to Niseko Golf Courses courtesy of New World La Plume Niseko Resort, Hole 7 featured a Cornerstone Wines wine cellar complete with 120 bottles of wine worth $7,800, while $30,000 worth of W. Atelier luxurious designer furnishings awaited a Hole-In-One at Hole 17.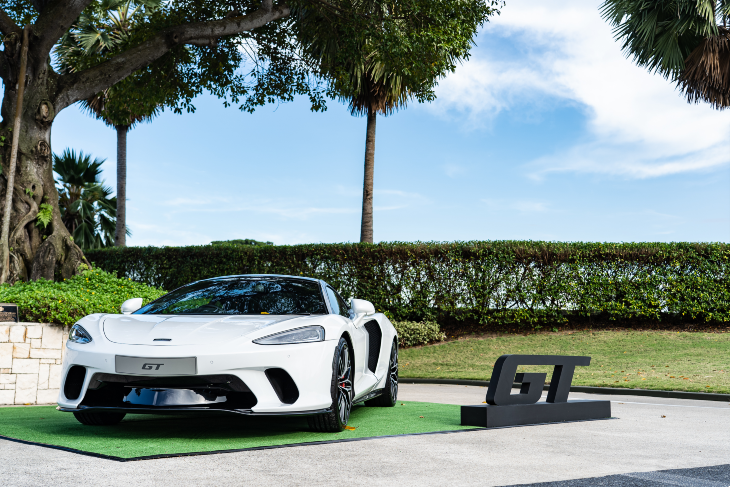 And it was the 184m long 15th Hole that had everyone's imagination afire, though the notion of driving home a $400,000 supercar might have been too much of a load for some golf swings to bear. At stake was the McLaren GT, an extraordinary Grand Tourer that is beautiful, superlight and combines supercar driving dynamics with everyday usability and comfort. Engaging yet comfortable, the McLaren GT will take your golf clubs and you to the country club in exhilarating style.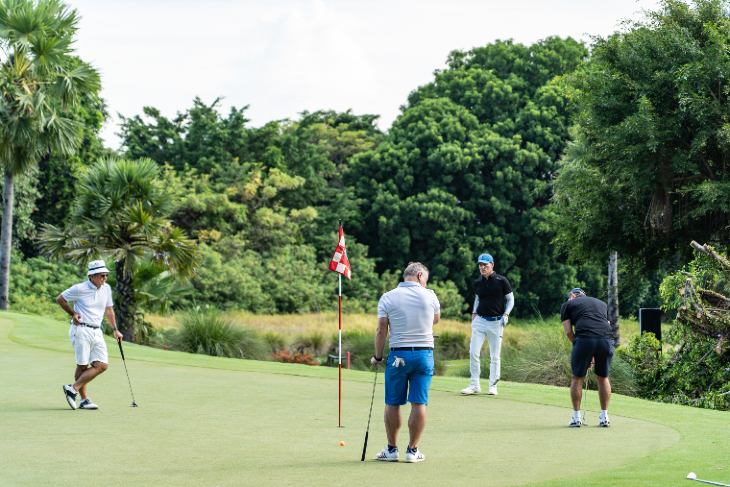 Keeping guests engaged during the course of the game were numerous novelty challenges. For Nearest-The-Line at Holes 9 and 14, Audrey Chia and Leaw Wee Gin each won a TaylorMade Milled Grind 3 wedge. Nearest the pin at Hole 7 was Water Ang, who won a Garmin Approach S12 rangefinder watch, while Lenz Tan picked up the latest TaylorMade Spider GT putter for being nearest the pin at Hole 15. The big hitters had a go at it as well, with Samuel Ang winning a TaylorMade Spider GT putter for his 260m poke at Hole 5, and Victor Lee was rewarded with a BOSS $500 voucher for his 273m drive at Hole 12.
At the short par 3 Hole 4, golfers who were either on or off the green stood a chance at winning a bottle of Hokkaido sake courtesy of HJ Realty. Alex Chua who was on, and Joey Chang who was off the green were well rewarded for their efforts.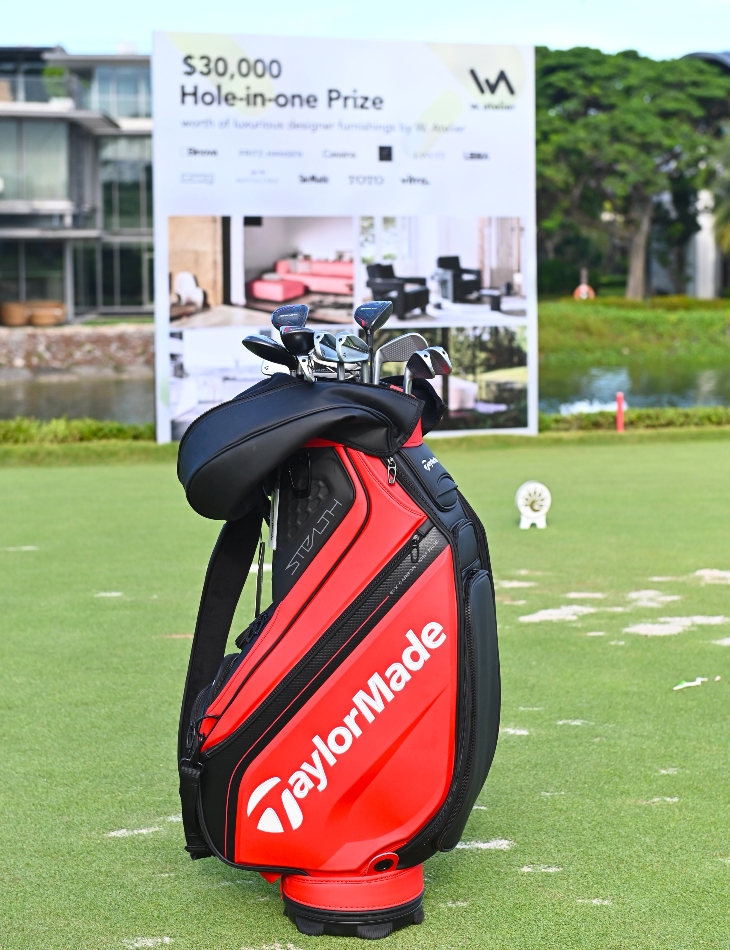 At Hole 6, golfers had the exclusive opportunity to try out the newly launched TaylorMade Hi-Toe 3 wedges. Touted as the one wedge that hits all the shots, the challenge was to chip the ball closest from an uphill position downhill to the hole. For his deft touch that put him 38cm from the cup, Michael Ng was the first consumer in Singapore to bag a set of three TaylorMade Hi-Toe 3 wedges in the lofts of his choice.
The par 3 Hole 17 is 176 metres long with a challenging carry over a water hazard to a sand bunker protected green, and the perfect hole to try out TaylorMade's distance focused P770, P790 and Stealth irons. Simon Ong was the eventual lucky winner of a complete set of the Stealth irons.
The results were close for the tournament, with all top three golfers scoring 38 points based on the Double Peoria scoring system. KC Foo emerged as 2nd runner-up, winning a $300 BOSS voucher, Smeg drip filter coffee machine and trophy. 1st runner-up is Melvin Lim, who received a $500 BOSS voucher, Bluesound wireless music streaming speaker and trophy.
And the champion golfer of Portfolio Golf 2022 is Mervyn Fong, who was rewarded with a $1,000 BOSS voucher, Insta360 ONE X2 action camera kit and trophy.
Many congratulations to all our deserving winners. Portfolio Golf 2022 was a highly curated and enjoyable success yet again, and it was an event only possible because of the friendships and partnerships of Portfolio's valued guests, partners and sponsors.