06 Jan 2022
Dining In Abundance And Fortune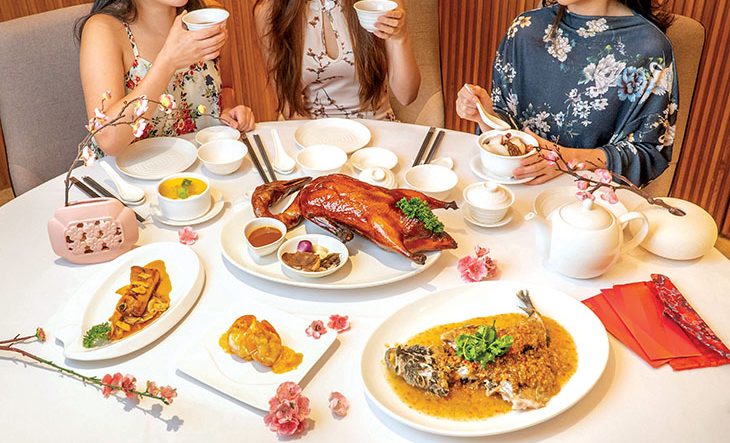 Cantonese cuisine is always hearty and bountiful, and in anticipation of Lunar New Year dining, Yàn at the National Gallery Singapore, serves up a spectrum of enjoyment encompassing superbly executed flavours in a repertoire of traditional Cantonese dishes to usher in the Year of the Tiger.
This bounteous spread of festive delights is available a la carte or in set menus for both dine-in and takeaway. Choose from premium meats and seafood and an eight-course vegetarian set menu
Toss to prosperity with Yàn's signature savoury Abalone & Salmon with Gold Foil Lo Hei in 'Shun De' Style. For dine-in only, the yusheng features a mountain of crispy vermicelli crowned with shredded purple and yellow sweet potatoes, pickled ginger, and gold flakes. A vibrant vegetable garland and sesame seeds symbolise harmony, and fresh slices of salmon and braised abalone bring a year of abundance.
Fish signifies ample surplus, and the Double-boiled Chicken Soup with Morel 'Yang Du Jun' and Fish Maw brims with deep flavours skilfully coaxed from every ingredient. For the customary, the Steamed Soon Hock with Preserved Lemon Peel Sauce features succulent marble goby flesh along with the tangy house-made sauce and crispy garlic.
Auspicious noodle dishes such as Wok-Fried Local Lobster Tail with Ee Fu Noodles and Wok-fried Scallops with XO Sauce and Mee Pok Noodles convey well-wishes for longevity. Lobster, considered to bring good luck with its bright red hues, is also offered in the Wok-fried Local Lobster Tail with Crab Meat & Crab Roe Superior Sauce, a luscious pairing of the delicate sweetness of crab meat and roe with the lobster tail.
A quintessential centrepiece for celebratory gatherings is the Yàn Harvest Pen Cai. The treasure trove features layers of 18 delicacies such as 6-head abalone, sea cucumber, prawns, whole conpoy, collagen-rich pork tendons, king grouper fillet, scallops, roast pork, soya chicken, and roast duck. Each ingredient is individually prepared, then combined in a claypot and simmered in a flavourful braised duck sauce.
Bearing well-wishes are desserts such as Chilled Pumpkin Cream with Aloe Vera and Deep-Fried Sesame Rice Ball filled with lotus paste. Golden pumpkin is well-loved during new year celebrations as a symbol of bountifulness and prosperity. Sesame balls not only represent luck with its round shape and caramel gold colour, but also growth in endeavours through its expansion from a small dough ball to a puffed parcel after it is deep-fried.