11 Jun 2020
By Benny Teo
Photography by Dave Law
Kuching's Culturally And Golfing Rich Experience
Apart from sharing the last name of a well-known singer from yesteryear named Anita, the Malaysian state of Sarawak is shrouded in mystery to most of us. And she's not even from there.
When we arrived from Singapore, it was rather late in the afternoon.
"A couple hours earlier and we would've been able to play here as well," moaned Dave, my friend and photographer from the SAFRA Club's golfing charter.
We have been itching to hit some from the get-go but instead spent the afternoon roaming the streets around Hotel Grand Margherita, where we stayed for this golfing escapade. As we eased into our first night here, we had already learned many things.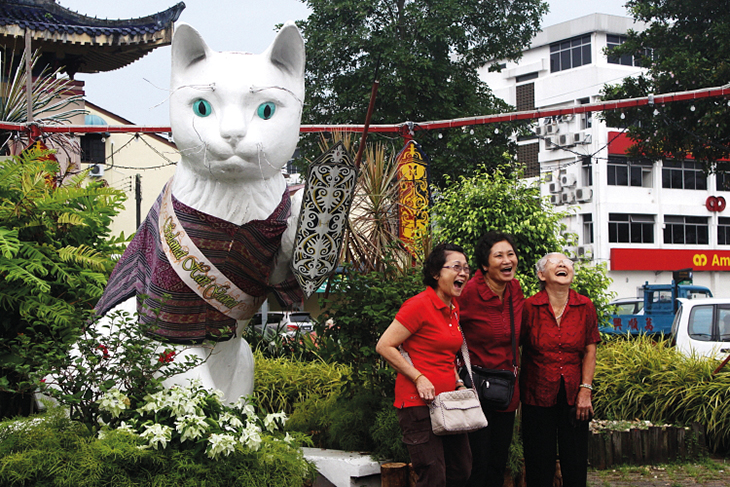 Such as that once upon a time, fierce battles were fought between the various indigenous tribes in Sarawak but they now live in perfect harmony; or that the town was run by two different councils and a demarcation exist between a Chinese side and a local side; or on a lighter note, their obsession with cats, their famous Kolo-mee (a noodle dish) and their love for band music, uncovered when we stepped into our hotel's lobby bar featuring the well-honed voices and talents of a Filipino band.
Later, we were to discover even more places of nocturnal interest at various clubs with names such as 'Mojo', 'Soho', 'King's Arm' and 'Terminal One', the last of which ended with fine friendships made with its affable boss and wife, and a bowl of the world famous Sarawak Laksa. But more on that later.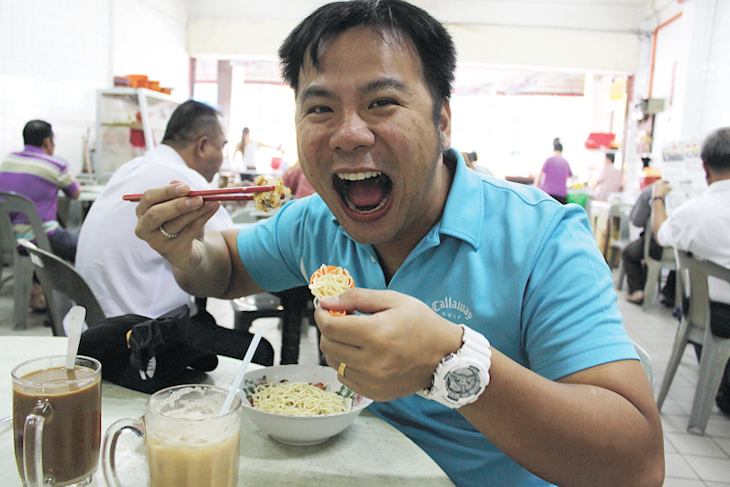 The Grand Margherita Hotel is adjacent to the Sarawak Plaza Shopping Complex, and we soon realized that we are located very centrally within the main shopping, entertainment and financial district, and that almost everywhere that means anything, is well within walking distance!
Tourist attractions such as the Kuching Waterfront, Chinese Museum, Tua Pek Kong Chinese Temple, Fort Margherita and Main Bazaar are but some. To me though, the kicker was having a scrumptious bowl of Kolo-Mee and carrot cake with black sauce at a coffeeshop before teeing off at the Arnold Palmer designed Damai Golf & Country Club, which incidentally, was the late King's first design in Malaysia.
GOLF AT DAMAI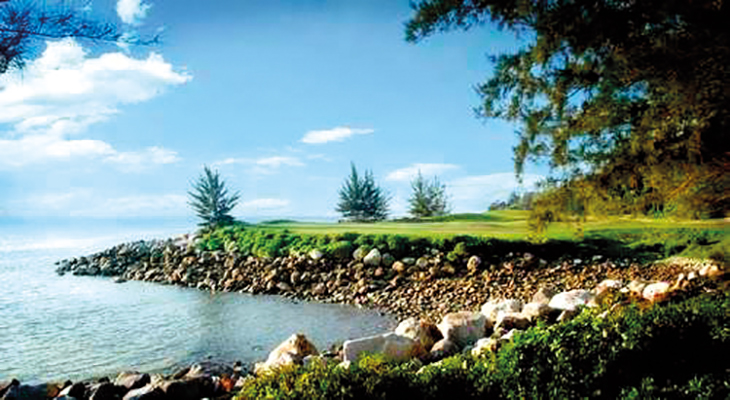 Because this had been Arnie's first course in these parts, there is a slightly traditional feel as you step up the first tee. A short walk from the clubhouse and a broad expanse of green awaits you.
Pleasing to the eye? I popped my first tee shot to the right, deep amongst mature trees; Dave whacked it alright but our other flight mates had one in the water on the left and another in the bunker straddling water and fairway-left.
This sets up our round here at Damai Golf Club – pretty, scenic, and yet treachery awaits the uninitiated. With the South China Sea across the holes stretching from 15 to 18 and the looming hills set against the front nine, this golf course presents contrasting views that involves not just calculating distance, but also elevation, especially when on its greens.
This cannot be more obvious than on the par 3 3rd hole. Faced with a blind tee shot onto an elevated green, a mid-iron should safely carry the slope and onto the green. Once on it though, putting can be a tricky affair with slopes doing opposite from what they seem. Read it well, or better still, let others go first.
The back nine continues nearer the sea with a pair each of par 3s and 5s splitting the fours. It is also somewhat more interesting with holes 11 to 13 meandering around an irrigation lake and three smaller water catchments joined by ravines where teeshots and bounces dictate safety and positioning. Staying dry here can be a challenge for those whose teeshots tend to go astray, like me.
Finishing holes provide the most scenic views of the course, culminating in the signature par 3 17th that sidles the South China Sea left, front and back of the green. Not too bad considering right isn't the hardest place to be for most.
CULTURE IS COOL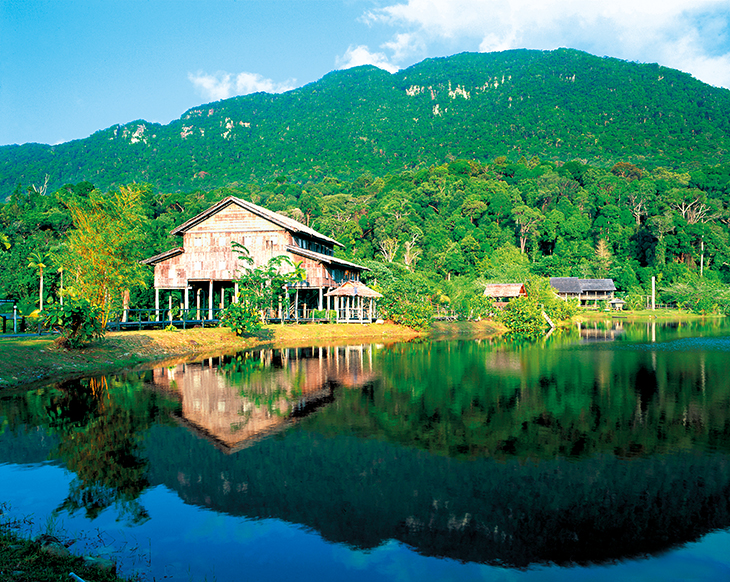 That night, dinner was at the Sarawak Cultural Village, where the internationally acclaimed Rainforest World Music Festival is held annually.
"Selamat Datang!" greeted a very pretty local Iban girl, and there were more of them, Bidayuh as well. Soon, we were garbed with headgear and draped in sarongs draped as we began to immerse into a traditional dining experience.
The walk in on an upraised wooden path took about 10 minutes. It wasn't tiring by any standard but it was a warm night that had gotten us slightly sticky as we passed through what seemed like a Malay village.
When we finally arrived at the main hall, we were greeted with a very warm reception of music and revelry.
Servings of local delicacies came in a flurry over the next two hours – roast chicken, curry, coconut – and a panoply of local dishes meant the evening went well. There was a cultural performance that samples the life and times of the 26 indigenous tribes that live in Sarawak, telling their stories in song and dance, and even a blow-dart shooting display.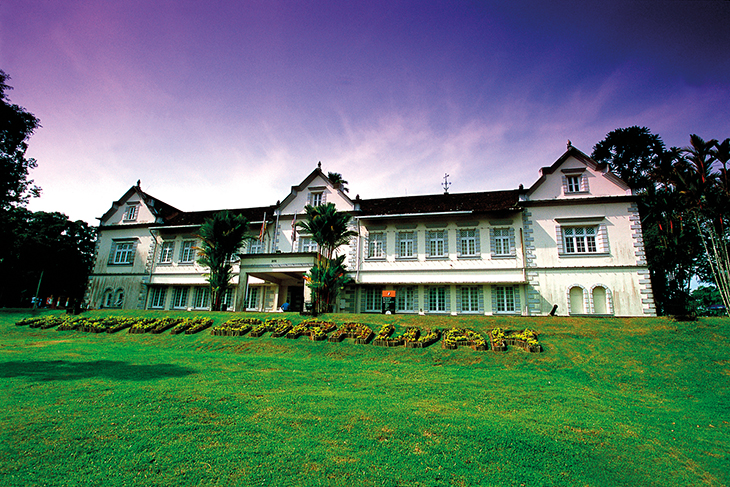 The next day, we had an interesting visit. Not normally one to visit museums and landmarks, going to the Sarawak Museum changed my perspective.
Sited within a restored Normandy townhouse specific to the period when British explorer James Brooke first set foot in these parts, you will find a vast collection of animals, skinned and preserved and stories in abundance. These life-like exhibits are within touching distance from the visitor. At one point, I was reminded of the movie, "Night at the Museum", and started looking out for anything that might magically come alive.
Especially breathtaking are skeletal remains of real creatures ranging from a 100-foot long python to two complete skeletal structures of whales in the middle of the room! Upstairs, human ethnographic collection tells of stories of the Ibans (Sea Dayaks and Bidayuhs (Land Dayaks) in their natural state. Outside, I took a picture with a World War Two cannon that ended up as my Facebook profile picture for a while.
UP THE BORNEO HIGHLANDS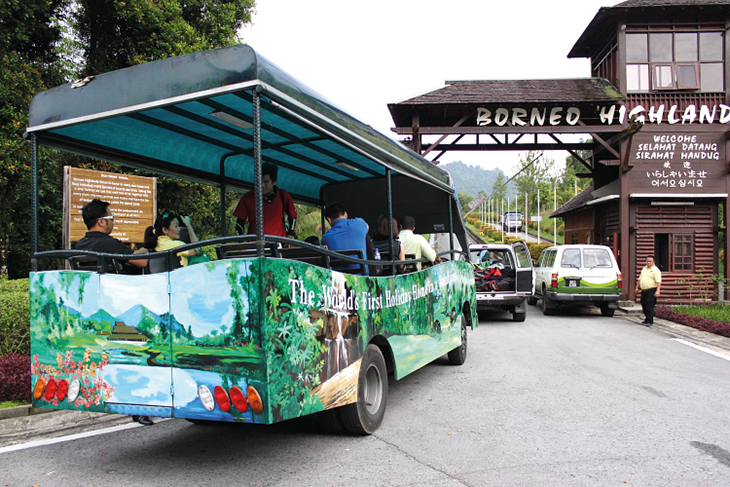 It was a three-hour commute to a unique site located high up in the mountainous rainforest that is over a million years old. The place was called Hornbill Golf & Jungle Club.
There, we met Alex Lim who works at the club, "Over here, we set the rules, not the R&A," he says.
"We want to create an environment where visitors come and feel at ease to do whatever they want, whenever they want to. They've got enough stress in their already but here, they recharge," noting that many Singaporeans come to Hornbill as much for the serenity of their spectacular 1.5-million-year-old virgin rainforest as its Neil Crafter-designed golf course.
What Alex meant, we found out later, was that anyone could tee off anytime up here and play as many (or few) holes that they want. There is a daily limit on the number of flights that prevents any delay and it is very common to walk in and out without knowing or seeing anyone else on the par 72, 6,249-metre long course.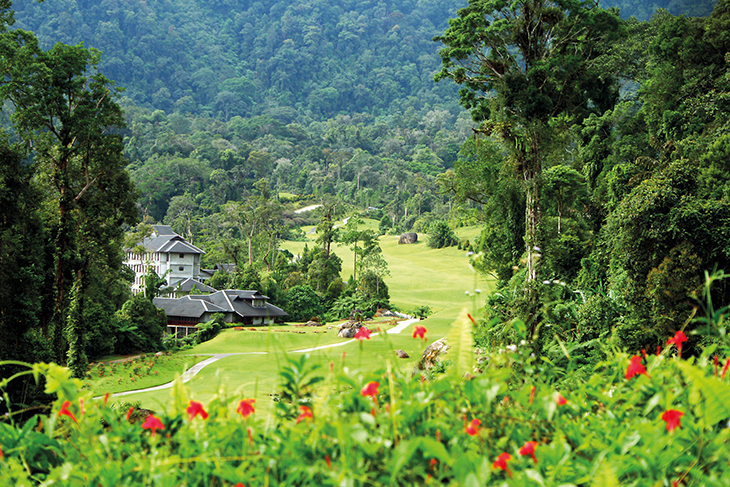 Because it is set along mountainous terrain, each hole displays individual characteristics that are unique to itself; some long, some extremely short, but most contain treachery for the wayward shot with dense forests and tight fairways and small greens a norm.
While undoubtedly a challenging course, it is also one of the nicest stroll one can get – the feel of crisp, fresh air topped with splendid views makes this the most enjoyable course in Kuching. Somewhere along the 11th or 12th hole, there is even a path that takes you to a clearing some 10-minutes by buggy where a lookout appears, presenting a bird's eye, magnificently stunning view of the Kalimantan rainforest in Indonesia.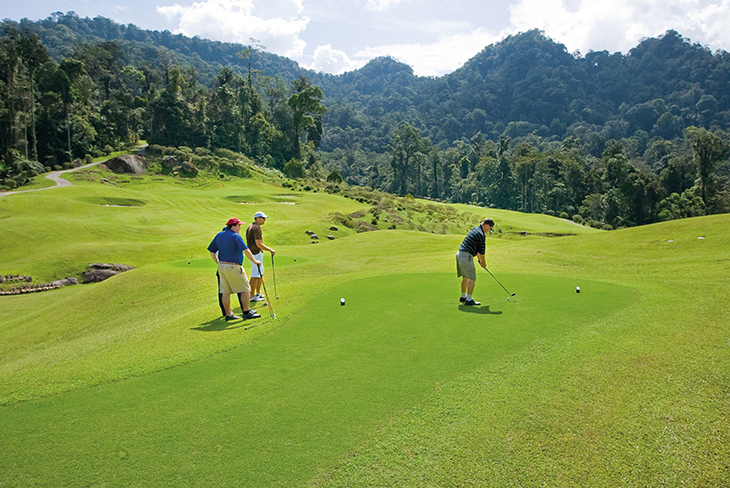 "If there were a customs officer here, I'd get a stamp," I muttered to the rest.
Back at the resort, we find out that our meals were all grown and prepared on site, and that there was no meat on the menu, which may be a bit of bother for some, but in reality, tasted great!
We also made an appointment to soak out at their Jungle Spa, which is pretty much a retreat-within-a-retreat with a splendid hydro spa. There is a Jacuzzi, and suites to indulge in treatments like traditional Bidayuh massage, foot reflexology and aromatherapy as well as face and body scrubs.
UNIVERSITY OF GOLF AND A LEGENDARY NIGHT OUT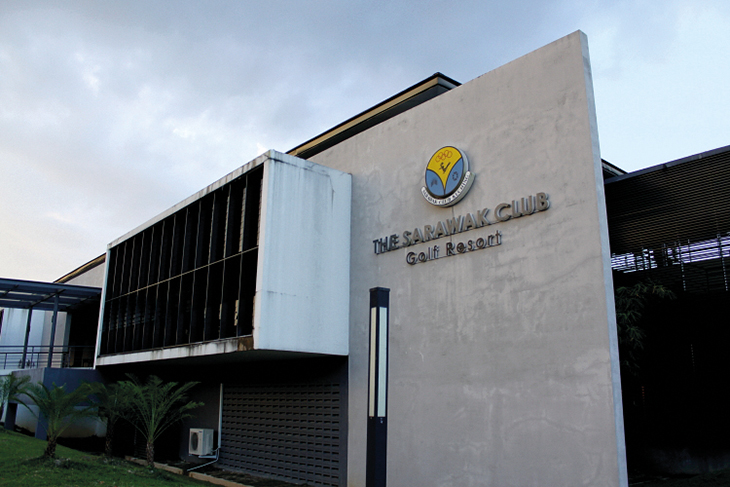 After properly detoxifying ourselves, we head back down to the city for our final round of golf at The Sarawak Club Golf Resort, which profusely confused me at first when I got there.
I had expected some sort of a retreat – the word 'Resort' and the memory of Hornbill adding to the effect – but instead found myself standing on the grounds of the University of Malaysia, Sarawak.
As the city's newest course, this is the brainchild of Tan Sri Datuk Amar Haji Aziz Husain who mooted the idea back in 2003 to add a golf course so the distinctive Sarawak Club membership, as well as guests, can enjoy it.
While the choice of location (and name) is questionable, the golf is something else. Designed by veteran Ted Parslow, famed for building TPC KL's two courses, his work here was artfully done as well.
Front and back nine cannot be any more different with the earlier holes created as a links-style layout harbouring wide fairways and open looks to the green. This contrasts greatly against a back-nine that is the tightest collection of holes in the city and with varying lengths too, presenting a stiff challenge for iron-play.
Even from the back tees, only the foolhardy will want to take out the big stick here. This certainly deserves subsequent visits to properly take in the totality of its challenge.
I returned completely impressed with the layout of this golf course and rightly so, having spent a bit of Ringgit at the halfway hut to top up balls lost either in jungle or water.
Later that evening, we proceeded to a scrumptious seafood dinner at Top Spot Seafood Centre, which is pretty much their version of Newton Circus, except with better food.
This was to be followed by a night of pub-crawling. It is interesting to note that every nightspot here in Kuching is centered around live music, and local bands kick ass. At the King's Arm, the trio sings jazz music and I swear, the female lead sings Beyonce like the diva herself!
But in the end, we spent the final hours next door at Terminal One, where the music is louder and the crowd livelier. Its band belted out hit after hit as we sang, danced, and drank loads. The young boss named Jack gamely joined us in our madness but as they say, all good things must come to and end, which was about 3am.
Jack however, insisted on taking me out for supper after discovering I haven't tried Sarawak Laksa yet. While I still don't remember how it tasted in my then state of stupor, I know it must be good. The taste of friendship and life never fails to titillate the senses.
---
Kuching Golf Courses:
Borneo Highlands Resort – Hornbill Golf & Jungle Club
Jalan Borneo Heights, Padawan, 94200 Kuching, Sarawak
The Sarawak Club Golf Resort
Kota Samarahan, Kuching Expressway, Kuching, Sarawak 94300
Damai Golf & Country Club
Damai Beach, Jalan Santubong, Kuching, Sarawak
Kelab Golf Sarawak – Matang/Santubong Course and Siol/Demak Course
Kerjaya, Petra Jaya 93050 Kuching. Sarawak
Hotels:
Grand Margherita Hotel
Jalan Tunku Abdul Rahman | P.O. Box 2362, Kuching 93100, Malaysia
www.grandmargherita.com/gmh
Merdeka Palace Hotel & Suites
Jalan Tun Abang Haji Openg, 93000, Kuching, Sarawak
www.merdekapalace.com