22 Oct 2020
In Tenafly, New Jersey, the natural elements of metal and stone form the basis for an interior design project that is luxurious yet inviting, dominated by a warm, neutral palette. "We wanted a strong sense of earthiness in the home," says interior designer Jessica Gersten, who noted how that would contrast with the newly built home's white, minimalist shell. "We wanted there to be a connection to nature. There is a little bit in every single room."
Said connection to nature was a mandate of homeowner Danielle Gregory, a designer and curator of jewellery collections for private clients, and her husband, Troy Gregory. Further inspiration for the exclusive design came from the Amangiri resort in the Utah desert, a commanding arrangement of geometric concrete planes that artfully play off the region's rugged beauty, decorated with items in natural materials, hues and textures. This may seem an unlikely influence for an interior design project in suburban New Jersey, but for the Gregorys, the resort's organic principles and monumental scale created a sense of serenity they aimed to replicate.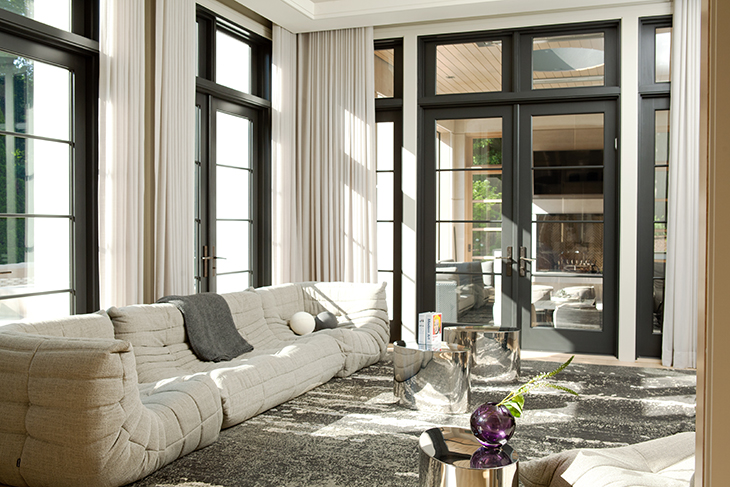 That sensibility can be seen in the bright family room, where caterpillar-like Togo sofas by Michel Ducaroy for Ligne Roset are covered in a charcoal and white fabric from Donghia that gives the appearance of stone, an allusion that's mirrored in the mineral pattern of the custom Tibetano rug. The connection to nature is enhanced via a link to the outdoors through a limestone-clad loggia, which can be enclosed with mesh screens and heated for indoor-outdoor living in the fall.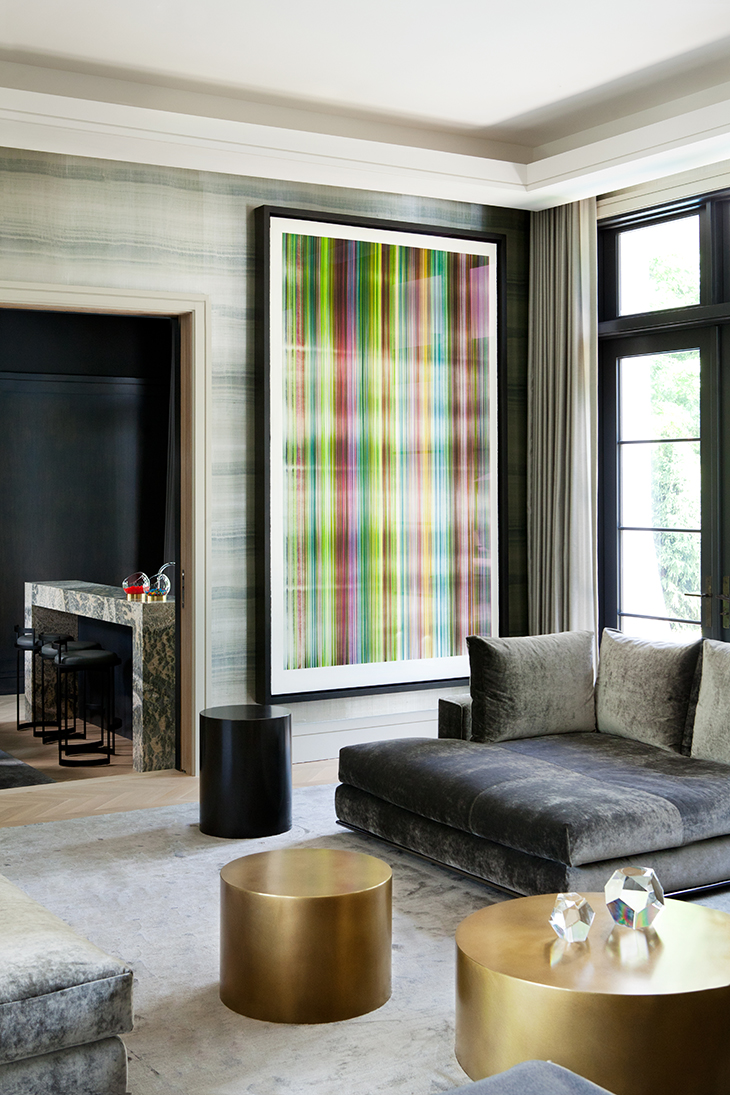 In the modern living room, striped Armani Casa wallpaper conveys the feeling of being in a clamshell. The split Minotti Hamilton sectionals and Mushroom City drum tables of varying heights and diameters, in a combination of brass and blackened-pewter finishes, are strewn about in such a way as to activate the space for a dynamic, lounge-like effect.
For the New York-based interior designer Gersten, the Tenafly home was a chance to dig in on a large, ground-up residence after a series of Manhattan apartments and a previous project with the Gregorys decorating their starter home. Gersten came to interiors following a fashion career with Ralph Lauren and Giorgio Armani that allowed her to hone her sense of colour balance, texture, proportion and overall vision.
"In fashion, it's about how textures, colours and proportions come together in one outfit. The same goes for interiors: playing with the scale of a room and how all the different proportions of the furniture speak to each other, and the texture of the rug and the upholstery and having the right balance of hard items and soft items," says Gersten. "So a little bit of each and not too much of any one thing."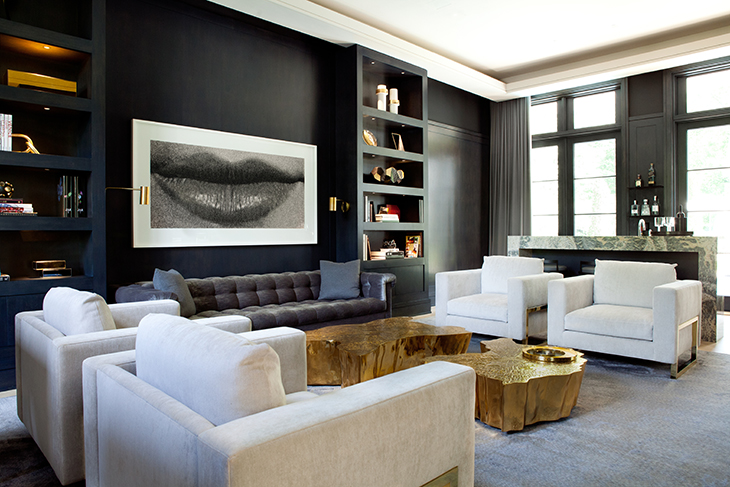 That philosophy is evident in the elegant gentleman's den with a moody charcoal palette, where tree trunk–shaped brass-covered centre tables by Boca Do Lobo and a grey onyx bar offer an earthy contrast to a sartorial tufted A. Rudin sofa covered in lustrous, metallic fabric.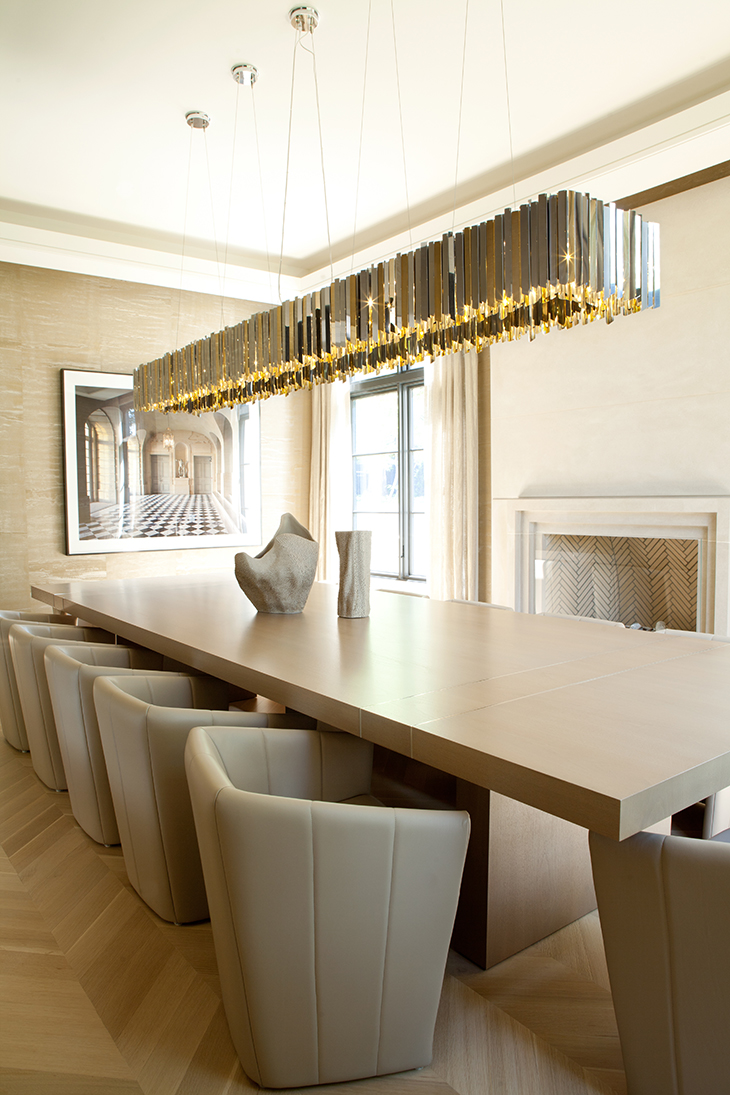 The various themes reach an apex in the contemporary dining room. There, matte surfaces are galvanized by a showstopper chandelier of polished nickel, brass and bronze custom-designed by London-based Tom Kirk, with significant input from decorator and client. The glamour of the chandelier, herringbone wood floors, Robert Polidori photo of Versailles and masonry fireplace create an aura of formality. Still, it remains an inviting space, with its unexpected '70s-style chairs from Living Divani and homey, organically shaped ceramics by Gilles Caffier.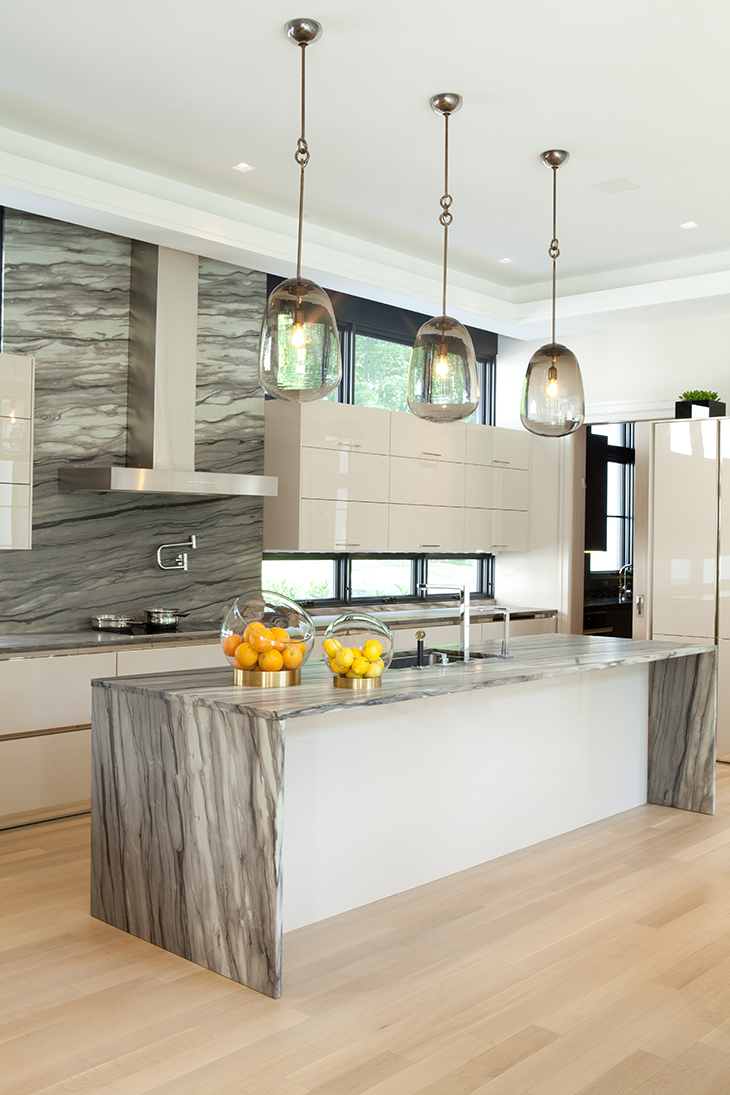 The kitchen design is a similar study in taupe, accented by high-gloss cabinetry, striated stone surfaces and amber lighting by Studio Van den Akker. The chrome-and-leather Arete bucket chairs are another subtle '70s reference – a nod to Danielle's fondness for interiors from James Bond movies of that period – also seen in the vintage Pierre Paulin chair in her teenage son's bedroom. The pervading sense throughout is one of warmth.
The strong sense of earthiness and connection to nature with natural elements of metal and stone, contrasted with gold and silver, reflects the identity of the homeowner and is translated well by the interior designer. The result is a luxury home grounded in the earth while inspiring an elegant sensibility of Zen.