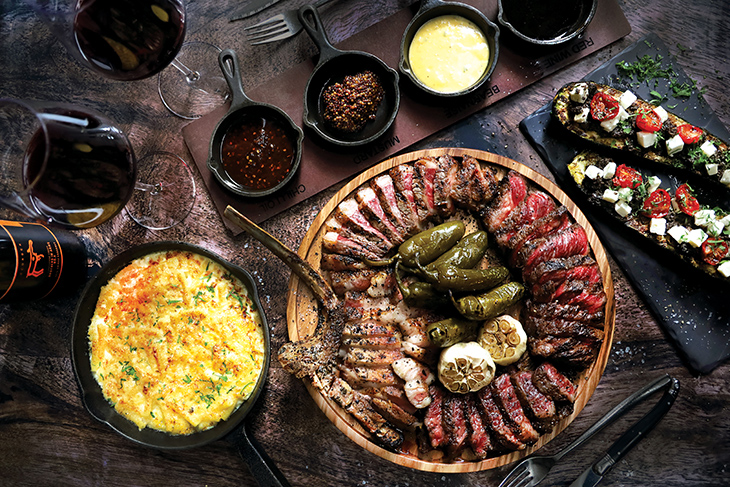 20 Oct 2023
A Steak Connoisseur's Celebration Of Culinary Excellence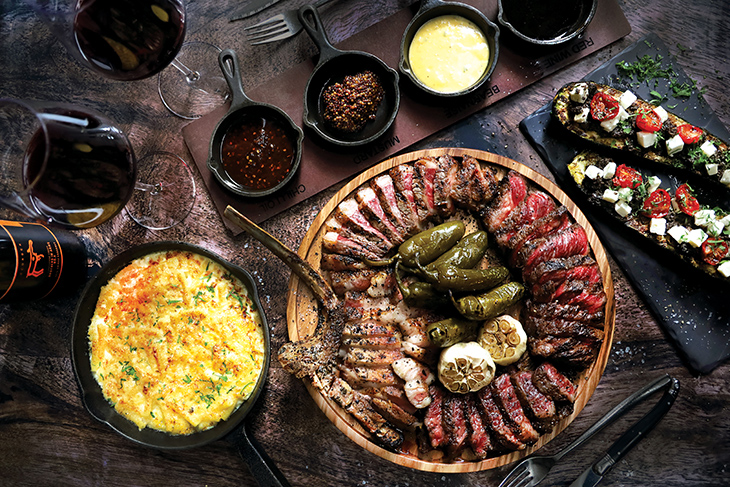 Since 2008, the Bedrock Bar & Grill dining experience has centred around simple, classic dishes made with the finest meats from around the world. Named the "Best Steakhouse in Singapore" by Haute Grandeur Global Restaurant Awards 2022, Bedrock Bar & Grill and Bedrock Origin celebrates its 15th year with anniversary promotions till the end of November.
Over at Bedrock Bar & Grill, the Steak Connoisseur's Platter is a sumptuous experience good enough to feed four, featuring premium and fine cuts of meat grilled over Bedrock's signature applewood fire.
The Irish Grass-Fed Salt-Aged Ribeye is salt-aged for 28 days till tender and succulent. Seasoned with a delicate touch of salt and pepper, each bite reveals the natural richness of this premium beef.
The Australia Pureblood Wagyu Chuck Tail Flap coming from the chuck rib of the shoulder yields a rich rich, beefy flavour, showcasing a buttery tenderness and marbling.
For discerning palates, the USDA Prime Corn-Fed Dry Aged Striploin exudes a depth of flavour achieved through meticulous dry-aging for 21 days and precise grilling.
The Mangalica pork tomahawk takes centre stage on the platter. Known as the "wagyu of pork", the tomahawk is sous vide and marinated with garlic oil and rosemary before grilling, boasting a tender texture and flavourful bite.
Complementing the steak platter are delectable sides of the classic Bedrock Mac 'N' Cheese, featuring a gorgonzola cheese sauce, housemade truffle butter and shredded parmesan cheese over al-dente maccheroni tubes.
The Mediterranean Zucchini marinated in garlic oil, salt, and pepper is delicately grilled, then topped with olive tapenade, pine nuts, sun-dried tomatoes and feta cheese for a melody of textures.
The accompanying four sauces include whole grain whisky mustard, red wine, bearnaise and Bedrock's own chilli oil made with slow-cooked bacon, shallots, garlic, and dried chilli padi.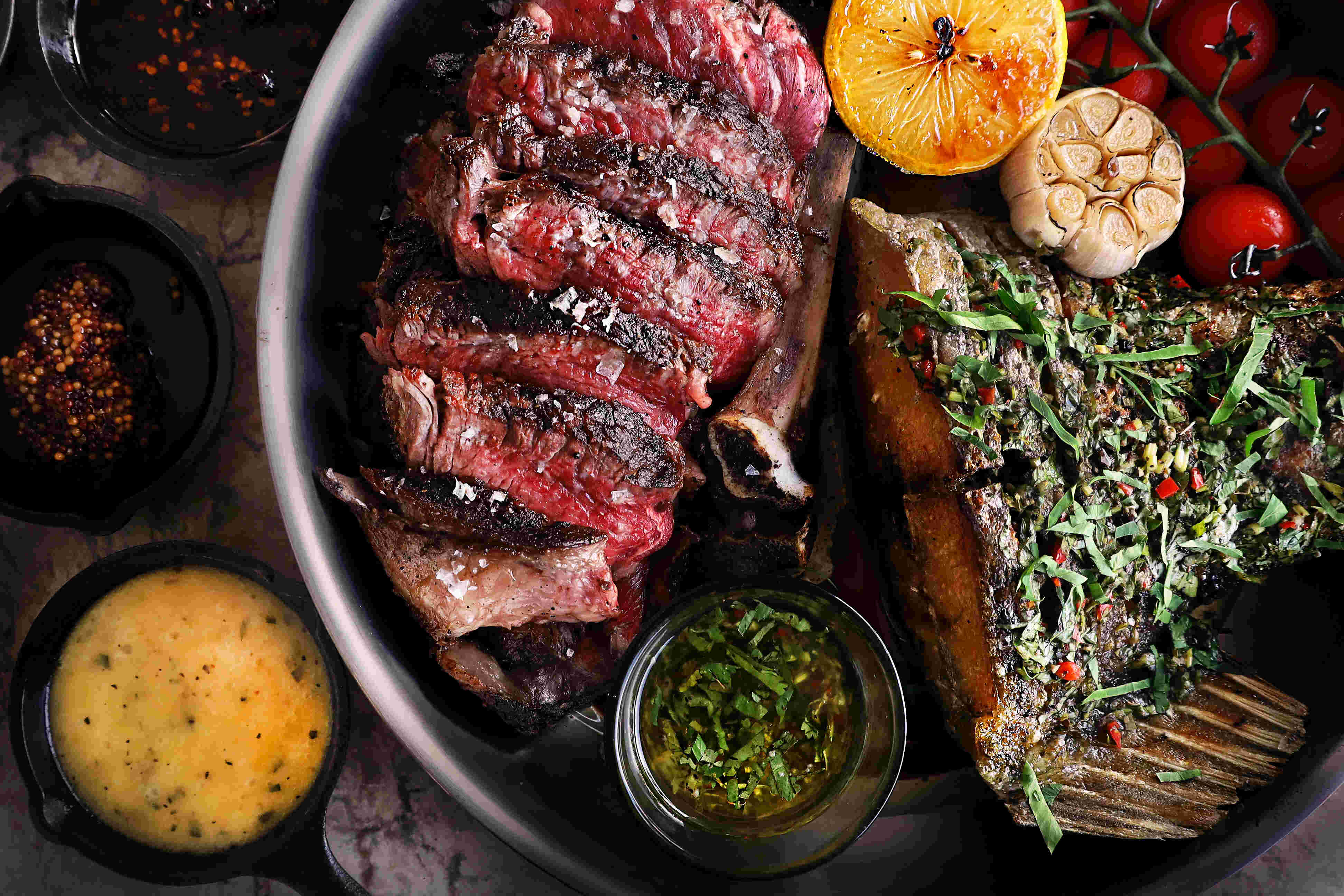 Over at Bedrock Origin, the celebratory Fields & Oceans Feast also serves four, and is crafted to include a tantalising seafood option alongside Bedrock classics.
The Australian Black Angus OP Ribs showcases 1.2 kg of Sir Thomas premium Angus beef ribs grilled to allow the natural flavours of the premium beef to shine through.
The 1kg Aged Barramundi Tail is brined before delicately dry-aged for 3 to 5 days, then skilfully grilled over the signature applewood fire.
Thoughtfully crafted sides include the Char-grilled Spicy Brussel Sprouts tossed with quinoa, chili oil and garnished with grated lemon and the signature Bedrock Mac 'N' Cheese offering a creamy and indulgent mouthfeel.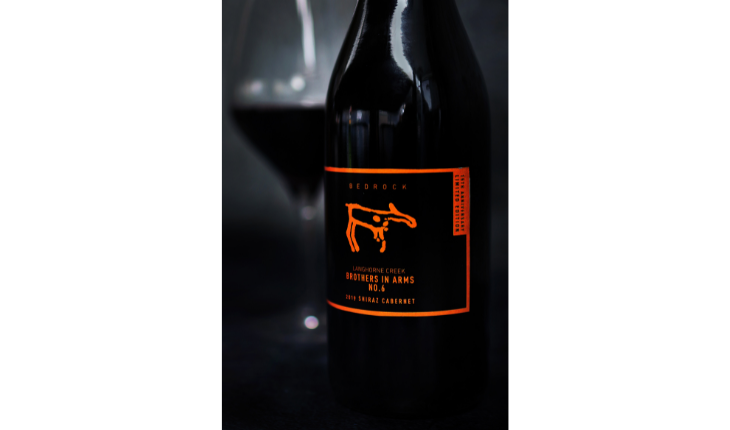 Adding to the celebration is the exclusive Bedrock 15th Anniversary wine from Brothers In Arms No.6 2019 Shiraz Cabernet. From the vineyards of South Australia's Langhorne Creek, this carefully curated blend is a harmonic combination of Shiraz and Cabernet Sauvignon grapes to savour the finest steak cuts and seafood with.
To find out more about Bedrock Bar & Grill, visit bedrock.com.sg.