24 May 2022
Scary triangle or not, getting lost here is a golfer's dream come true as we explore the blue skies and seas of golfing in Bermuda Island.
By Benny Teo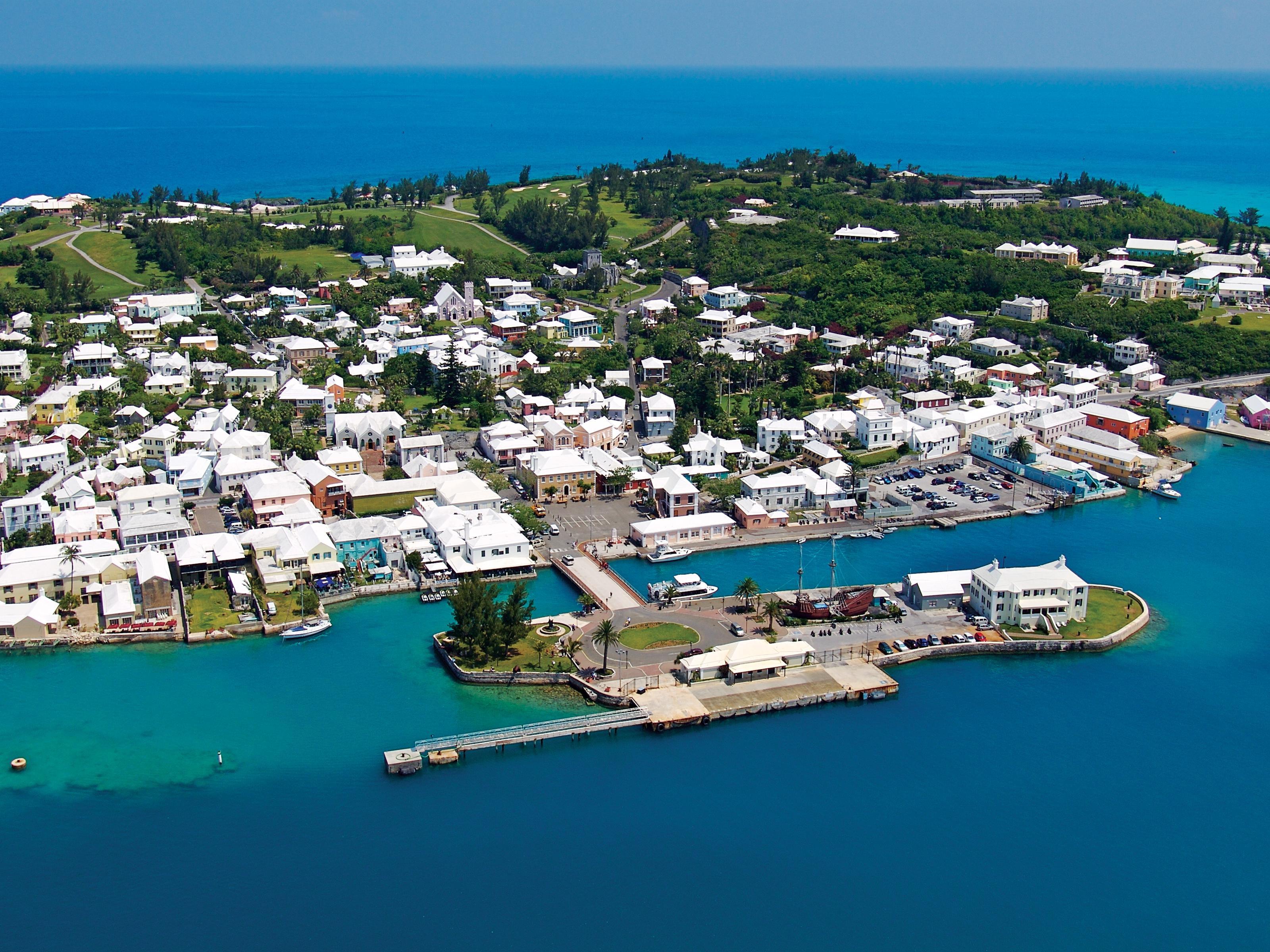 Bermuda is a thin strip of land in the western Atlantic Ocean, some 650 miles from the nearest point of land at Cape Hatteras in North Carolina, USA. Viewed from the air or on a map, the island looks like a fishhook or maybe a scorpion, with the stinging tail being at Bermuda's West End where the Royal Naval Dockyards are.
It is just 20 miles long and only two miles wide at its widest point. That such a small island should contain five 18-hole championship golf courses, plus an 18-hole executive Par 3 course, an 18-hole par 62 course and a 9-hole course, is quite amazing and it is, quite rightly, Bermuda's claim that they have more golf courses per square mile than any other country in the world, not even in Singapore.
They also have lots of tiny little islands, some inhabited, some not, that create coves, harbours and sounds around the mainland which makes for some stunningly beautiful views, particularly that of Great Sound and Hamilton Harbour from the first tee at the Newstead Belmont Hills Golf Resort.
Belmont Hills is a very beautiful little course, measuring just over 6,100 yards, par 69 from the very back tees. Even so, it is quite challenging with some tight tee shots and extremely difficult greens likened to those at Augusta National by none other than three-time Masters champion, Nick Faldo, who has visited many times and incidentally also owns property in Bermuda.
Tacking those difficult greens can start as early as the first hole here at Belmont – a downhill 339-yard par 4 that shares a huge double green with the 10th, another short downhill par four. Hit your approach way right on the first or way left on the latter and you will likely find yourself standing over a huge putt well over 100 feet. Two putt from there and you can walk off the green feeling very proud to have achieved a par.
Belmont's other claim to fame is that the film star Michael Douglas and his wife Catherine Zeta Jones have a house close to the par 3, 17th hole. Douglas' mother is Bermudian, and he and his wife were frequently seen playing golf or shopping around the island before their recent separation.
Nevertheless, there are many reasons still why both should continue their sojourn to Bermuda with Tucker's Point being one. One of the best courses on the island, Tucker's Point Golf, Beach & Tennis Club, is a stunningly beautiful layout with holes that play through jungle, hills and valleys, many of them overlooked by luxurious mansions, and, particularly on the back nine, some holes that provide absolutely breathtaking views over Harrington Sound and Castle Harbour.
The 6,491-yard, par 70 layout, completely redesigned by Roger Rulewich (a former senior designer for Robert Trent Jones) in 2002, is again not long – well, none of the courses in Bermuda are. But it makes up for its lack of length with the stiffness of its challenge, utilising tight fairways on some holes and with others cascading up and down hills. From elevated tees to elevated greens, they all combine for tough approaches and difficult distance judgement that perhaps only a Bushnell rangefinder with slope correction can help. Throw in a regular stiff breeze off the ocean, which can become a howling gale in an instant, and you have one tough test of golf.
But Tucker's Point is very playable and very beautiful. In particular, holes 11 and 17, which play parallel to each other in opposite directions are stunning with spectacular views over the waters of Castle Harbour. Hole 11 is a 225-yard par 3, slightly downhill, to a small green with Castle Harbour waiting to catch anything that goes right while number 17 is a driveable par 4 of 310 yards, from an elevated tee with the best views on the course to a well-bunkered, slightly elevated green.
Next door to Tucker's Point is the most famous golf club in Bermuda, the venerable Mid Ocean Club which was originally designed by Charles Blair Macdonald, a key figure in the formation of the United States Golf Association, and opened in 1921. Remodelled by Robert Trent Jones in 1953, the course is a classic links for the first and last few holes with the remainder running inland through jungle-lined fairways, over mangrove swamps or round beautiful lakes. Here the houses overlooking the 6,520 yard, par 71 layout are even more luxurious with pastel shades being the preference for the buildings' exteriors, in contrast to much of the rest of the island where bright blues, greens, purples, oranges, yellows and reds are the norm.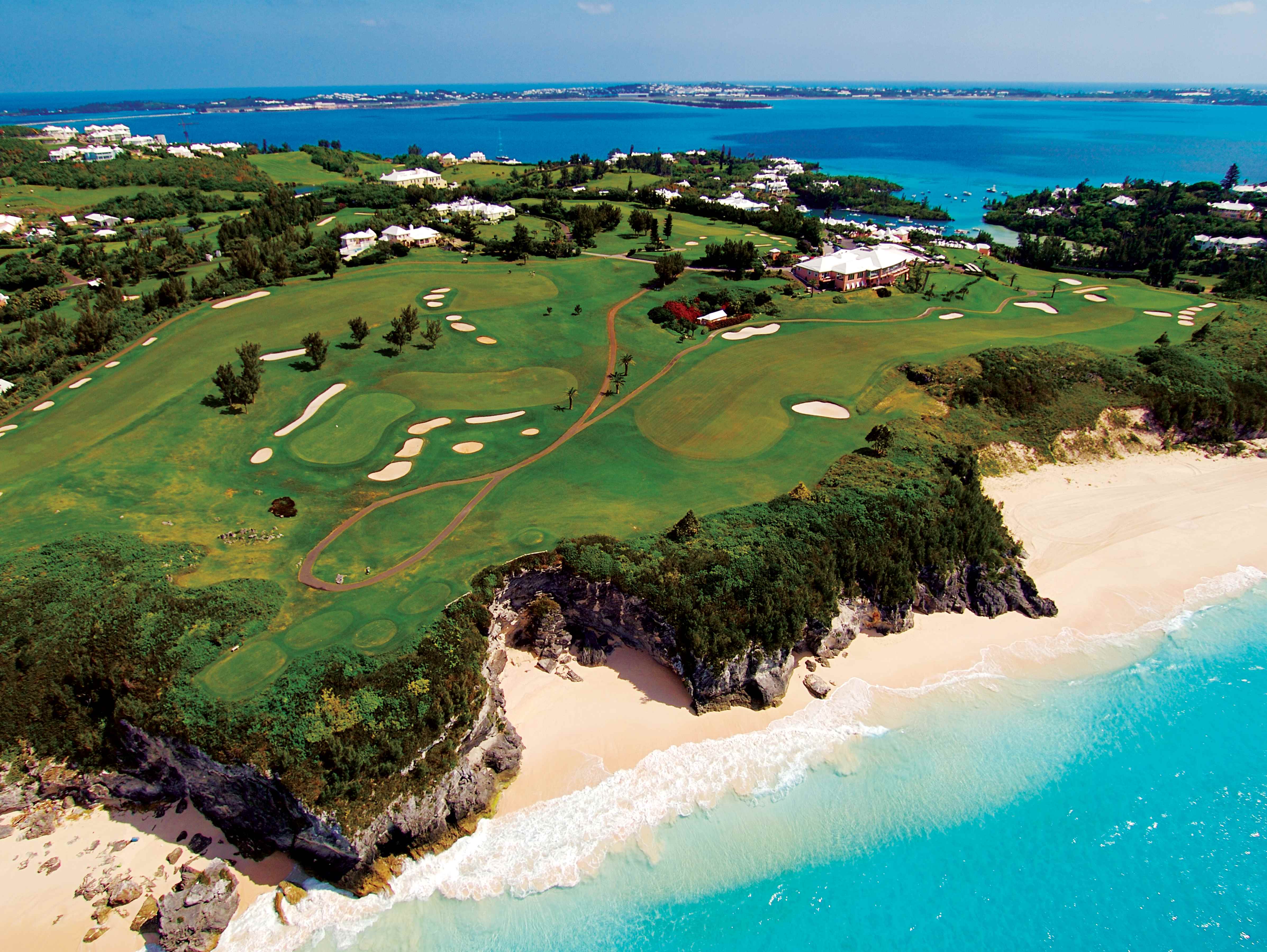 Frequently rated within the world's top 50 courses, Mid Ocean has over the years hosted a veritable Who's Who of world figures, including Presidents Eisenhower and George H. Bush, Sir Winston Churchill, the Duke of Windsor, Babe Ruth and, in Ian Fleming's 'For Your Eyes Only', James Bond himself.
They would all have likely been mesmerised as early as the first green which stands high on a cliff with views across what seems like the entire Atlantic Ocean. Other incredible holes at Mid Ocean include the 433-yard, stroke-index one, par 4 fifth hole, which dog-legs sharply left around Mangrove Lake from a elevated tee, before requiring an accurate mid-iron into a long, severely sloping green surrounded by bunkers and mangroves. And the 18th, a stunning finishing par four of 421 yards that starts from a small tee perched high above the ocean before dog-legging slightly right to a heavily bunkered green. Though a private club, Mid Ocean does welcome all golfers in possession of a valid handicap certificate on Mondays, Wednesdays and Fridays. An advance call is required to book a tee time, but it is definitely worth the while.
Only slightly younger than Mid Ocean is Riddell's Bay Golf & Country Club which opened for play in 1922. Though just 5,854 yards, par 70 from the very back tees, Riddell's Bay can lay claim to having some of the most beautiful holes on Bermuda, most notably the signature 360-yard, par four 8th which dog-legs right around the waters of Little Sound to a green isolated on a thin promontory of land. Viewed from the slightly elevated tee, this hole is a stunner, and tempts you as to how much of the ocean you want to cut off with your drive.
The ninth also plays across the ocean, a massive 247-yard par 3 from the back tees that the members usually play as a par four. And the 10th, a 340-yard par 4, also tees off beside the ocean before asking you to play your second over a small pond to the narrow green.
The final full size 18-hole course on Bermuda is Port Royal Golf Course, a great course that has hosted the PGA Grand Slam of Golf every year since 2009, won this year by Masters champion Adam Scott who broke the course record with a 7-under 64 on-route to a two-shot victory of PGA winner Jason Dufner. This 6,842-yard, par 71 layout was designed by Robert Trent Jones in 1970 and has some beautiful holes, most notably the signature 235-yard, par three 16th, probably the most photographed hole in Bermuda: an all-or-nothing shot across the ocean and cliffs to a well-bunkered green.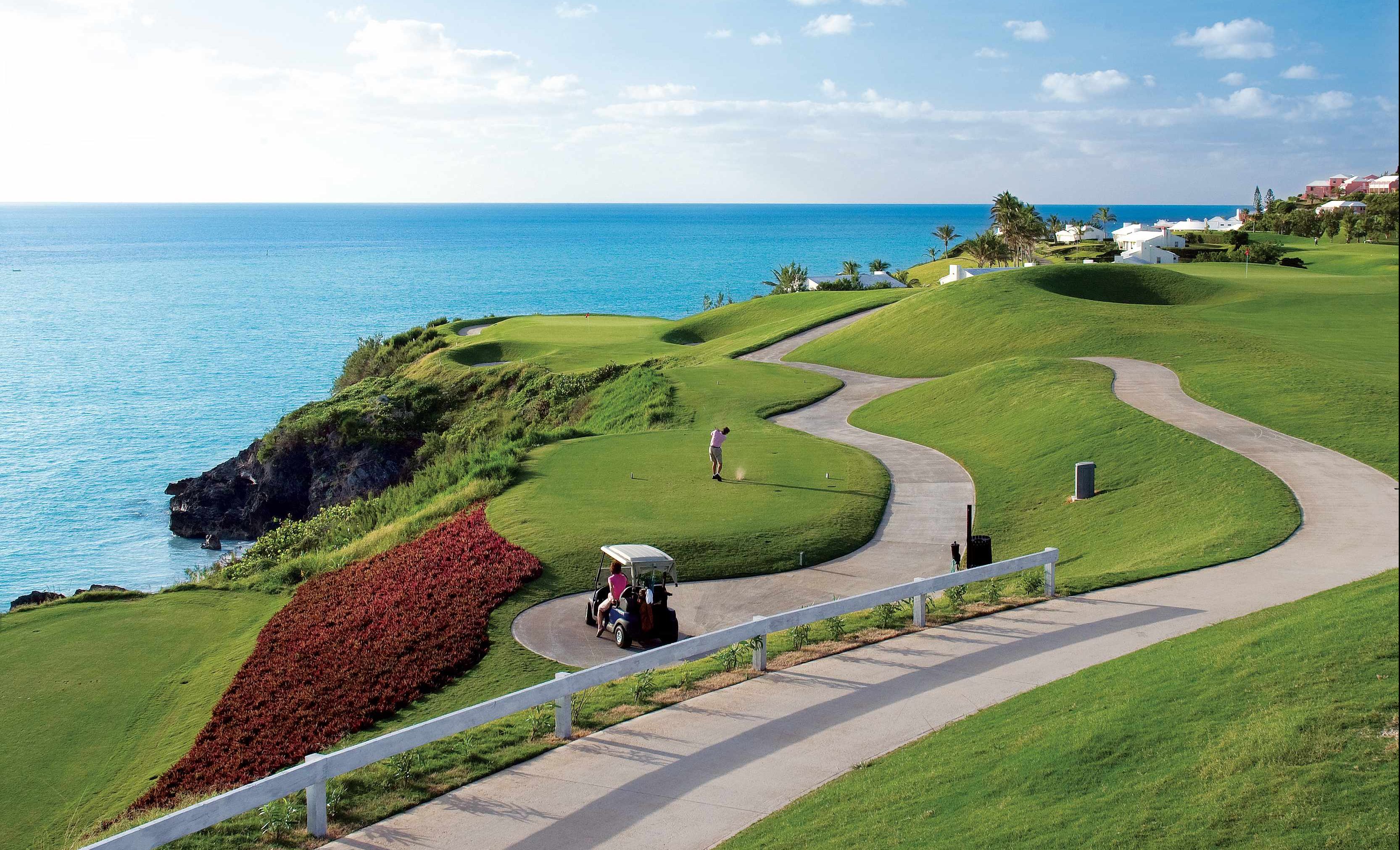 For the rest of it, Port Royal is a hilly course with several steep climbs from tee to green. It also has plenty of other beautiful holes that bring the ocean into play, most notably at the 213-yard, par three 8th, and at the 412-yard par four 15th, and it is a great test of golf.
When not on the golf course, some great places to visit on Bermuda are St. Georges, the quaint and historic town at the very eastern tip of the island; Bermuda's capital, Hamilton, home of the world's second oldest Parliament; and the Crystal Caves, a magical collection of stalagmites, stalactites and underground pools first discovered many years ago by two young boys in search of their cricket ball which had disappeared down a hole in the ground.
Two wonderful places to stay on Bermuda are The Reefs Resort & Club and Cambridge Beaches Resort & Spa. The Reefs is a small boutique style hotel situated on the southern side of Bermuda towards its western end which made Conde Nast Traveller's 2013 Gold List of Best Places To Stay In The World. It has a delightful lounge and bar with old style golf paintings on the walls and a friendly and helpful staff. It also has a small gym, jacuzzi, private beach (with Bermuda's famous pink sand) and all rooms have a sea view.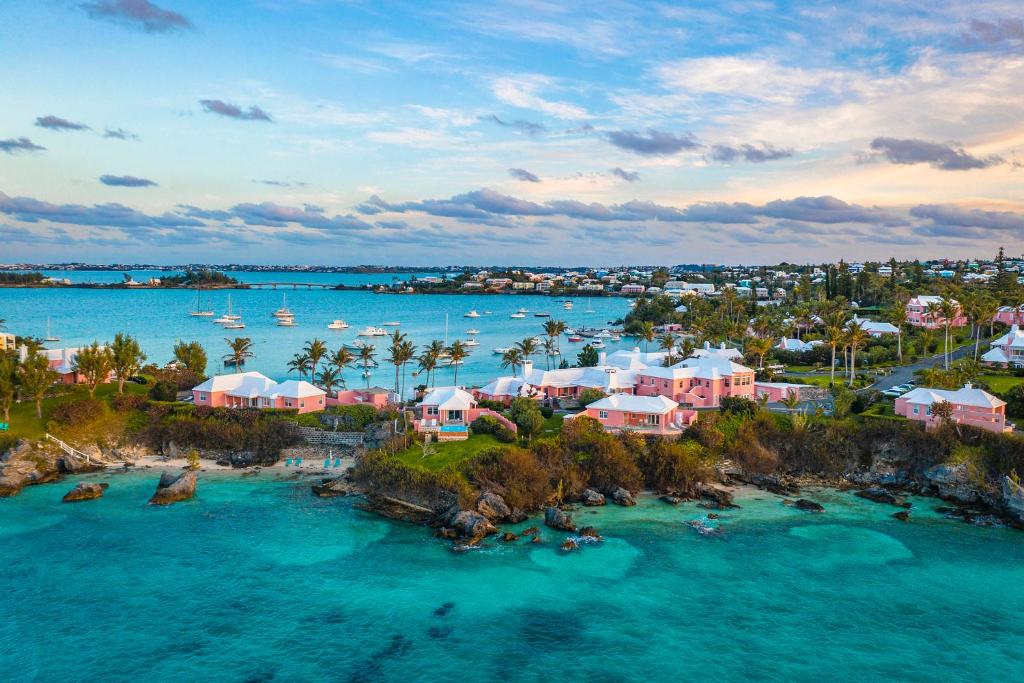 Cambridge Beaches is a luxurious cottage style hotel located on a small promontory of land near King's Point at the western tip of the island (the aforementioned scorpion's tail). It has over 50 beautiful cottages dotted around this headland from where you can see the sea on both sides, three private beaches, a state-of-the-art Spa with gym, swimming pool, sauna and steam rooms, and a central reception area with restaurant and bar.
All in all, though expensive, Bermuda is a great place to go for a golf holiday. Best times of the year are April-June and September-November though the weather is generally good all year round. Why not see for yourself?