16 May 2022
The First Bavarian All Electric Luxury Gran Coupe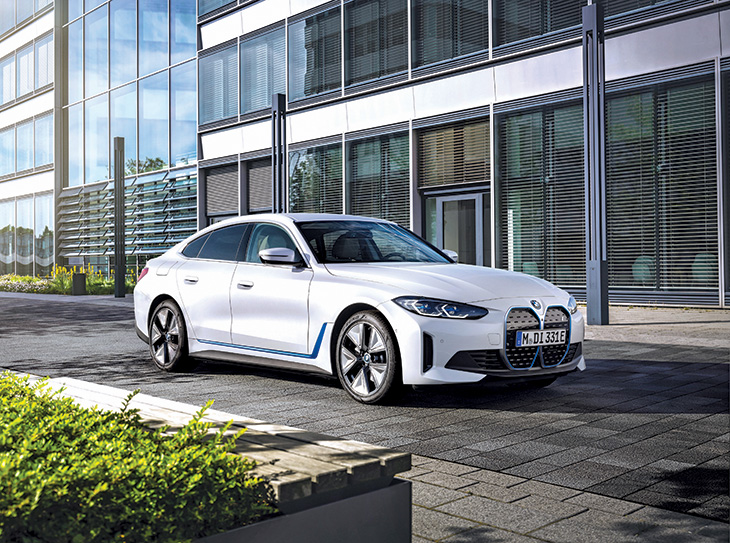 The i4 the BMW's first purely electric model focused squarely on driving dynamics from the outset and is a beauty. The i4 eDrive40 launch variant combines a 250 kW/340 hp electric motor with classic rear-wheel drive. With a peak torque of 430 Nm and a 0 to 100 km/h time of 5.7 seconds, maximum range is 590 kilometres.
A centre of gravity up to 53 millimetres lower than that of the 3 Series Sedan, even weight distribution, a torsionally stiff and weight-minimised body and optimised aerodynamics,
plus a long wheelbase and wide tracks, provide the perfect recipe for BMW's renowned sporty drive and superb long-distance comfort.
The i4's efficient drive system technology and intelligent lightweight design enable smile-inducing dynamics and a long range with no need for large heavy batteries, and its dynamic driving ability extends far beyond the rapid straight-line acceleration typical of an electric car. Progress is effortless even in challenging driving conditions, with handling that is precisely controllable.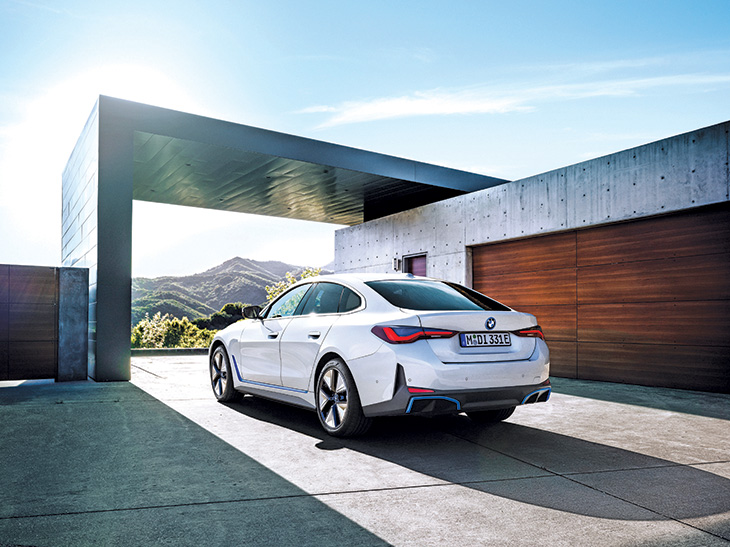 The sporty driving experience is accompanied by a model-specific drive sound tuned for authentic feedback. Added to which, the new generation BMW iDrive control system and innovations in the area of automated driving and parking further enhance the emotional richness of the driving experience.
Battery charging with the Combined Charging Unit (CCU) is extremely flexible with DC charging up to 205 kW possible. Plug into the high-power charging station, and the car's range increases by as much as 164 kilometres within 10 minutes from a 10 per cent charge level.
The i4 blends the sporting elegance of the brand's coupes with the comfort of a four-door model and an injection of modern functionality. Accents in BMW i Blue for the largely blanked-off kidney grille, the battery technology in the floor area and the sporty diffuser elements highlight their sustainability credentials.
Short overhangs, slim pillars, doors with frameless windows and a roofline that flows smoothly into the rear underscore the sleek silhouette of a coupe. Slim headlights and the striking kidney grille with discreet integrated camera, ultrasonic and radar sensors define the front end.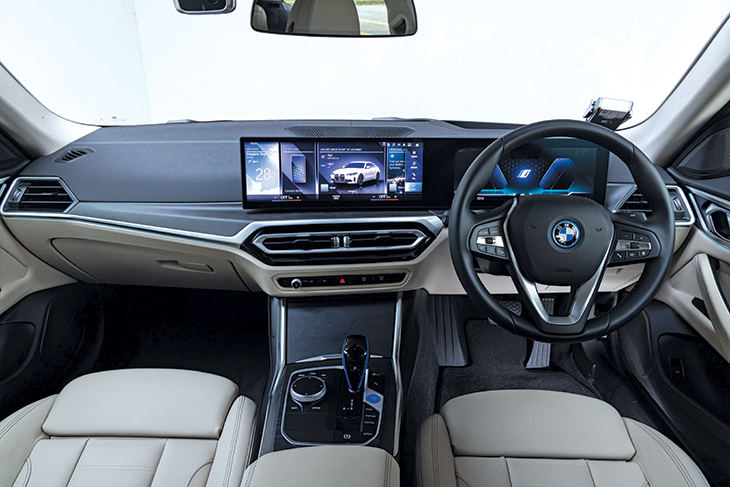 The interior is a fusion of a driver-focused cockpit and premium luxury within a generous space. Acoustic glazing and pre-conditioning, sport seats and steering wheel, are all standard. The transmission selector lever, BMW Controller and function keys are positioned on a control panel in the centre console that exudes modern design. The large automatic tailgate conceals a load capacity of 470 to 1,290 litres.
The new generation of the iDrive display and control/operation system extends the interaction between driver and vehicle into natural dialogue. With the new BMW Operating System 8, there's a clear focus on touchscreen functionality and spoken communication. The digital curved display screen brings together a 12.3-inch information display and a 14.9-inch control display angled towards the driver. BMW's Intelligent Personal Assistant has gained additional skills and uses a new graphic to communicate with occupants.
Some 40 assistance functions provide safe and comfortable driving and parking. Highlights include Active Cruise Control with automatic Speed Limit Assist, route monitoring and the Steering and Lane Control Assistant.