27 Jun 2022
Swing Optimised Distance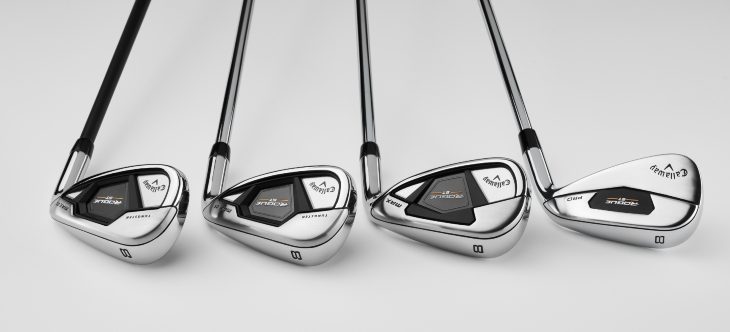 Following in the footsteps and replacing the Mavrik, Callaway's Rogue ST irons come in a family of four models focused on distance and forgiveness. Instead of one-size-fits-all, the four new irons are dialled into a wide range of handicaps and swing types in a cast construction as opposed to the forgings of the Apex line.
Key to the Rogue ST line is the new 450 A.I. Face Cup, which marries high-strength 450 steel with artificial intelligence and improved Face Cup technology for increased consistency and ballspeeds. Each iron face is designed using artificial intelligence to create faces thinner in areas specific to each target golfer for maximum benefit.
Feel and sound are fine-tuned by Callaway's urethane microspheres, now pushed higher up to the sixth groove of the face, covering up to 90 percent of the impact area.
Stability comes by way of 62g of high-density tungsten tucked inside, 260% more than the previous Mavrik iron. The more efficient energy transfer translates to improved launch angles and a distance gain over Mavrik.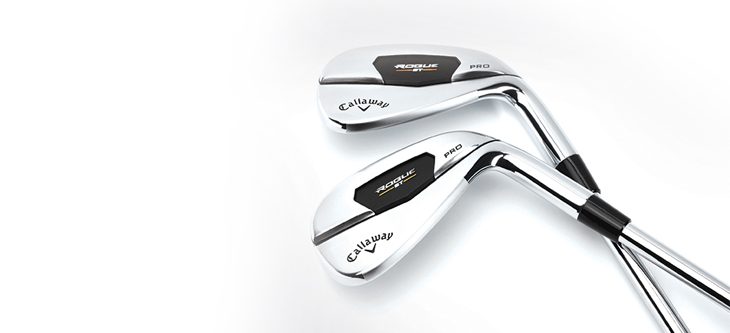 Rogue ST Pro irons are designed for low to mid single-digit handicap golfers. They feature all the best technologies of Rogue ST, in a hollow body construction with the look and feel of a players' performance iron, with the distance and forgiveness of a game improvement iron. 48g of precision tungsten weighting inside is a 188% increase over Mavrik. Weighted higher in the short irons and wedges and lower in the long irons, ball flight windows are optimised for maximum carry distance and control across the set.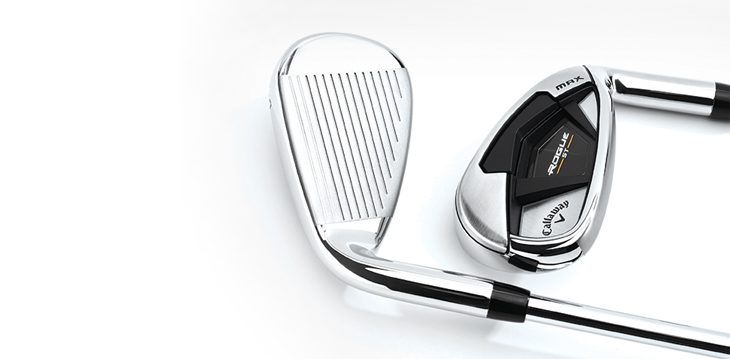 Rogue ST MAX irons are the longest in the Rogue ST family, with refined game-improvement shaping and the strongest lofts – the 7-iron measures in at 27.5o. The 50 percent lower CG than Mavrik and slightly weaker lofts improve both the launch angle and descent angle to better hold greens. The Rogue ST MAX fits the widest range of golfers in a package that delivers speed, forgiveness, and all-around iron performance.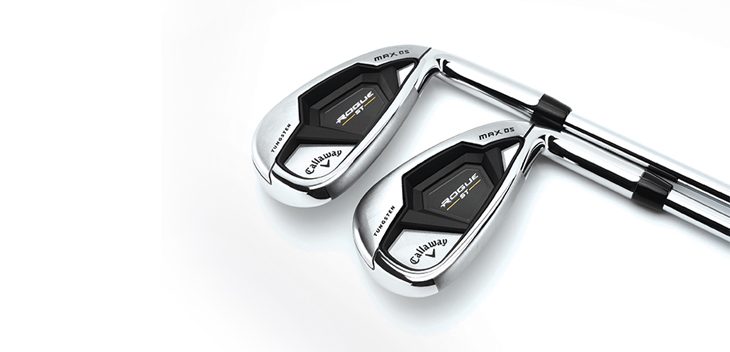 Rogue ST MAX OS irons though oversized, still feature a refined game-improvement shape that is enhanced with high launch, wide soles, enhanced offset for draw bias and a thicker topline vs. Rogue ST MAX. Providing confidence, high launch, and forgiveness, mid-to-high handicap players who have trouble launching irons would do well to look at the Rogue ST MAX OS.
Rogue ST MAX OS Lite irons feature more loft, lighter shafts and lighter swingweights to make these the highest launching, easiest to swing Rogue ST model. Available only with graphite shafts, the heads are lighter, bigger and more oversized than the Max OS. The 3o higher lofts ensure a longer flight time and more distance for moderate swing speeds.