08 Sep 2023
MAXIMUM FORGIVENESS AND MAXIMUM SPIN
Cleveland's ultra-forgiving, cavity-back CBX wedge line debuted in 2017 with the thinking that since 84 percent of us play game-improvement irons, game-improvement wedges would also make sense.
If you don't always strike your wedge shots on the sweetspot and like the idea of being able to use more of the face around the green, the latest technological advances of the Cleveland CBX Full-Face 2 wedge may be your answer to getting the ball closer to the hole.
The all-new CBX Full-Face 2 wedges feature heel-to-toe grooves across the largest striking area ever. From full swings to tricky open-face plays around the green, CBX Full-Face 2 is designed to deliver full forgiveness and performance, while a vibration-absorbing insert improves feel.
Generating maximum spin under all conditions are Cleveland's patented Rotex milling, the diagonal milling of HydraZip, and the micro-milling of UltiZip.
A new leading-edge chamfer on the sole reduces chunky shots while maintaining enough bounce to be forgiving. The three-tiered C-shaped grind on the 56° through 60° wedges takes material out of the heel for open-face play yet keeps enough bounce in the centre and toe areas for tricky lies and bunker play.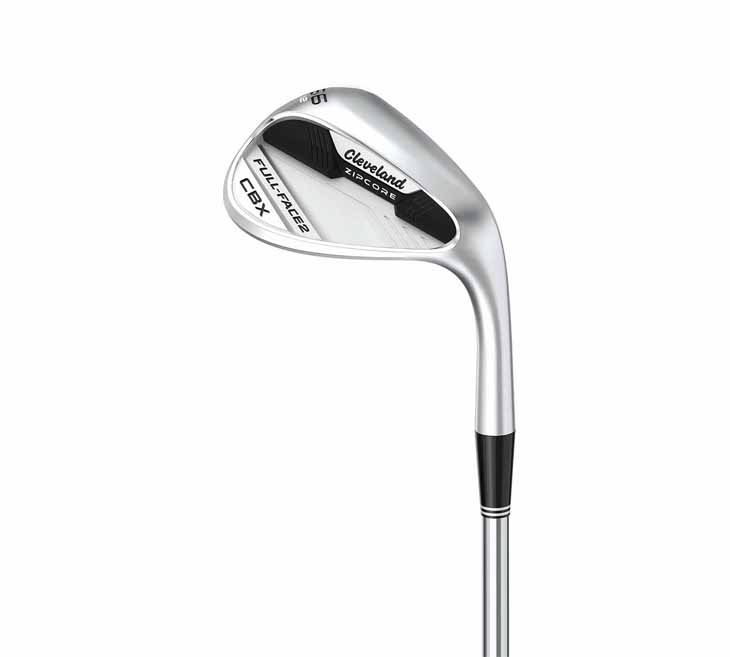 HYDRAZIP
The new dynamic face blasts maximise friction for improved spin consistency in wet or dry conditions.
HydraZip uses laser patterns and a loft-specific blast finish to create a face with increased friction. Higher loft groupings from 54°–60° receive a rougher blast and more laser lines for more consistent dry and wet spin performance, as well as on partial glancing blows when opening the wedge face.
ZIPCORE
Within the wedge's heart is ZipCore, a new addition for CBX Full-Face 2. The lightweight and low-density ZipCore reduces vibrations while also perfecting the centre-of-gravity and boosting MOI for increased feel, control, consistency and forgiveness.
ULTIZIP
UltiZip's network of sharp, deep, and tightly spaced grooves enhances spin characteristics for purer performance on every strike. Two extra grooves and the sharpest groove radii ever in a CBX Wedge impart more spin and more control on all shots.
LARGER FULL-FACE PROFILE
Hit more extreme, open-face shots with the largest contact area ever on a CBX Wedge. 13% more contact area than the RTX Full-Face means more grooves from hosel to toe for more forgiveness, no matter where you strike it.
SHAFTS
The 116g steel True Temper Dynamic Gold 115 Spinner Tour Issue combos well with wedges and game-
improvement iron sets, while the 84g Project X Catalyst 80 Spinner blends the control provided by steel
shafts with the lightweight benefits of graphite. Both shafts feature a more active tip section to increase spin performance around the green.