01 Jul 2022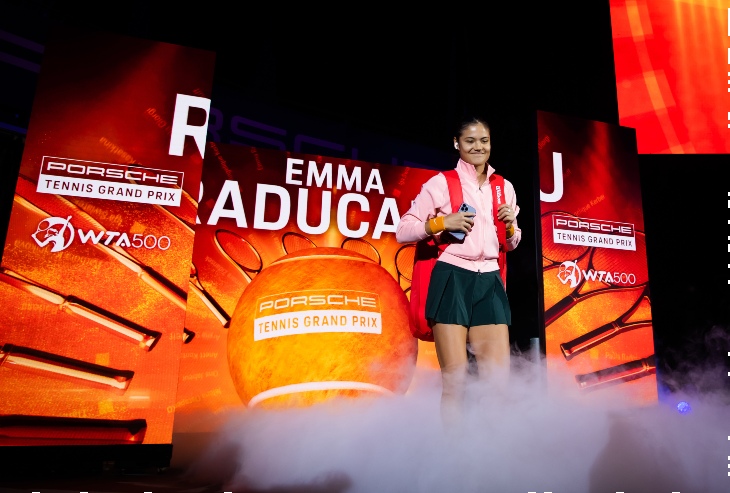 Emma Raducanu, the new shooting star in women's tennis ever since her win at the 2021 US Open, was also the centre of interest at her first Porsche Tennis Grand Prix in Stuttgart. In an exciting week, the Porsche Brand Ambassador played an impressive tournament. Off the court, she absolved photo and interview sessions with the aplomb of an old hand. The same was to be said for the Porsche Driving Challenge, a popular competition organised for Grand Prix players during the tournament. Raducanu, a Porsche motorsports fan, particularly enjoyed a visit to the Porsche Museum.
Practising for the first time on Centre Court in the Porsche Arena, Raducanu said of the Taycan models on show behind the baseline, "I love being here. It's amazing being surrounded by all the Porsches." Creating quite a stir with the Tottenham Hotspur jersey that bore the No. 10 of her favourite player Harry Kane, "I don't necessarily follow football so much," she said, "My whole team are basically big Spurs fans, and through them, I'm slowly becoming a real fan."
In her first WTA tournament on clay, Raducanu started with a comfortable 6-1, 6-2 win against the Australian Storm Sanders. In the second round, she defeated the German Tamara Korpatsch 6-0, 2-6, 6-1 to reach the quarterfinals along with five of the world's Top 10. Up against the world No. 1 and eventual tournament winner Iga Swiatek, the hard-fought match was won by the Pole in two straight sets, 6-4, 6-4.
Despite her defeat against the No. 1, Emma Raducanu was satisfied with her clay-court debut. "As young player, I've got a lot to learn on clay and am looking forward to spending more time on the surface," she said.
If there was one thing that Raducanu looked forward to in Stuttgart just as much as her matches, it was the visit to the Porsche Museum. Arriving at Zuffenhausen in a Porsche Targa 4S, she immersed herself in the history of the sports car manufacturer. "It's fascinating looking around here and seeing all the cars from close up," she said. "The development from the first to the latest models is an incredible history and makes the brand so special." Totally thrilled, Raducanu sat herself in almost all the models on display and was particularly taken by the Porsche 356, the 911 Turbo S Exclusive Series Cabriolet, as well as the old and new race cars. A vintage Le Mans 1982 jacket from the museum shop served as a souvenir for her visit.
In view of the many memorable impressions and the promising start to the clay-court season in Stuttgart, Raducanu said, "I've really enjoyed my time here. The hospitality and everything were great. I can't wait to be back."