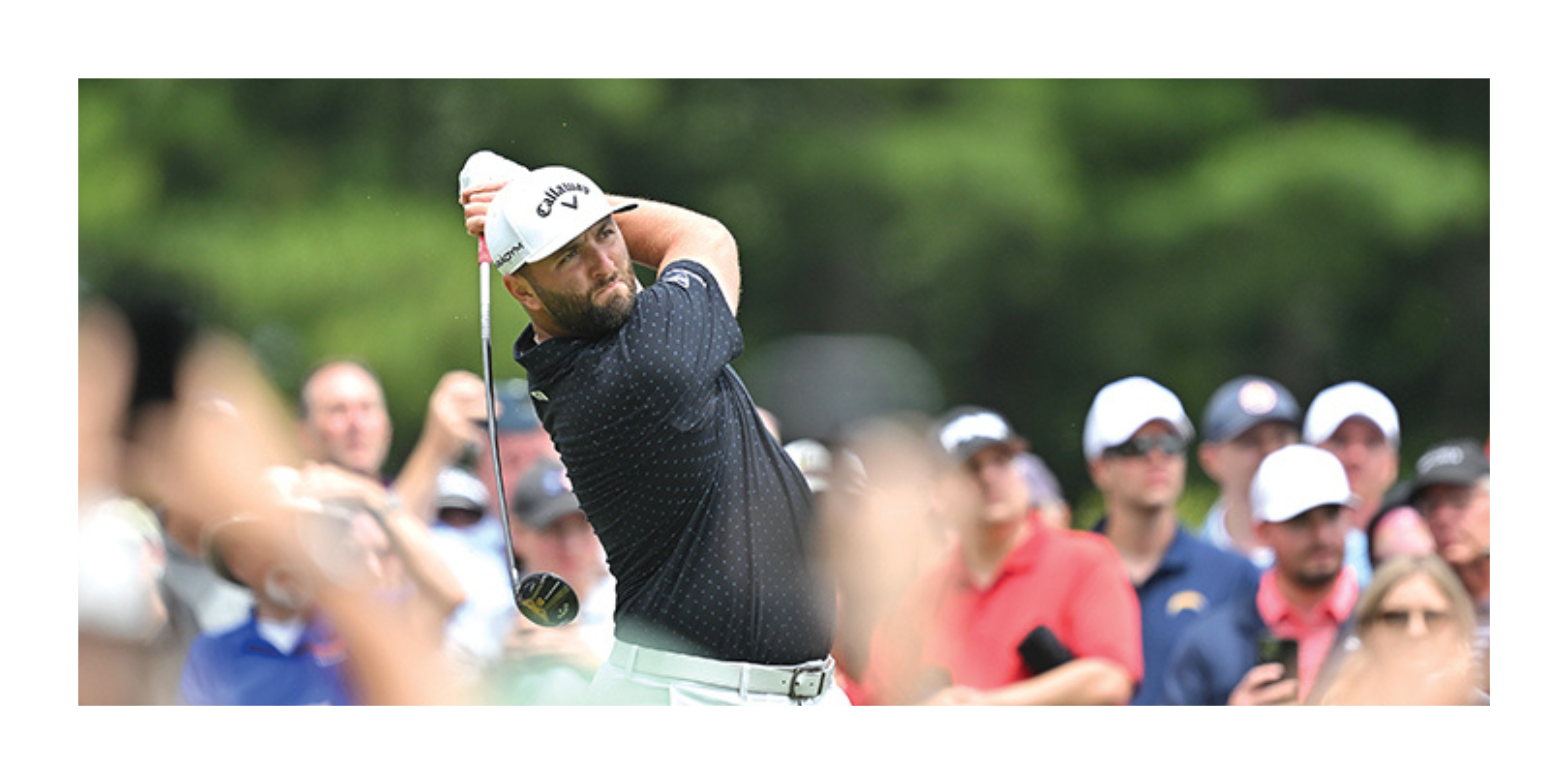 10 Aug 2023
THE SEASON ENDING PLAYOFFS ARE POISED FOR A THRILLING FINALE
Should you be one of those people who occasionally looks at the calendar and wonders where the time has gone, ask yourself this: How must hundreds of PGA TOUR players feel, given that when the first of July rolled around, it signalled that the playoffs were basically at the threshold and many of them were in danger of missing out.
For some heralded names – most notably Rickie Fowler and Jason Day – the approaching FedExCup Playoffs mean they can smile and
feel massively satisfied. That's because at 34 and 35, respectively, they can take enormous pride in a resurgence, of sorts. Fowler ranked outside the Top 125 in 2020-21 and 2021-22, though he did squeak into the playoffs last year thanks to a rashof moves when some players withdrew their memberships in 2022. It felt like a gift when Fowler was able to tee it up at the Playoffs opener, but no gift is needed this year. The man who favours orange was sitting at No. 8 when early July came around.
Day, meanwhile, sat 14th in the standings entering the John Deere Classic and with only six weeks to get points, the FedExCup picture is looking quite sweet to the former world No.1 from Australia. Not that Day has missed the playoffs like Fowler, but he limped into post-season play ranked 124th a year ago and he's been a far cry from the dominant force of 2013-18. In fact, instead of the attitude Day had a year ago when he snuck into the playoffs and grew tired of answering reporters' questions in late June, early July – "It does nothing for me to look ahead," he is in cruise control and can count on making it to the TOUR Championship come August 24 to 27.
Winning, of course, helps change your fortunes on the PGA TOUR, and Fowler (Rocket Mortgage Classic) and Day (the AT&T Byron
Nelson) achieved their first wins since 2019 and 2018, respectively. But remarkable consistency has also paid off – Fowler has a second and six other Top 10s; Day has piled up seven Top 10s – for these two comeback kids. But with golf being the challenge that it invariably is, for every resurgent story there is one of surprising struggles. So while we have Fowler and Day returning to the positive side of the FedEx Cup Playoffs cutoff, we have a foursome of names who are gritting their teeth at the approaching playoffs, that will be played out in this manner:
• Aug. 10-13, the FedEx St. Jude Championship.
• Aug. 17-20, BMW Championship.
• Aug 24-27, TOUR Championship.
Jon Rahm, the 2023 Masters champion, currently tops the points list and he's done it with four wins, a second, a third, and three other Top 10s. Quality stuff and of those who follow him in the current top 10 – all have had consistently superior seasons.
Adam Scott has made the Playoffs every year since they began in 2007, but when July arrived, he was on the outside looking in, lodged in 78th position. The story is slightly better for Keith Mitchell (62nd) and Justin Thomas (68th), as they are just inside the cutoff. Just don't tell either one of them that they can breathe easier. Thomas, 30, most certainly knows he cannot. In fact, after squeezing out a T9 at the Travelers Championship, Thomas was asked if he was headed home to rest, having played five tournaments in eight weeks, he shook his head somberly. "I've never had to add tournaments at the end to make sure I got into the Playoffs," he said. "But unfortunately, that's where I'm at this year. So I'm going to Detroit."
Alas, it was a short stay in Detroit as Thomas missed the cut at the Rocket Mortgage Classic; it was his third MC in four tournaments,
including at heavyweight tournaments like the Memorial and the U.S Open. Throw in an early departure at the Masters (thanks to a bogey at
the 72nd hole, no less) and you have Thomas where he knows he belongs – fighting for his Playoff life.
For Mitchell, the slide down the standings has been steady since late spring. A rock- solid 41st after THE PLAYERS Championship in March, Mitchell has just one Top 10 in his last nine starts and his best finish is A T-20 in that stretch. You wouldn't be hitting the panic button either for Jordan Spieth, but you might want to throw up the caution flag. Earlier this year, he had piled up five Top 10s in eight starts to sit in 14th place in the FEC standings. But he's now
fallen to 29th.
Worried? Not Spieth. Though momentum is something you want on your side with the FedExCup Playoffs approaching. That's exactly what a parade of stalwart names are relying on as their games are quite solid, thank you, as the eve of the playoffs. Jon Rahm, the 2023 Masters
champion, currently tops the points list and he's done it with four wins, a second, a third, and three other Top 10s. Quality stuff and of those
who follow him in the current top 10 – Scottie Scheffler, Max Homa, Wyndham Clark, Keegan Bradley, Victor Hovland, Rory McIlroy, Fowler, Tony Finau, and Nick Taylor – all have had consistently superior seasons. All of which is pretty much how the executives would draw it up – pretty much the entire list of top-ranked players in the Official World Golf ranking are somewhere in the top 15 in the FedExCup standings with the season winding down.
Does that translate into a thrilling Playoff? Not necessarily, but you'd have to like the odds that it will. Just having McIlroy, currently 7th, in the mix provides reason for excitement. All he did a year ago was close with 66 to finish at 17-under to leapfrog Scheffler (73 for 10-under) and win his third FedExCup title. It was perhaps more impressive than the three-way playoff he won in 2016 and matched his inspiring rally of 2019 (starting the TOUR Championship five behind Thomas, McIlroy outscored him by 10 and overpowered East Lake for his second FEC.
There are those who'll still circle the 2018 TOUR Championship as the iconic one to remember. Then 43 and walking gingerly throughout, Tiger Woods finished at 11-under to win by two and was ushered onto the 72nd green by tens of thousands of fans. That Woods won't be in the FedExCup lineup of playoff events is always disappointing. But it is couched significantly by knowing that a parade of marquee names will be.