21 Sep 2022
Golf Asia's First Full Fledged Event A Rousing Success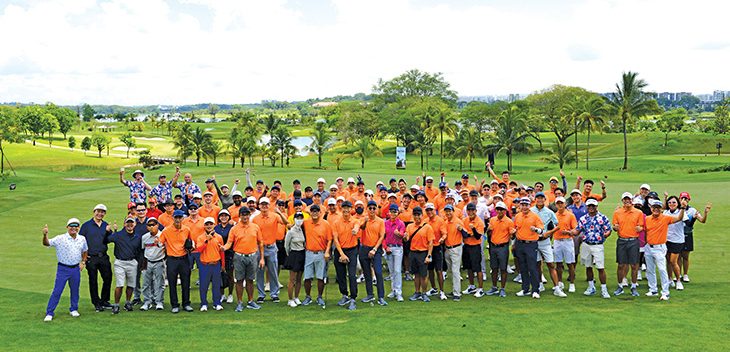 It was early in 2021 in the midst of the Covid pandemic and travel restrictions when Golf Asia saw an opportunity to bring readers of the magazine together with small-scale golf events. These specially curated golf experiences in partnership with golf and lifestyle brands quickly established themselves and were in high demand. Take-up was quick among the golfing community to play top-flight courses around Singapore, and after four Golf Asia Golf Experiences, it was time to step up the game.
The inaugural Golf Asia Masters came to fruition this past 1st July in our first full-fledged event by request and was staged at the scenic and challenging Seletar Course redesign, awarded the 'Best Renovated Golf Course in Asia Pacific' in the Global Golf Awards 2020.
In partnership with Cobra Puma Golf and main sponsor CarTimes, more than 120 golfers came together to vie
for tournament prizes in a shotgun start format, and for the opportunity of direct experiential engagement with golf-specific and lifestyle brands.
There was excitement at the prospect of bagging one of the four Hole-In-One prizes of a Honda Shuttle Hybrid, $28,000 B&Z Luxury Watch Winder, $30,000 worth of W. Atelier luxury furnishings and a Cornerstone Wines wine cellar fully stocked with 120 bottles.
The numerous novelty challenges on the course also had golfers abuzz with anticipation.
Prizes ranged from the latest limited edition Cobra LTDX drivers and King 3D Printed putters, to Oakley eyewear and stay and play packages at Pattana Golf Club. Golfers also had a first-hand experience with the full range of the latest Cobra LTDx clubs out on the course. Congratulations to the Nearest-The-Pin winners – Hole 2: Christopher Taw (Cobra King LTDx Fairway), Hole 11: Christopher Taw (Oakley Prizm Sunglasses); and to the Nearest-The-Line winners – Hole 8: Dominic Loh (Cobra King LTDx Driver Blackout edition), Hole 17: Clinton Ang (Pattana Golf Club Stay & Play Package for Two). Tennant Chai with the longest drive of 290m at Hole 12 won the Cobra King 3D Printed Supernova putter.
[smartslider3 slider=37]
Congratulations are also in order to the tournament winners. Emerging as the ladies' champion was Elizabeth Cho with 36 points, who won a Puma Caddie Bag and Hydro Flask trophy.
In the men's division, 2nd runner-up with 38 points was Kelvin Lim, who received a Puma Caddie Bag and Hydro Flask trophy. 1st runner-up with 38 points on countback was Alfred Chua, who won a Cobra King LTDx Max fairway wood and Hydro Flask trophy.
And the champion golfer of the inaugural Golf Asia Masters Tournament with 39 points was Edmund Yeo, who deservedly received a Cobra King LTDx Driver Palm Tree Crew edition and Hydro Flask trophy for his efforts.
Concluding the Golf Asia Masters' evening proceedings was a novel prize auction where golfers got to bid for mystery prizes using Cobra Puma game currency earned during the course of the day's game. The bidding intensity built up as the night wore on, culminating with the reveal of the most exciting prize, the recently launched Cobra King Forged Tec X iron set and Cobra Vessel Tour 22 stand bag worth almost $2500.
With acknowledgement for their partnership and generous contributions to the inaugural Golf Asia Masters, Golf Asia would like to thank presenter Cobra Puma Golf, main sponsor CarTimes, co-sponsor Oakley, Hole-In-One sponsors Buben & Zorweg, W. Atelier and Cornerstone Wines, as well as partners Auchentoshan, Fender, Flo, GolfWav, GolfX, Horizon Hills Golf & Country Club, Hydro Flask, Kordel's, Kota Permai Golf & Country Club, Luminox, Pattana Golf Club, Polar, Sennheiser, Singha, Soleus, Sportade, Van Laack, and Vatos.