20 May 2022
A Primer On Modern Shoe Selection And Care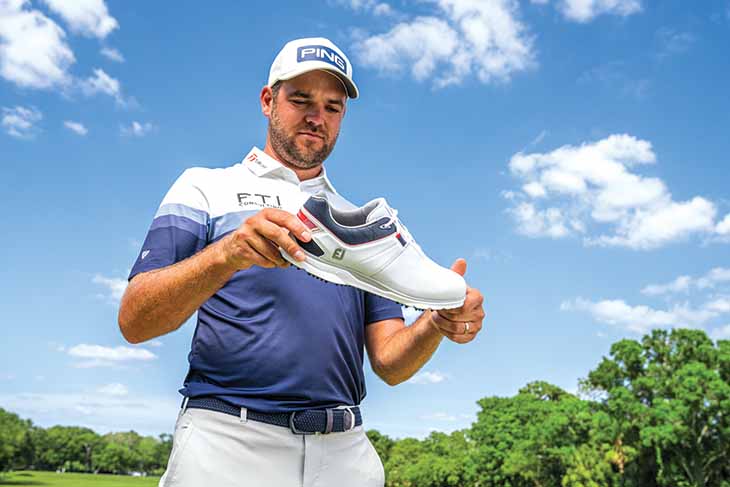 Choosing golf shoes isn't about the traction and stability of spiked, or the comfort of spikeless shoes anymore. With technological advances; performance, comfort, and fashion can now readily be had in the modern golf shoe.
And while cleaning is as easy as a wipedown, chucking shoes into the car boot is still a bad idea. Using and caring for golf shoes the right way will extend its life.
Footjoy has been the first name in golf shoes for over a century, and Golf Asia spoke with Patrick Trubiano, Senior Product Line Manager, on how to choose and care for the modern golf shoe.
GA: Spiked or spikeless, how does a golfer choose?
PT: Each swing is unique, so the choice depends on the preferred feel with respect to a golfer's footwork during the swing.
Having said that, FootJoy has developed the traction and grip of spikeless golf shoes to be as close to, if not on par with spiked shoes.
Spikeless shoes come in two forms – the versatile shoe worn on and off the course features important traction and water disbursement properties, but adding an off-course end use does affect the final execution.
Spikeless shoes specifically for on-course use are similar to a spiked product, such as the PRO/SL – the #1 spikeless shoe in golf which continues to set the bar and standard for on course spikeless performance.
GA: Why do traditional looking golf shoes have a stiffer sole, while the sole of an athletic style flex more?
PT: The more classic golf shoes will have a "dress shoe-like" construction whereas athletic styles will have more of a "sneaker" feel. A stiffer sole will keep you more locked into the ground while a more flexible sole allows for more movement. However, lines are being blurred as the sport grows and new golfers enter the game.
GA: How important is a proper fit for a golf shoe?
PT: Properly sized shoes optimise power transmission during the swing, and if you walk off the 18th and never once thought about your feet, you've found your perfect pair. Also, as we age, our feet widen, so try shorter and wider. FootJoy takes fit very seriously and have a breadth of product in sizes and widths to fit every golfer.
GA: Should golfers have more than one pair of golf shoes?
PT: It depends on the number of rounds, terrain, and type of golf shoe played in. Discerning golfers who play multiple rounds a week often have multiple pairs. Rotating between golf shoes allows them to dry out, recover and extends peak performance.
GA: How else can shoes be kept looking and performing like new?
PT: Clean shoes after each round, especially the dirt and debris from the bottom. Soap, warm water, and a scrub brush are best. Inserting shoe trees after each round prevents creasing or cracking, extending shoe longevity.
GA: When should spikes be changed?
PT: Spikes or cleats begin to wear after 20 rounds or more and wear faster in different parts of the shoe. If the edges are shearing, it's time for new ones.
GA: Why do spikes get frozen to the sole?
PT: Cleats get frozen when they wear down too much and are unable to be replaced, requiring some force to pry out with a spike wrench. Best to check if cleats are wearing and replace them.
GA: Is it advisable to stitch or glue back the sole on golf shoes?
PT: Many golfers have their favourite shoe that they can't ever give up, as long as it maintains the performance they're looking for, why not? I would caution that the upper of a shoe can also deteriorate (less stable, looser fit, etc), so something to consider.