05 Nov 2020
All you need to know about Technogym's Let's Move Week 2020
Let's Move Week 2020, which is Technogym's social campaign to promote exercise and wellness, will be happening from 9 to 15 November this year. For those who are looking to join (whether socially distanced at home or responsibly gathering in a group), you will be treated to seven days of fitness events, challenges, fun activities, and engaging workouts through Technogym Official Media Channels.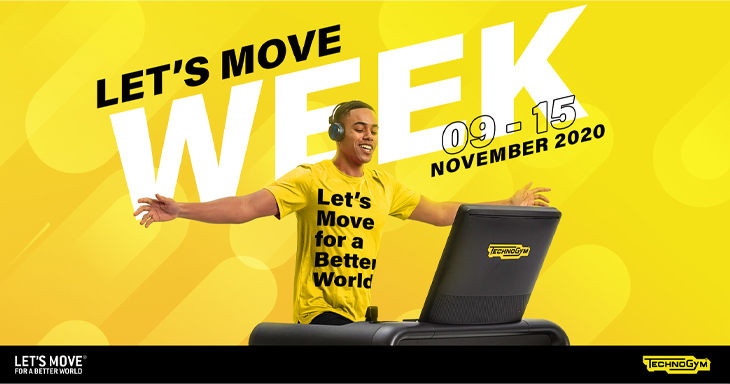 The event found its start seven years ago when Technogym launched the Let's Move for a Better World campaign, which is a global initiative that gathers the global Technogym community around a social objective, which is to promote and educate on the benefits of regular physical exercise.
With millions of people training with Technogym every day — either at home, in fitness clubs, hotels, or medical facilities — the event is able to reach out and guide them on their fitness journeys, whether they are following health and prevention programs, looking to improve their sports performance, or simply want to incorporate fun into their fitness regimen.
Given the current situation we are in, it is no surprise that health has risen to the top of people's priority list more than ever. Scientific evidence also proves the importance of structured physical exercise to not only increase physical fitness and sports performance, but also immune defenses by preventing risk factors like obesity, diabetes, and cardiovascular diseases.
Wherever you are in the world, Let's Move Week 2020 is sure to be one of the busiest fitness events of the year with an exciting agenda that has something for everybody, either conducted live or on-demand. Here's a preview of what to expect.
Get a MOVE on
#getamoveon is a 10-minute AMRAP (as many reps as possible) challenge where you complete the four exercises circuits as many times as you can. Those who join will need to remember how many rounds they've completed and the total number of repetitions achieved. Technogym has programed 10 repetitions for each exercise and must be performed before moving onto the next exercise. Participants are able to keep track of their achievements and how they compare against the Technogym Village.
Get MOVE(i)ng
Choose from a selection of live workouts with trainers from all over the world! Take part in 30-minute workouts wherever you are and join one of Technogym global ambassadors, including Jono Castano, Jessica Kate Herbert, Tom Bliss, and Courtney Pruce. Find all the sessions on the Technogym Instagram live at various times.
Keep MOVE(i)ng
This program features five on-demand workouts that ensure you always have space to progress. It consists of one beginner workout, one intermediate workout, and three different levels of advanced workouts. All of these are built using a selection of exercises that incorporate at least one of Technogym's seven fundamental movements. In addition, the workouts will be offered in seven different languages: English, Spanish, Italian, French, Russian, German, and Chinese. All the workouts are available on the Technogym Youtube channel. Search for the series, select your trainer, language, and intensity level.