03 Dec 2020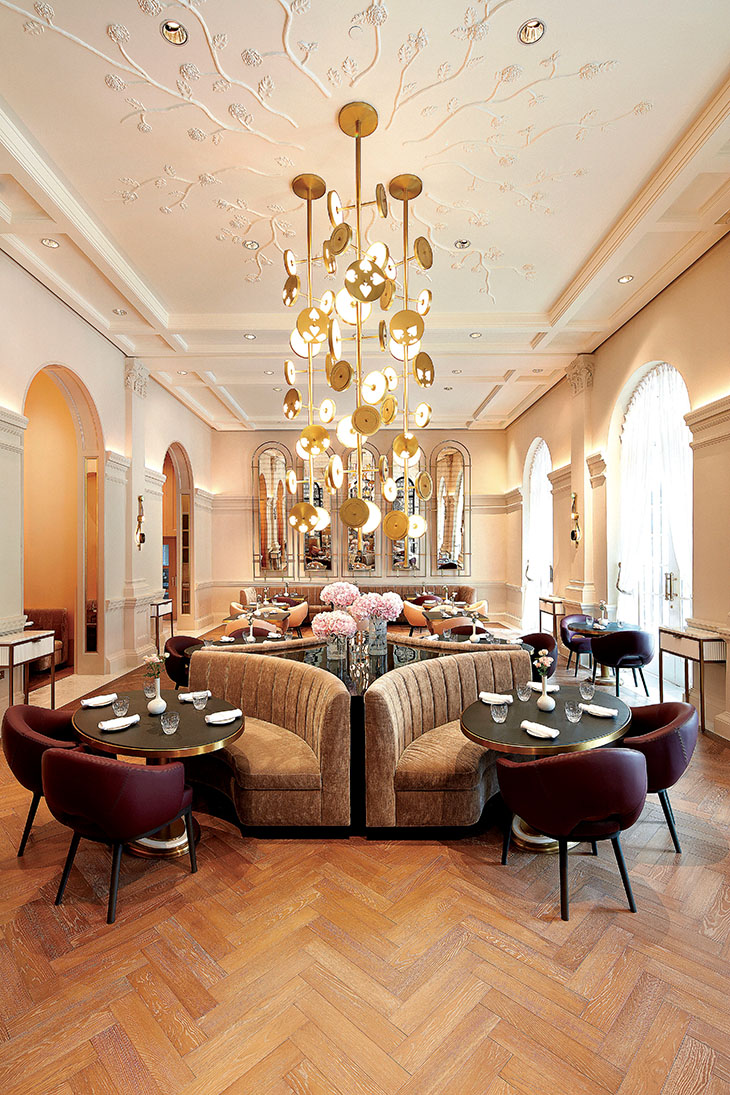 Housed within the Raffles Singapore is La Dame de Pic, the signature dining room of the iconic hotel, where one of the world's most celebrated female chefs orchestrates her brand of botanical-inspired and infused French cuisine into a symphonic gastro-experience you won't soon forget.
Distinctive flavours abound with the intricate creations of three-Michelin-starred French Chef Anne-Sophie Pic's autumn menu – seasonal produce brings new and refreshed signature dishes, showcasing her hallmark culinary philosophy of complex aromas, combination of flavours and powerful tastes that evoke emotions.
Faithfully interpretated in Singapore by Chef de cuisine Kevin Gatin, Anne-Sophie Pic's protégé for over eight years, the Experience and Elegance set menus transports you on an unforgettable gastronomic experience with the option of a wine and sake pairing or even a thoughtful non-alcoholic beverage pairing, consisting of house-brewed kombuchas and infusions, to enhance the meal.
New creations under the Experience menu include the Brown Crab from Brittany, seasoned with sobacha and paired with geranium and tarragon ice cream, and Turbot from Brittany, prepared meunière style and served with wakame mashed potatoes and a mushroom dashi infused with yuzu and sumac.
Opt for the Elegance menu and savour new delights like Sea Urchin from Hokkaido with nasturtium and roasted barley, served with fine Granny Smith jelly and tamarillo; and Kinki from Hokkaido, cooked a la plancha and accompanied with butternut pumpkin in different textures alongside a light broth of saffron, kabosu citrus, amaretto and lemongrass.
For the main entrée, both menus offer a choice between a refreshed , cooked over coals and served with condiment of watercress infused with bergamot and ginger flower, pommes dauphine and beef jus; or Poularde from Bresse, marinated with sake lees and plated with roasted Jerusalem artichoke, tsukudani and albufera sauce.
Presented as part of the curated Experience and Elegance menus, Chef Anne-Sophie Pic's iconic Berlingots feature new flavours. The delicate pasta parcels filled with a molten French cheese fondue are served with an exquisite beetroot kombu broth infused with pu'er tea and accented with galangal and herb of grace, a distinct herb she discovered at Singapore's Chinatown market.
This time of year, the dining experience will be further elevated with the addition of the exquisite white truffles from Alba – most sought-after and only available in limited produce for a short time of the year. Look forward to memorable flavour combinations in the new Chervil Root and White Truffle from Alba, cooked in kombucha and served with Melilot sabayon and grilled corn, or the augmented entrée .
Drawing the epicurean journey to a sweet closing are the signature White Mille-feuille, or the new The Pear like a Vacherin featuring earl grey tea ice cream, pear Williams sorbet and Swiss meringue. A delightful assortment of specially curated fine cheeses presented tableside from the artisanal trolley is also available as a finale to a wonderful evening at La Dame de Pic.