02 Jan 2022
Christmas Golf Where The Men Don't Get It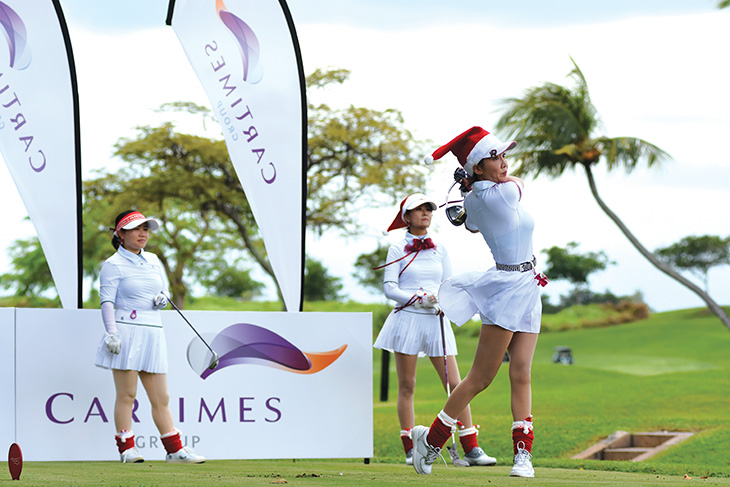 For the tight-knit ladies golf community in Singapore, Christmas came a little earlier on the afternoon of the 15th of December with the Ladies First Joie De Noel Tournament.
Held at the Masters Course, affectionately dubbed 'The Grand Old Lady', and organized by Laguna National Golf Resort Club in partnership with the Singapore Ladies Golf Association, 136 ladies turned up in full Yuletide finery in accordance with the day's dress code of Christmas Wonderland.
No surprise then that the mood was festive and fun even before the first ball left the tee, as the beautifully decorated golfer's lounge was awash in well-coordinated colours of red, white and green with the arrival of each flight of ladies who were more than game before the game. Not an option and almost de rigeur, picture-perfect poses were aplenty with the Christmas spirit in the air. Even the Grinch was present.
Once the game got colourfully underway in breezy weather conditions, the ladies were excited at the prospect of bagging a Hole-In-One, with three up for grabs on each of the Masters Par 3s – a Honda Vezel sponsored by Car Times, and a one year term membership and 52 golf flights for an entire year; both of which were sponsored by Laguna National Golf Resort Club.
What's Christmas without some food and beverage? And so, the festive mood continued on the course with live stations serving up wagyu beef sliders, ham and assorted cheeses and penne arrabiata washed down with Pina Coladas and Singapore Sling cocktails.
Among the roses waiting to spring a surprise were a few welcome thorns – a trio of bare-chested hunks strategically placed around the course had many a lady's heart a flutter, as the golfers couldn't resist another one for the album with some eye candy, while observing social distancing of course.
With the game over, apart from prizes for the tournament and best dressed, a sure-win lucky draw awaited all participants of the Ladies First Joie De Noel, with top lucky draw prizes including a staycation and stay-and-play at the Dusit Thani, an omakase dinner for two and a Kai Suite spa rejuvenation package.
And in keeping with the spirit of Christmas, it was one more for the road before departing for the evening as the ladies were treated to cocktails at the Legends Bar. By which time, the ladies were already clamouring for the next event.