08 Jun 2021
Channel Your Inner Superpower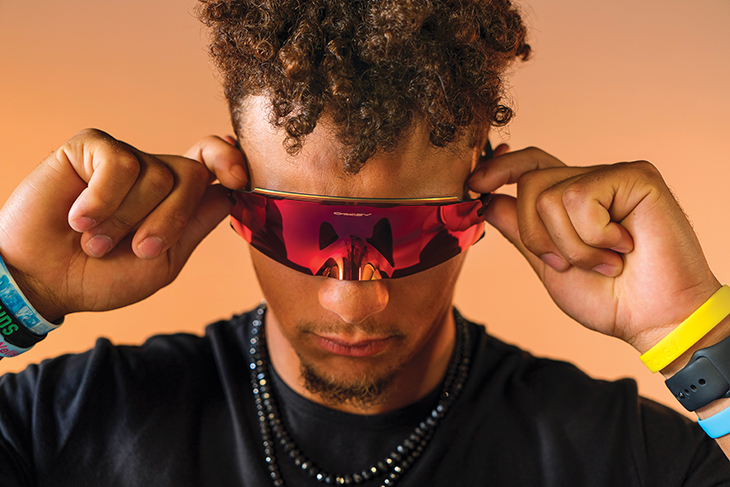 Is it a coincidence that the Oakley Kato bears more than a passing resemblance in name and look to that of the Green Hornet's sidekick?
Oakley's radical sunglasses with a mask-like aesthetic is designed to shatter the boundaries of sport performance, and against the backdrop of the world's biggest sporting stage, over 1,000 athletes at the Tokyo Olympics are set to debut the Kato to the world.
"Our pursuit for the new and unimagined has taken on many forms throughout the brand's history, and the latest is Oakley Kato – a redefinition of aesthetics to usher in a new age of optics for the sports industry. It is a moment to remind ourselves that anything is possible, that superheroes are not just found in comic books, but in real life, and we can all aspire to be better than we ever imagined."
Caio Amato, Oakley Global Brand Director.
Born from the fantastical concept of fabric cloaking the face and getting as close as possible without contact, a single seamless wraparound lens provides maximum field of view and is moulded to cover both eyes and nose. Frameless, the curved upper edge of the lens provides structural rigidity and a close contoured fit for a mask-like feel. Paired with Oakley's famed optics, the Kato removes limitations and empowers the wearer with confidence to be at their best, unlocking their inner superpower.

The Kato sits a few millimetres off the face, since the closer that the lens, the wider the field of view without lens distortion. Elite athletes were involved in the development, testing the durability and performance attributes, and the final design features an adjustable rake system and multiple nose pads for a customised, seamless fit.
To avoid steam trapping, three different nose pads snap onto holders moulded right into the lens, and the unique rake adjustment built into the stems unlock to tilt the entire lens for a better fit. This design combination accommodates the majority of face shape and sizes ranging from the small end of medium to XL.
Further performance attributes include the Lightweight O MatterTM stems for durability, and Unobtainium® earsocks for all-day comfort with a no-slip grip. The Kato is also available with PrizmTM lenses designed to enhance colour and contrast to see more detail.
Oakley has built a legacy on disruptive design, from the Eyeshade in 1984, to the avant-garde Over The Top debuted in Sydney in 2000, to Jawbreaker in 2015. Oakley Kato is the next step on this journey, engineered to push the boundaries of form, fit and function to revolutionise eyewear design.