16 Jan 2021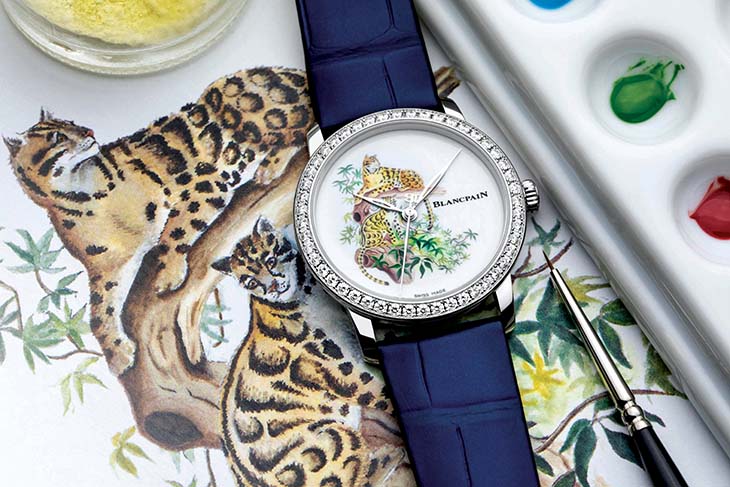 Blancpain
Formosa Clouded Leopard
The Formosa clouded leopard is an important symbol in the collective consciousness of the Taiwanese and extremely rare. Like the leopard, the artistic techniques practised by Blancpain are rare in watchmaking. Blancpain's range of craftsmanship is vast and represents an age-old heritage. Five skills, fully integrated within the Métiers d'Art workshops interpret the theme of the Taiwanese clouded leopard on the dial – the art of porcelain, miniature enamel painting, shakudō, engraving and damascening. Meticulous, the two one-of-a-kind models present the clouded leopard in its forest habitat. Trunks and foliage have been patiently painted or hand-carved in minute detail, as is the majestic feline. Crafted using the enamel painting on porcelain and engraving techniques, along with shakudō, its tawny coat with cloudy spots is strikingly realistic.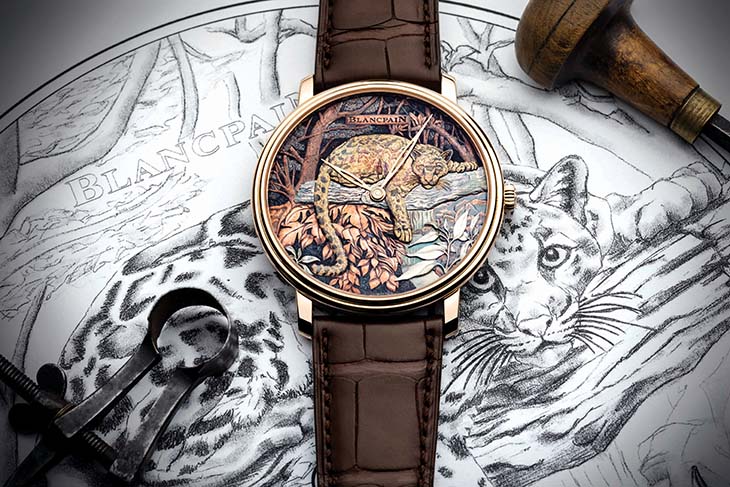 On the engraved model, the panther's whiskers are inlaid hair by hair, made of gold threads almost as fine as a silk ribbon, in accordance with the art of damascening. The artwork is framed by a 33 mm white gold case with a diamond-set bezel. The movement within is the Manufacture 1154 self-winding calibre, visible through the caseback. The engraved and damascened shakudō model comes in a 45 mm red gold case, the crystal caseback revealing the 15B hand-wound movement adorned with a Côtes de Genève motif.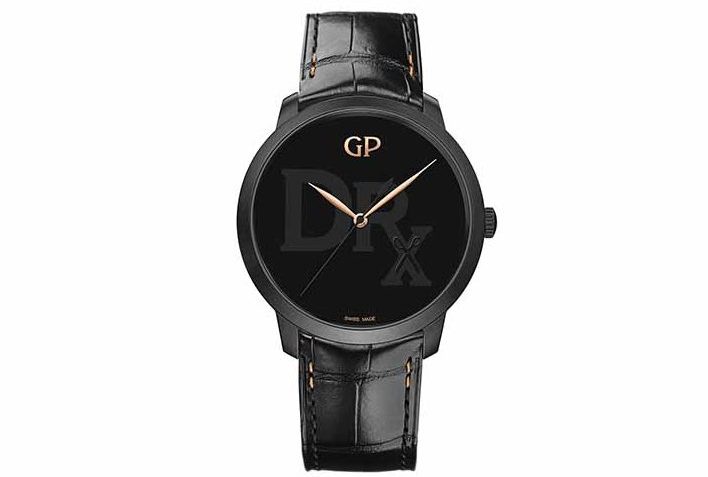 Girard-Perregaux
1966 East to West
The 1966 East to West celebrates the 160-year trading relationship with Japan in a significant collaboration with Darren Romanelli or DRx, the celebrated streetwear designer recognised for his love of Japanese culture. Playing with the idea of duality – the dial is dressed in black onyx, bestowing a sense of restraint, while the pink gold GP logo and the golden leaf-shaped hour and minute hands exhibit flamboyance. The circular onyx dial is delicately shaped by hand in no fewer than 15 painstaking operations, followed by the DRx logo imbued with a black gloss. Slightly different in shade from the onyx, there is obvious distinction between the two hues. A pair of scissors, a trademark of DRx, sits on the dial. While the leaf-shaped hands are prominent, the seconds hand is executed in a stealthy shade of black, again reinforcing the sense of duality. The Calibre GP03300-1513 movement inside, endowed with traditional finishing of circular-graining, bevelling, blued screws and 'Côtes de Genève', is visible via the smoked sapphire crystal, adorned with a DRx decal. Part of the charm of the 1966 East to West is the repeated juxtaposition of dissimilar entities. The 1966 is a classical timepiece, yet with its black DLC sandblasted case, onyx dial and DRx branding, it looks incredibly contemporary. The timepiece is limited to just 18 pieces as a notable degree of exclusivity.