01 Dec 2021
Playing Better For Longer
In September, we explored how Pilates benefits both the golf swing and the golfer, building up strength and flexibility to maintain proper mechanics and a swing plane while minimising and preventing golf-related injuries.
Pro golfers like Kim Na Heul and Rory Mcilroy practice Pilates to retain their endurance, competitive edge and longevity in the sport. While we weren't able to speak to either, we were able to converse with golfers experiencing the benefits of Pilates.
Gerald calls himself a COVID golfer, having really got into the game since April last year. His better half introduced him to the idea of staying fit for golf through Pilates.
Chenhui, Gerald's girlfriend, started on Pilates two and half years ago when she was looking to try something new. She works out up to four times a week.
CK has been playing golf and practising Pilates for over a decade. He too was looking for something new to try, but it was golf that had him hooked.
GA: How did you discover that Pilates directly benefits your golf?
Gerald: Golf is very unilateral. We work only a single side of the body's muscles, leading to imbalance over time and eventually aches and pain. Chenhui was the one who got me onto Pilates; she told me it really balances out the body.
CK: I picked up Pilates by accident when I was searching for a way to strengthen my core and improve my flexibility. I registered for classes and have been consistently progressing with the same instructor for over 10 years now.
GA: Has your golf improved?
CK: I've got a lot more core strength which allows me to drive the ball a lot further. I've increased my flexibility, strengthened my core muscles and improved my balance, especially so with the lower half of my body. I have more stability and consistency in my golf swing. And since I started Pilates, I've dropped my handicap down to a single digit, so I'm happy.
GA: Apart from golf, how else has Pilates improved your health?
Chenhui: I found out I had scoliosis from a routine chest X-ray though I had never really experienced issues with my back. Ironically, it was when I started on Pilates that I realised I didn't have the full range of spine movement. I couldn't perform certain movements and that is where my instructors came in, helping me with the ones I had real difficulty with. Had I not picked up pilates, I may have developed back problems by now.
GA: Any words of advice for golfers considering Pilates?
Chenhui: Anyone with back issues, be it asymptomatic or post-surgery, can benefit from Pilates in many ways.
Gerald: I would recommend pilates for all golfers, no matter what level. It diminishes pain 100 percent, and I am not even joking. Imagine hitting 200 balls at the range, you stretch out one side of the body but leave the other side underdeveloped. That's why I come back to Advantage Pilates.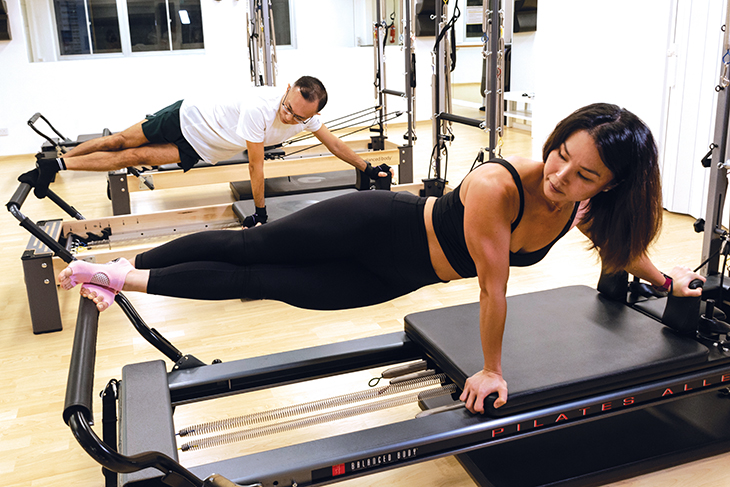 Especially for Golf Asia readers, Advantage Pilates is offering $30 off the 1st Trial private sessions for all new clients.
Use promo code GOLF30OFF to redeem at either Advantage Pilates location:
* 20 Cecil St 05-02 Plus Building Singapore 049705
* 1 Marine Parade Central 12-04 Parkway Centre Singapore 449408.
For more information, visit advantagepilates.sg