26 Oct 2020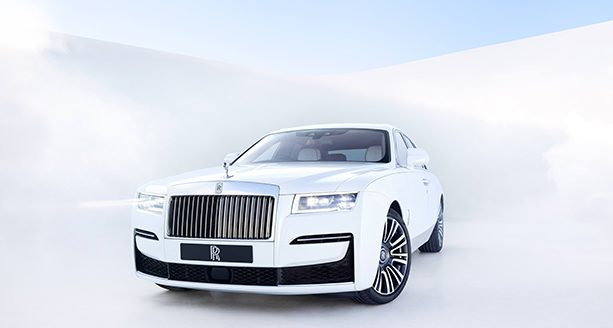 The first Goodwood Ghost was a response to a whole new generation of clients, a slightly smaller, less ostentatious Rolls-Royce that has since become the most successful model in the marque's 116-year history.
The new Ghost is a super-luxury saloon that is dynamic, serenely comfortable and perfect in its minimalism; designed, crafted and engineered from the ground up to be the most technologically advanced with a purposeful personality.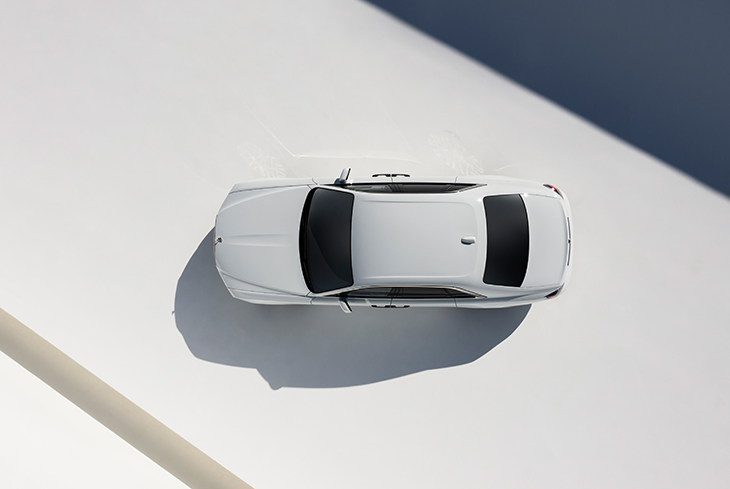 With an all-aluminium superstructure, the outer body is rendered as one clean, expansive piece, flowing seamlessly to the car's rear. This complete absence of shut lines allows the eye to run from front to rear uninterrupted by ungainly body seams.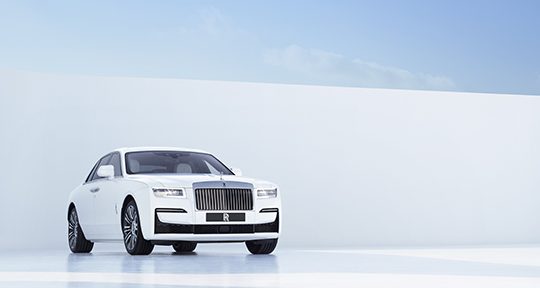 Clients asking for near-instant torque and near-silent running, led the marque to further develop the Rolls-Royce 6.75-litre twin-turbocharged V12 petrol engine, delivering 563bhp and 850Nm of torque to the all-wheel steer, all-wheel drivetrain. Maximum torque is available from just 1600rpm, only 600rpm above tick-over.
The marque's hallmark Magic Carpet Ride has evolved into the Planar Suspension System, creating a sense of flight on land. New Ghost can now anticipate and react to the most demanding road surfaces.
The famed self-closing doors operated by a button on the dashboard and on the C-pillar have now evolved to include power assistance.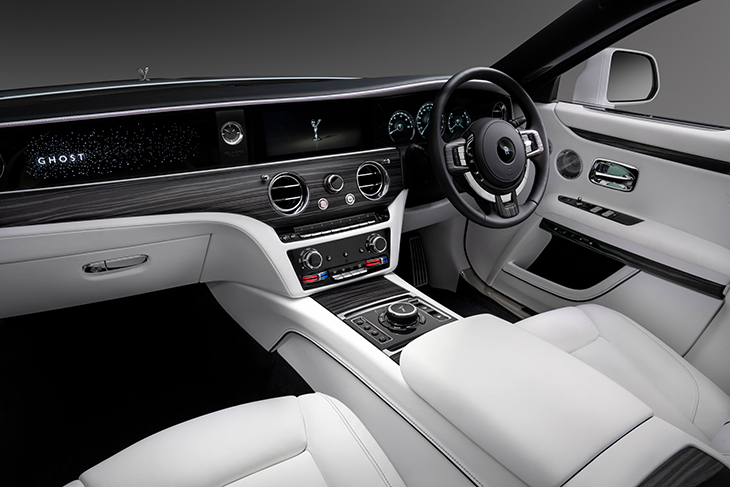 Further technologically advancement is by way of the LED and laser headlights with more than 600 metres of illuminated range, vision assist, including a whole battery of warning systems; alertness assistant, a four-camera panoramic view system, all-round visibility and helicopter view; active cruise control; high-resolution heads-up display; Wi-Fi hotspot; self-park; and the very latest navigation and entertainment systems.
The Ghost's aesthetic treatment is characterised by reduction and substance. Exceptional materials are used in the design that is limited, intelligent and unobtrusive.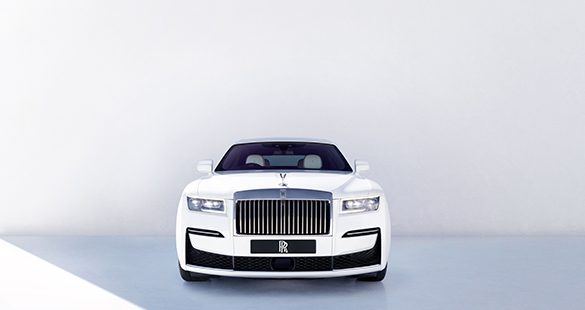 On the exterior, the assertive yet beautiful front end is accentuated by sharp bowlines that intersect with an angular light signature. The ethereal character is achieved through the light of 20 LEDS illuminating the veins of the radiator grille subtly from within.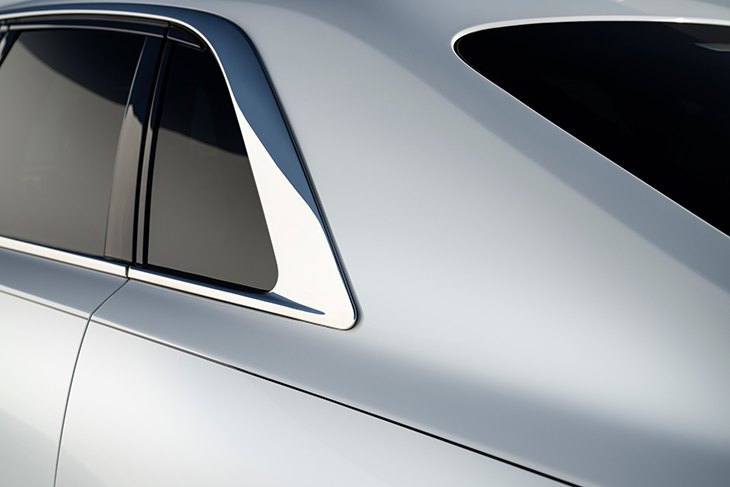 Along the flanks, a single straight stroke is used to emphasise length. The lower 'waft line' borrows from boat design and uses reflection to create a pure, uncomplicated sense of motion. Both doors share equal proportions, striking a balance as both a driver and a chauffeur-oriented car. A subtly arched roofline gently proclaims dynamic intent while the rear end resolves in a taper.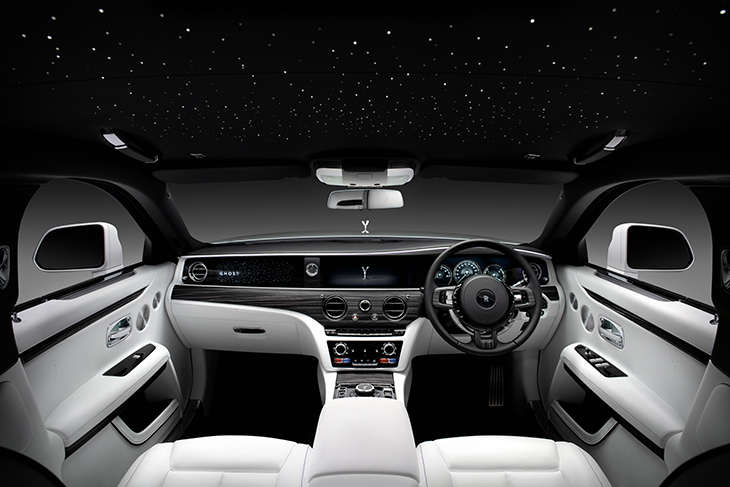 Stepping into the interior suite of the new Ghost imbues one with a sense of calm.
The interior's near-silent sound stage is harmonised acoustically by a 'whisper', a single subtle note developed by acoustic specialists, as complete silence was found to be disorientating.
Creating an interior defined by reduction, simplicity and elegance is an extremely complex endeavour, one that also requires using only the very finest leathers, woods and metals left unembellished. Complex, busy stitchwork has been eschewed for scant but incredibly long and perfectly straight lines on perfect leather.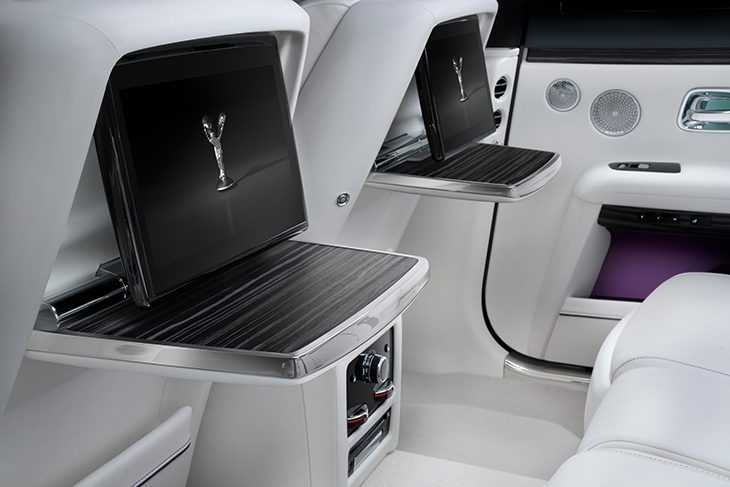 Open-pore finishing showcases wood in their naked form with two new finishes – Obsidian Ayous, inspired by richly coloured lava rock; and Dark Amber, which integrates veins of fine aluminium particles into wood.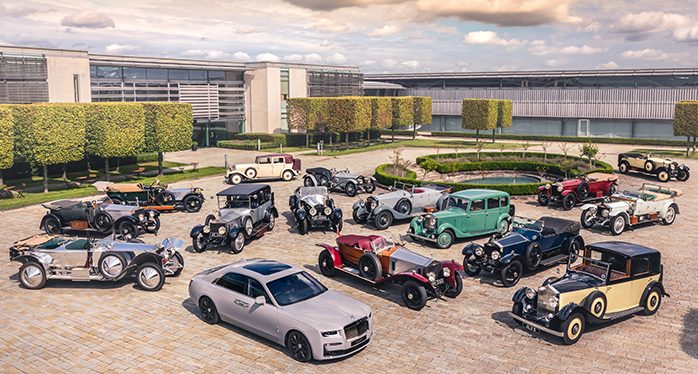 The collective result is the new Ghost. A motor car precisely tailored to its clients, that appears perfect in its simplicity, that is underpinned by remarkable substance, that is less but better.