04 Mar 2022
The Team of Charley Hull, Graeme McDowell, And Hamza Amin Won The Challenge Match In A Weekend Of Celebrations That Officially Launched The Rumanza Signature Golf & Country Club And The Sir Nick Faldo Designed Course Onto The Global Golfing Scene.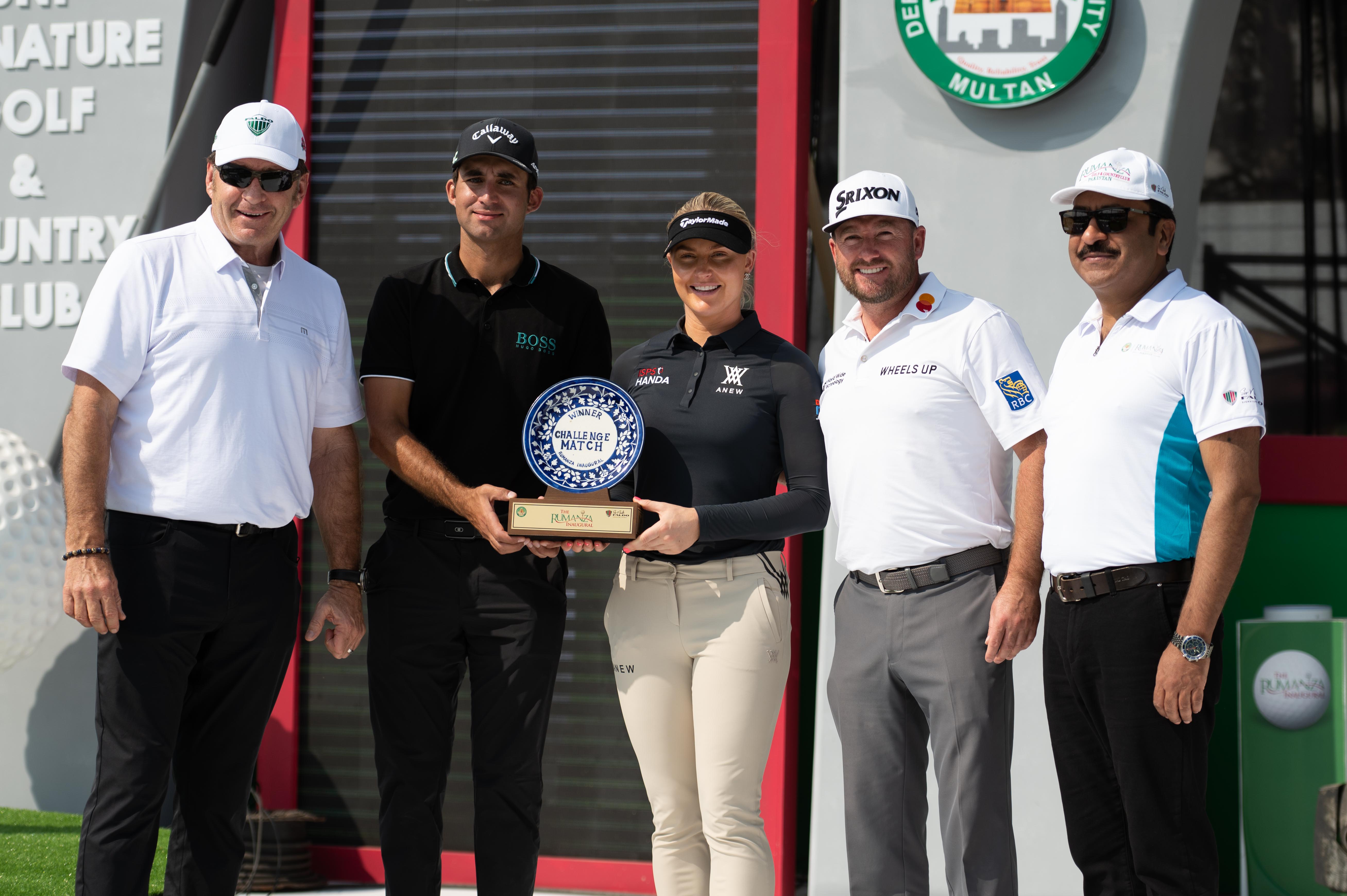 A star-studded team of Graeme McDowell, Charley Hull and Hamza Amin reigned victorious at the Rumanza Inaugural Challenge Match – celebrating the opening of Pakistan's 1st signature golf course, the Rumanza Golf & Country Club – and a new era of golfing excellence in Pakistan.
With early morning fog delaying play by 30 minutes, a decision was made to amend the format of the Challenge Match to a Texas scramble format with Team Hull going up against Team Rafa.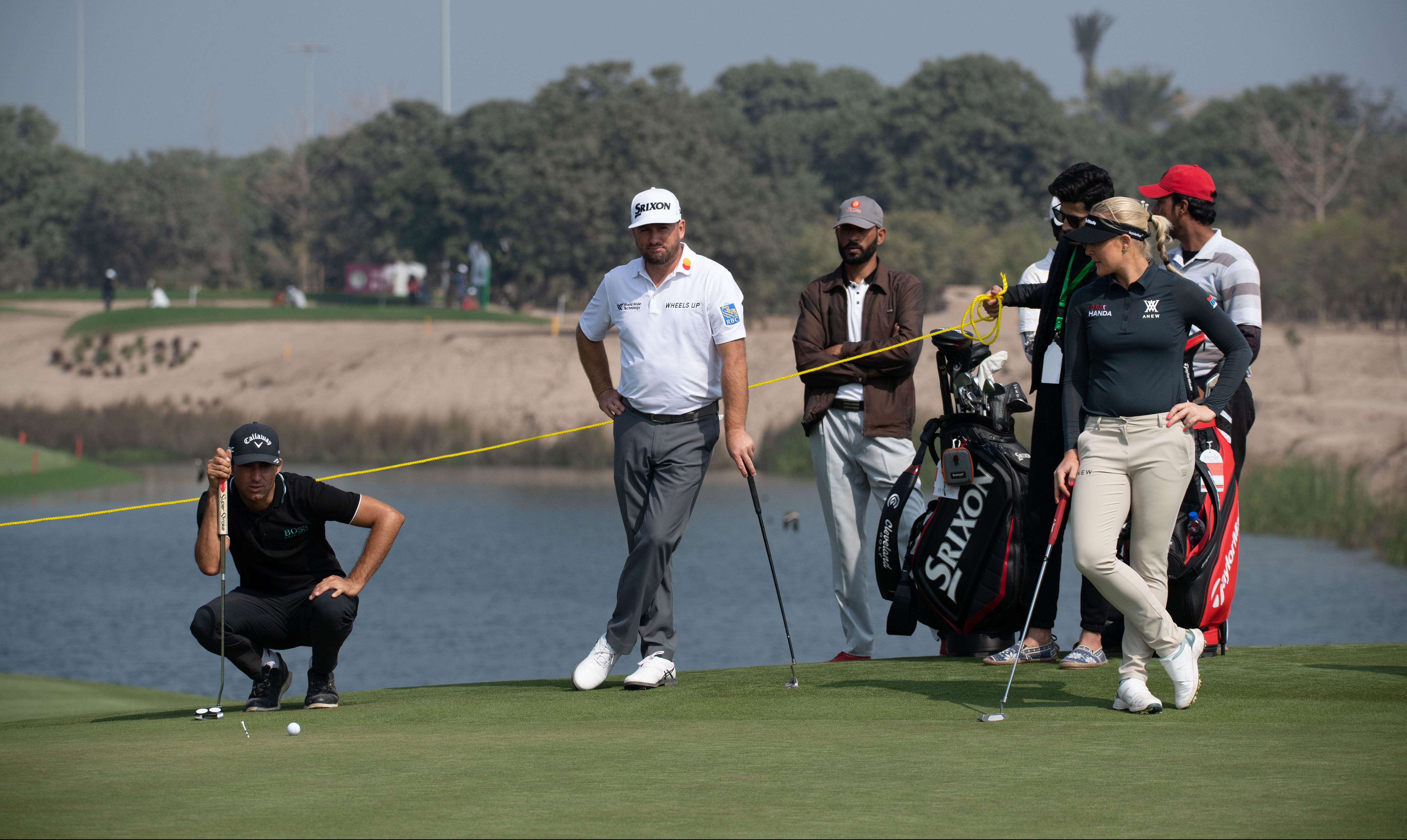 Team Hull, led by 3-time Ladies European Tour winner and 5-time European Solheim Cup player Charley Hull from the UK, shot an impressive 14-under par to take the win. Joining Hull was 2010 US Open Champion and 2021 European Ryder Cup vice-captain Graeme McDowell from Northern Ireland; and Asian Tour player and one of Pakistan's leading professionals, Humza Amin.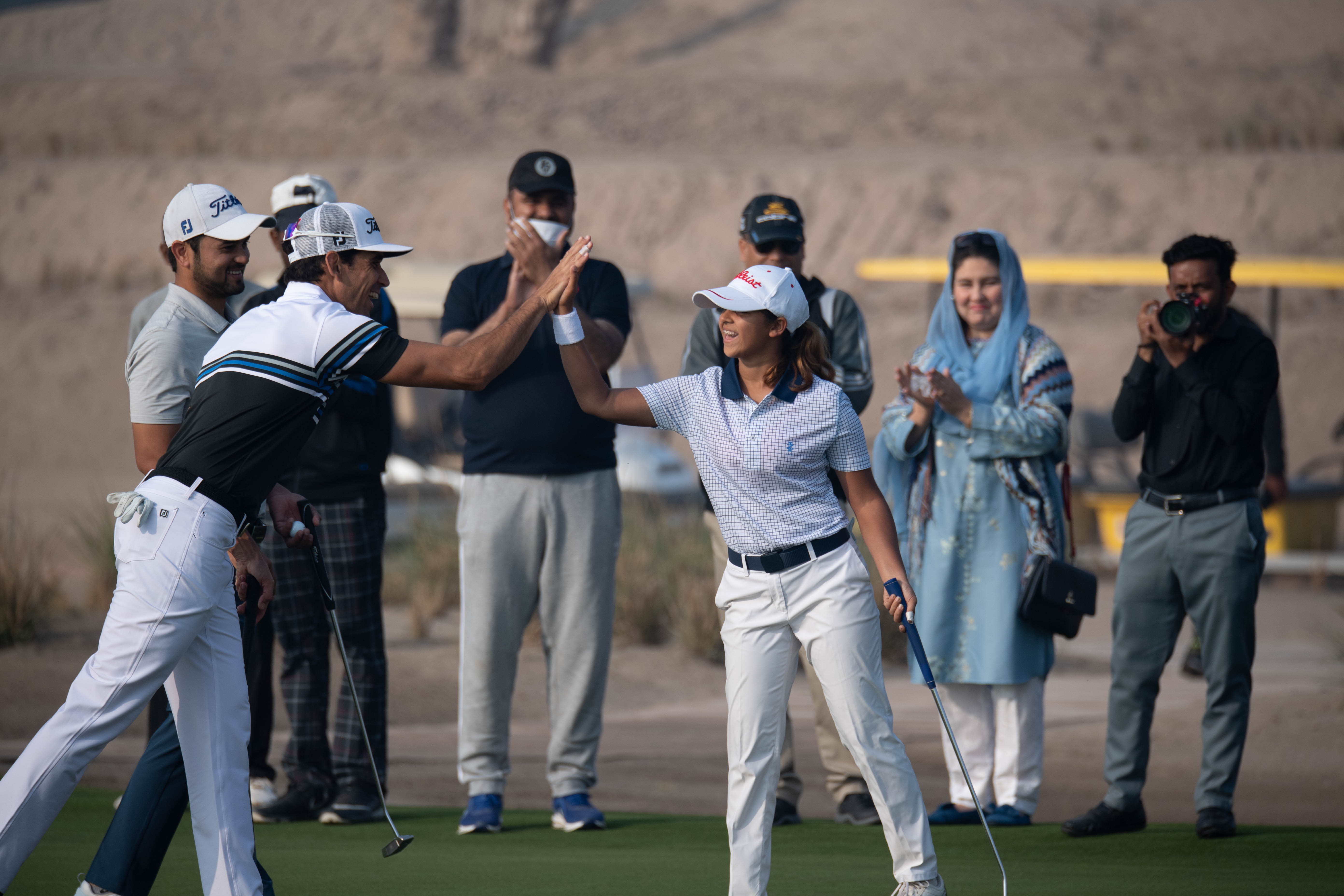 Team Rafa, led by 2021 Spanish Open winner and 4-time DP World Tour winner Rafa Cabrera Bello from Spain, trailed by just 2 shots. Cabrera Bello's teammates included one of Pakistan's most promising female golfers, the 17-year-old amateur Humna Amjed; and PAK Pro Tour #2 ranked player, Ahmed Baig, also from Pakistan.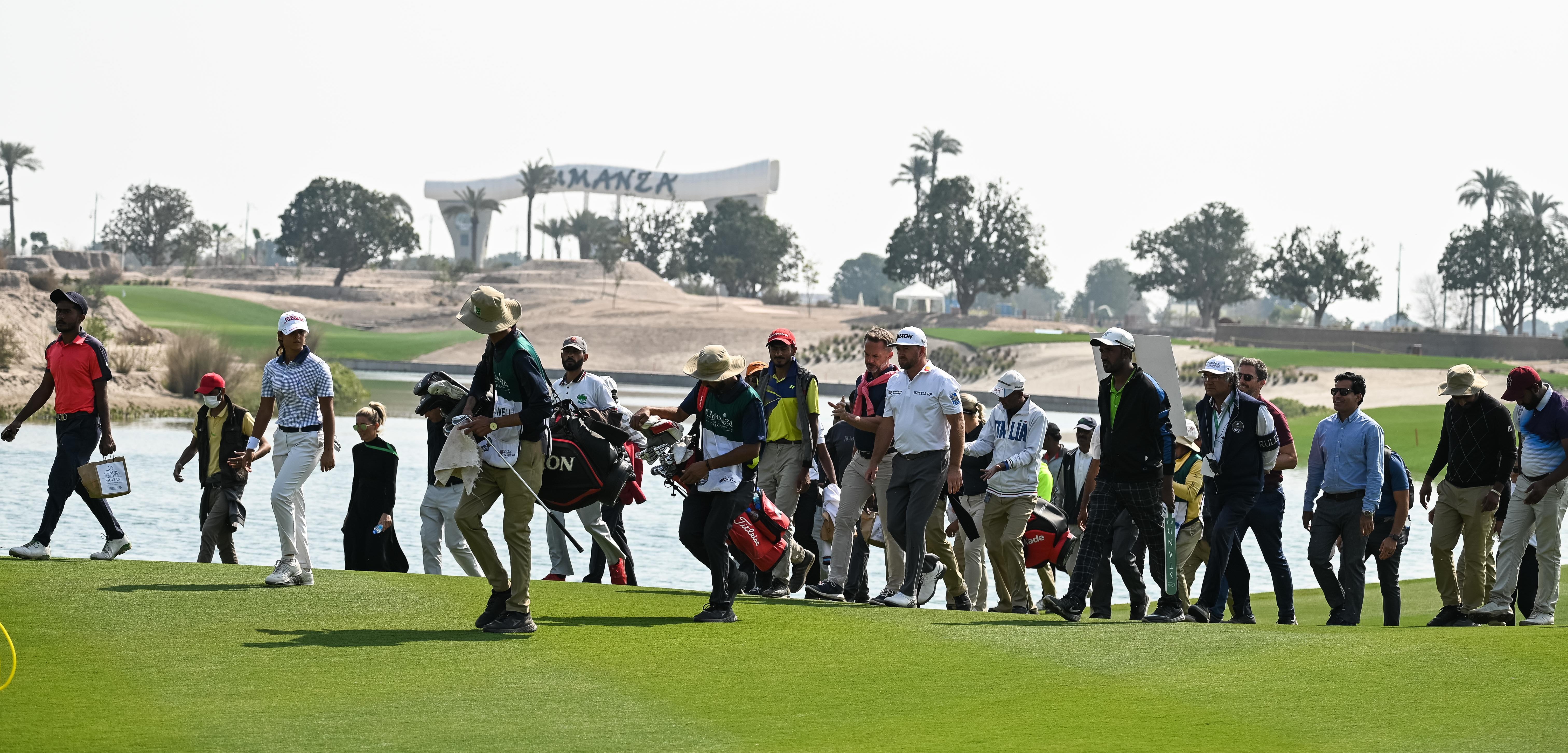 Flanked by a large crowd of fans, the players made their way around Sir Nick Faldo's latest architectural masterpiece, with fireworks coming early on in the 7,533-yard, par-72 Rumanza course.
"We got off to a fast start with an eagle on Two. We were very fortunate to have Charley driving the ball extremely well, allowing us to go into some par-5's with short irons. Team Rafa and his crew kept it close, and it was nice to come up the last with a 1-shot lead to see what we could do. It was a lot of fun." commented Graeme McDowell.
The Rumanza Inaugural trophy made of stunning blue pottery unique to Multan was presented to the winning team by representatives from event sponsors Zahid Mahmood (Zonal Manager at Bank Al Habib), Mohsin Ali (Regional Business Head of Bank Alfalah), Sohaib Bodla (CEO of Bodla Builders) and Iqbal Khokhar (Project Manager at HRL).
The Rumanza Golf & Country Club, developed by the DHA Multan, marks Sir Nick Faldo's first venture in South Asia and the most ambitious course construction project in Pakistan's history. The international players shared their thoughts on the course during a post-event press conference.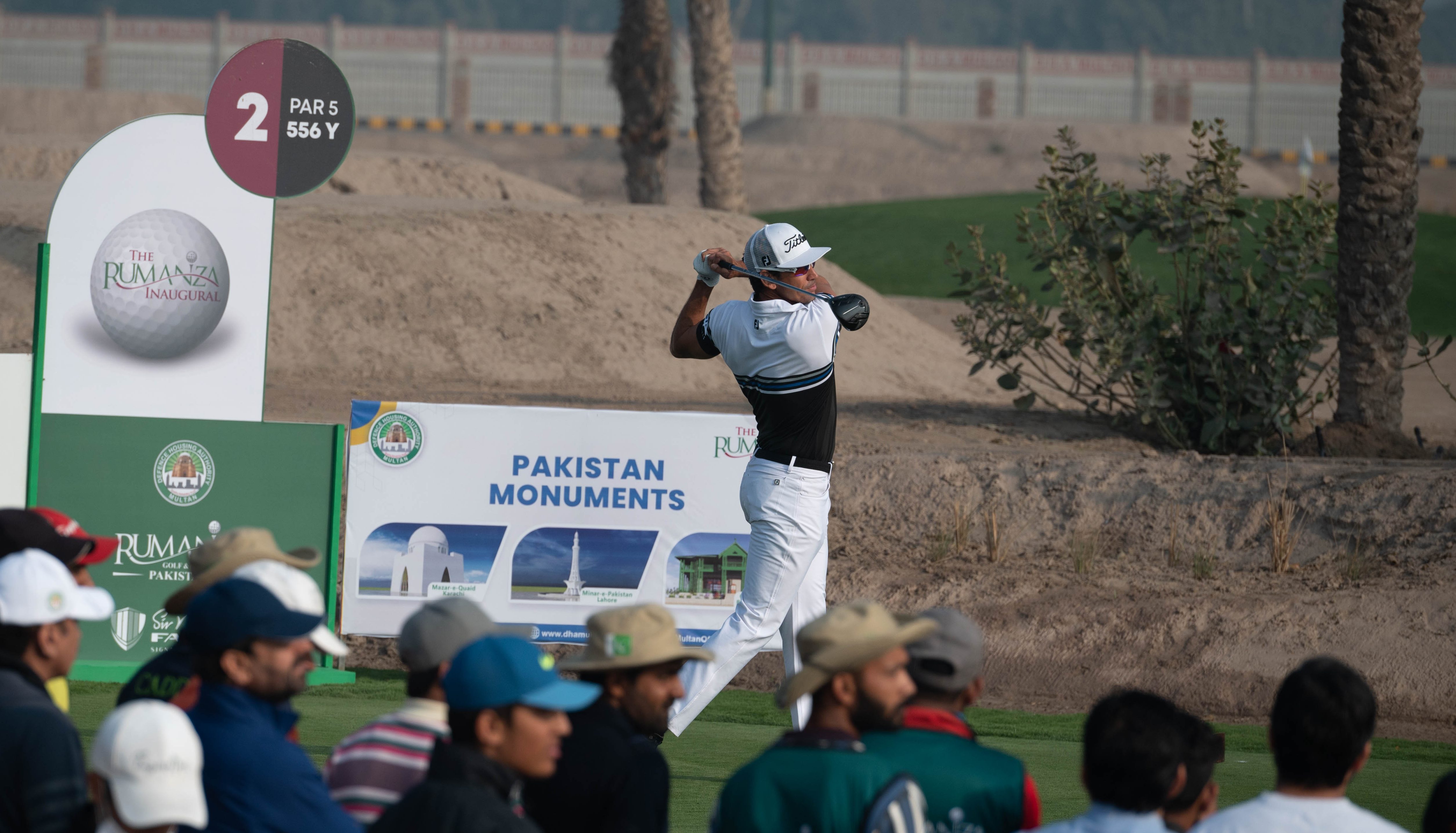 Spain's Rafa Cabrera Bello said: "It's a great course, everyone is very impressed. It's fairly forgiving off the tee, but makes you think a lot on the second shot in. The greens have lots of movement. Some really deep links-style bunkers around the greens protect some hidden pins. Nick has always been a fantastic strategist and the beauty of this course is that he makes you think about every single shot you hit."
McDowell added: "This golf course has certainly not disappointed us this week, congratulations to DHA Multan and team Faldo on what they've produced. It's a world-class facility – beautiful driving range, beautiful practice facility, and the golf course is fantastic."
A key objective of the Rumanza development is to provide the facilities and expertise required to develop and nurture local talent. Alongside the 18-hole Championship course, the RumanzaGolf and Country Club has a double-sided driving range and a short-game practice area with putting greens, chipping greens, and eco bunkers. These state-of-the-art facilities are a first for golf in Pakistan.
Hamza Amin, one of Pakistan's leading pro golfers with 8 pro tour wins under his belt, talked about the importance of facilities such as Rumanza, "The PAK Pro Tour now hosts 20 to 25 events each year, prize money is increasing, and the player fields are growing. Adding facilities like the Rumanza Golf course to the existing infrastructure here in Pakistan can only add to that progression. I'm excited to see the development of the next generation of Pakistani golfers."
McDowell added: "One of things I've felt this week is the passion and the intensity for wanting success in Pakistan golf. What DHA Multan has done in creating the first world-class facility here in Pakistan is that it gives these players the opportunity to play on the type of course that they can expect to see on the Tours. Having had the chance to spend time with the young talent here in Pakistan, it's only a matter of time until these guys move to the next level."
Charley Hull, who is the youngest ever Solheim Cup player, spoke about 17-year-old Pakistani amateur Humna Amjed's potential: "Humna putted really well and hit some great chips. She's a very good player and so young – there's a lot of potential there."
Rumanza is located in Pakistan's 5th largest city, Multan, famed for its rich culture, heritage, history and stature. Speaking about the city's warm welcome, McDowell said: "As golfers we go to some beautiful places around the world, but we don't often get the time to sample the culture. Sport is a great way to bring people to Pakistan and really show them what a country like this has to offer. We didn't have time to sample much of Multan this weekend outside of the course, but we certainly sampled some great food and hospitality, and I can't wait to come back."
The Rumanza Inaugural weekend was jam-packed with action, both on and off the golf course. Day 1 included a gala dinner evening complete with a fireside Q&A, a live musical performance from world-famous Pakistani singer, Atif Aslam, while awe-inspiring fireworks lit up the course.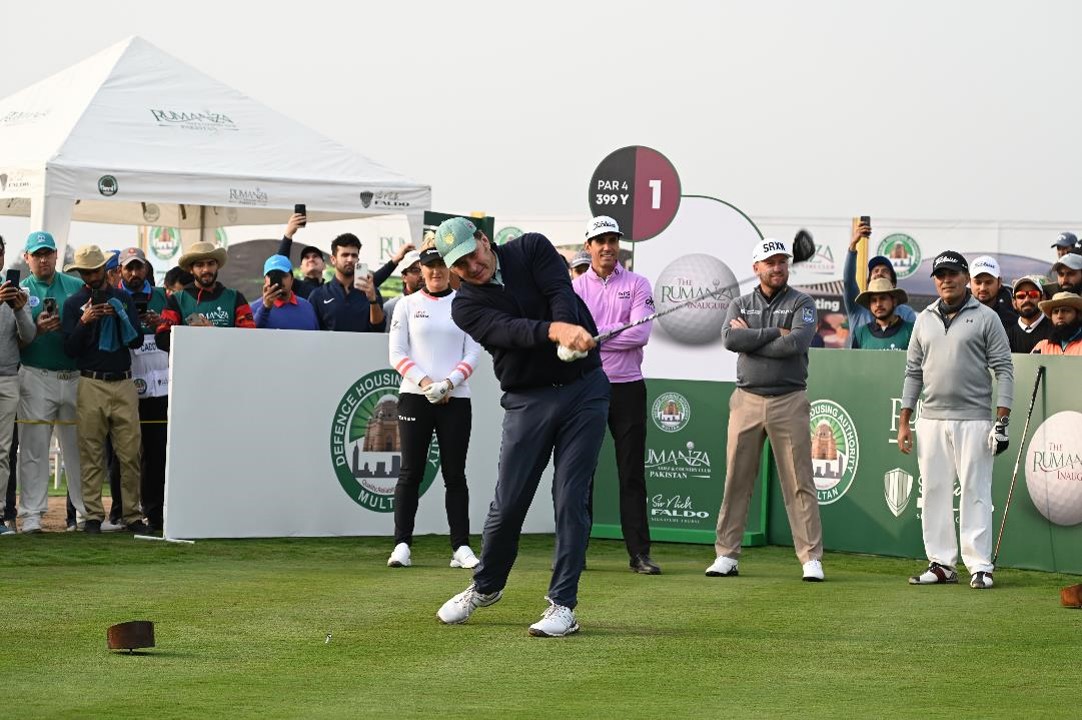 Day 2 saw the action move to the brand-new Rumanza Golf Course. Following a ceremonial opening tee shot by course designer and 6-time Major winner Sir Nick Faldo, 15 teams of 60 players took to the course for the Pro-Am competition. Sir Nick's wife, Lady Lindsay Faldo took the win with her team of Pakistani professionals Khalid Khan and Shahid Javed Khan, and amateur player Usman Akram, carding a score of 51 points.
Star players shared tips with spectators in an afternoon of golf clinics, with the weekend wrapping up on Sunday's star player challenge match.
Rumanza is the centre-piece of the aspirational DHA Multan residential community, one of Pakistan's most advanced, which includes high-end apartments and villas, a five-star hotel, commercial retail space, multiple sports and lifestyle facilities, state-of-the-art education facilities, health care services and extensive F&B outlets.
Project Director DHA Multan Brigadier Shoeb Anwar Kayani, SI(M) closed the event by saying: "What a cherishable and fantastic weekend, to officially launch the Rumanza Signature Golf & Country Club onto the global golfing scene. The interest in the event from players, media and sponsors alike, indicates the tremendous potential of Rumanza and DHA Multan project would have on Pakistan's Economy, Sports Tourism and talent development. Welcome to a new era of Golfing Excellence here in Pakistan!"