14 May 2022
One-Michelin Starred Sushiya Raises $100,000 in Pocket Money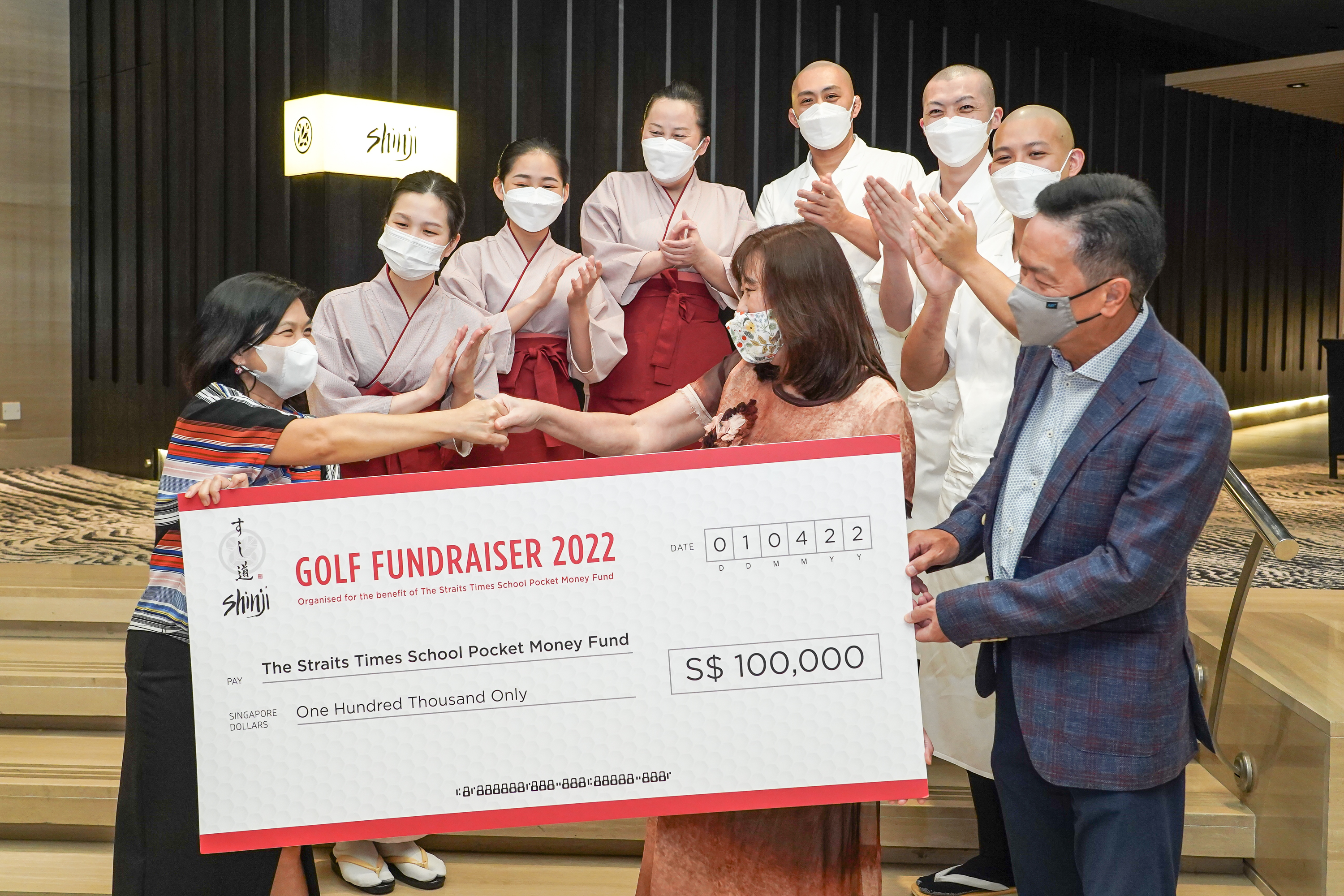 Shinji by Kanesaka, a 1-Michelin star sushiya located at the Carlton Hotel and The St. Regis, celebrated 12 years of sharing the traditional edomae dining experience in Singapore with a $110,276 donation to the ST School Pocket Money Fund by way of its well-supported golf fundraiser.
First mooted in pre-Covid-19 2020 by the Shinji owner Mr Ong Kian Min to celebrate its 10th anniversary, the original idea to hold a golf tournament for its valued customers evolved into a bolder plan early this year to celebrate the resilience and empathy shown by all Singaporeans through Covid-19, particularly those kindred spirits in F&B. It embodied the concept of playing golf, eating well and doing good at the same time.
44 golfers, each donating $2,000, enjoyed a game at the Serapong Course at the Sentosa Golf Club on 1st April, followed by a specially curated omakase dinner at Shinji over at the Carlton Hotel.
"The Straits Times School Pocket Money Fund is a befitting charity – we are in the business of feeding people and what better way to show our gratitude for this continued privilege than to help, in our small way, to feed the children who need recess pocket money," Mr Ong shared.
Generosity came under the spotlight as vendors and partners of Shinji donated prizes for the evening's silent auction and lucky draw. A few items that went on the block included luxurious staycations at The St Regis and Raffles Hotel, dining with wine pairing for 4 at Butcher's Block, and a Herman Miller designer chair. The silent auction generated $20,276 in donations courtesy of the evening's guests.
One of the donors, Mr Eddy Ow, said, "I believe this is the first time a restaurant has stepped up to organise such an event for charity. I immediately said yes and am happy to support Shinji in their corporate purpose of blessing the community."
The tournament results were announced during dinner – the men's champion was Lam Chih Bing and the ladies' champion was Angelina Xiong. Both champions were rewarded with a set of premium Japanese sake glasses for their efforts. In the novelty on-course events, Nearest-The-Line was Margaret Lui who won a Puma Golf Black Stand Bag, while Ong Kian Min claimed the Nearest-The-Pin prize of a Cobra Golf KING Agera Putter.
Mr Ong said, "We are grateful to many of our long-time partners and customers who came forward without hesitation to support our cause and for the success of today's event."