01 Feb 2022
Boundaries have been broken and the new era of driver technology is with the 60X Carbon Twist Face.

TaylorMade built its fortunes on the back of founder Gary Adams invention, the metalwood driver, introduced in 1979 – the year that TaylorMade sounded the death knell for wood-headed drivers.
Ever since, technological innovation has driven the Carlsbad company, from Movable Weight Technology to Flight Control Technology to Speed Pockets, TaylorMade drivers have consistently moved and advanced the golf industry needle.
43 years on, TaylorMade is poised yet again to turn the industry on its head in as significant a way as Pittsburgh Persimmon once did.
Welcome to the Carbonwood age.

Yes, there have been carbon-faced drivers that have come before, even TaylorMade had a version with the Japan-only Gloire Reserve, the difference is that this time, it works. Never mind that it took two decades to overcome the technology hurdles and finally beat titanium drivers at its own game.
Boundaries have been pushed and broken and the new era of driver technology is with the 60X Carbon Twist Face found on the new Stealth™ Plus, Stealth and Stealth HD Carbonwood™ Drivers.
"We realized Titanium faces could only take us so far and carbon would be the face material of the future. This breakthrough design of a lightweight carbon face in Stealth, has created a whole new starting line, a new era of drivers, a new threshold of performance and a new platform for more innovation."
— Brian Bazzel, Vice President Product Creation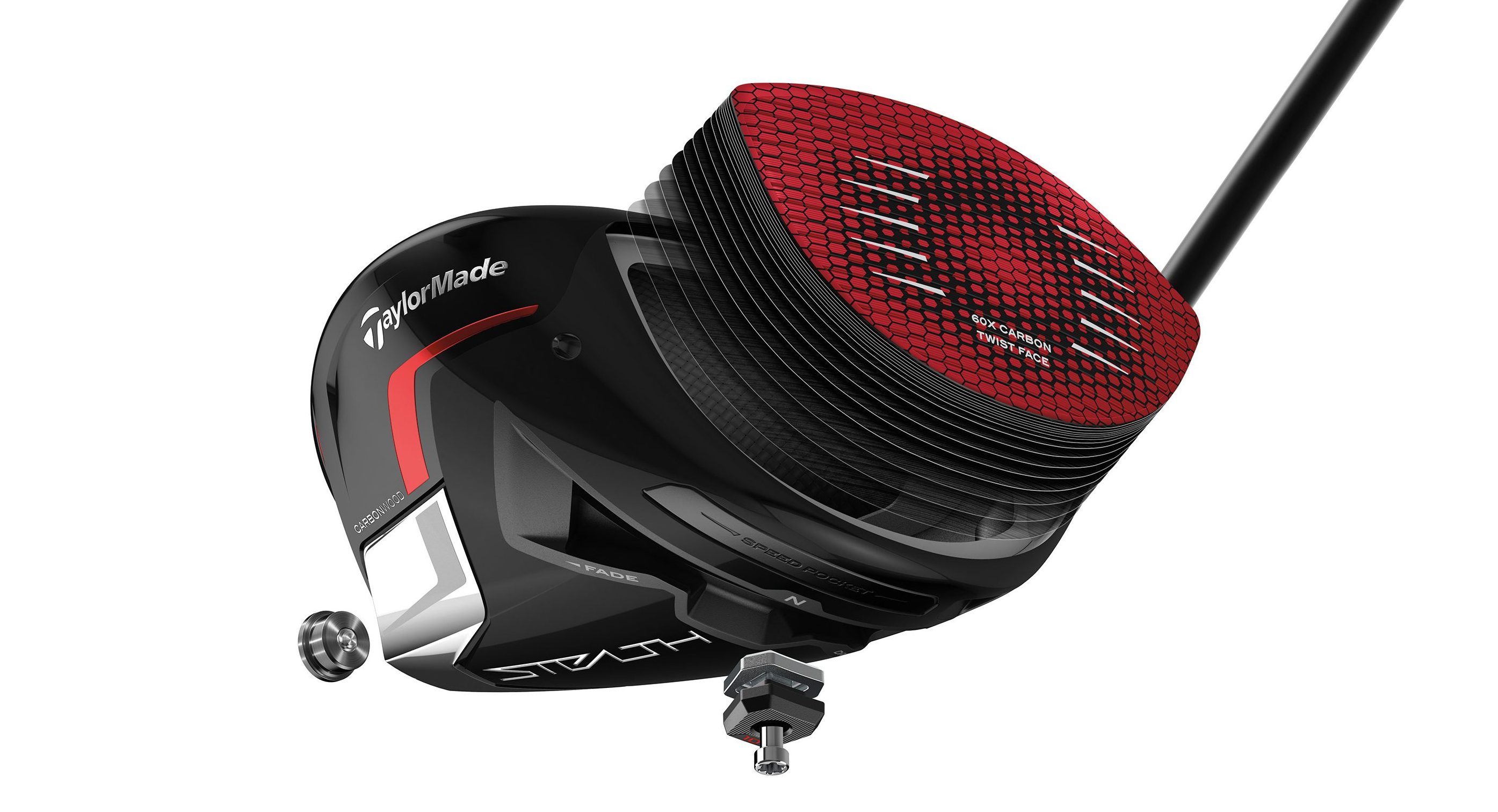 60X Carbon and Nanotexture Face
A typical titanium driver face weighs 43g, TaylorMade's carbon face is a featherweight 26g, freeing up a massive 17g to be redistributed to achieve better performance – an engineer's dream.
TaylorMade says concentrating all that weight rearward in combination with a lighter carbon fibre face is more efficient at transferring energy to the golf ball at impact. Stealth's red carbon face also delivers a higher COR through a lighter and larger face 40 percent lighter than titanium, and yet is 11 percent larger than the SIM2.
Inherently, carbon is a low friction material hence the nanotexture cover with full-face scorelines to ensure consistent spin no matter if the face is dry or wet. Made from a thin polyurethane layer similar to the cover of TaylorMade's TP5 ball, it creates a strong and flexible striking surface to produce the ideal amount of friction between the face and the ball at impact.
"The technological innovation of our nanotexture technology brings the entire face together and was a key to making this driver a reality. Once we added the nanotexture technology to the grooves, we were able to unlock the full performance of a carbon face."
— Tomo Bystedt, Senior Director Product Creation, Carbonwood Drivers
The combination of the nanotexture cover, Twist Face® and TaylorMade's ultra-flexible ThruSlot Speed Pocket™ was engineered to produce forgiveness on strikes across the face.
Shaped For Speed
Despite a larger face, Stealth keeps clubhead speed up. The angled Inertia Generator creates advanced aerodynamics when it matters most, from the downswing to the moment right before impact. Additional weight placed at the rear increases MOI, creates high launch and improves forgiveness.
Better Sounding Than SIM2
Stealth sounds like a TaylorMade driver. Engineers have fine-tuned acoustic precision to create a bright and powerful sound and feel profile. In testing against the SIM2, even Tour players overwhelmingly approved.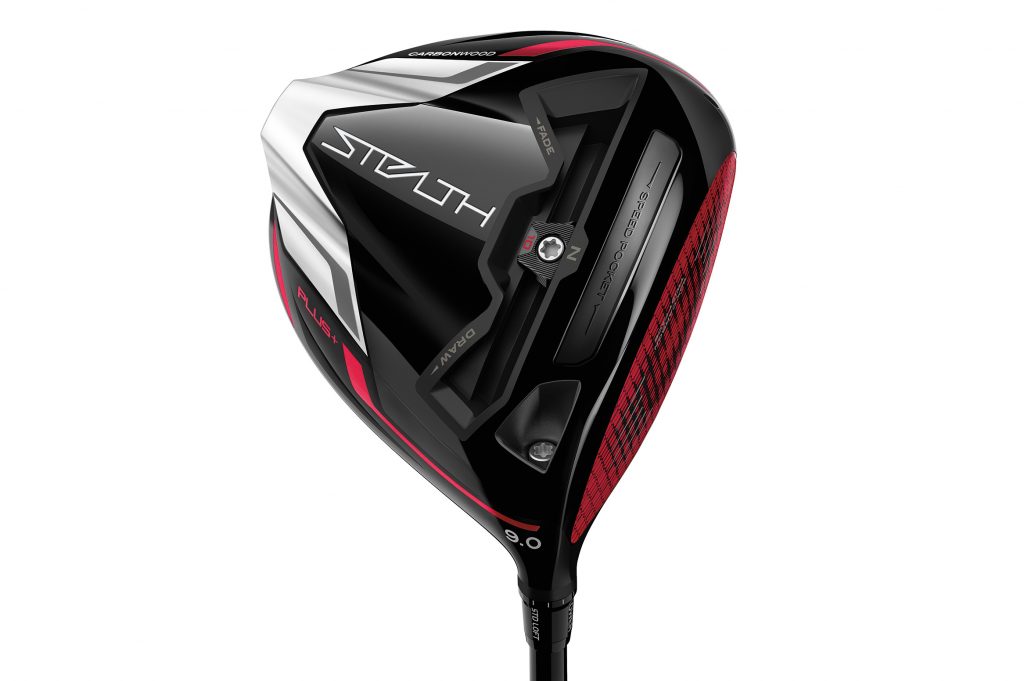 The Stealth Plus replaces the SIM2 and is the lowest spinning model by 200-300 RPM compared to the standard Stealth. Weight savings from the 60X Carbon Twist Face allowed the creation of a 10g sliding weight track for dialling in preferred shot shapes. Locating the track close to the face and placing the weight directly behind the point of impact boosts ball speed.
Stealth Plus is most ideal for golfers chasing distance through lowering spin, who want to work the ball either way, or desire a particular shot shape.
Lofts: 8°, 9° and 10.5°
Shafts: Project X HZRDUS Smoke RDX Red 60, Mitsubishi's Kai'li White 60, Mitsubishi Tensei Silver TM50 (custom shaft options available through fitting)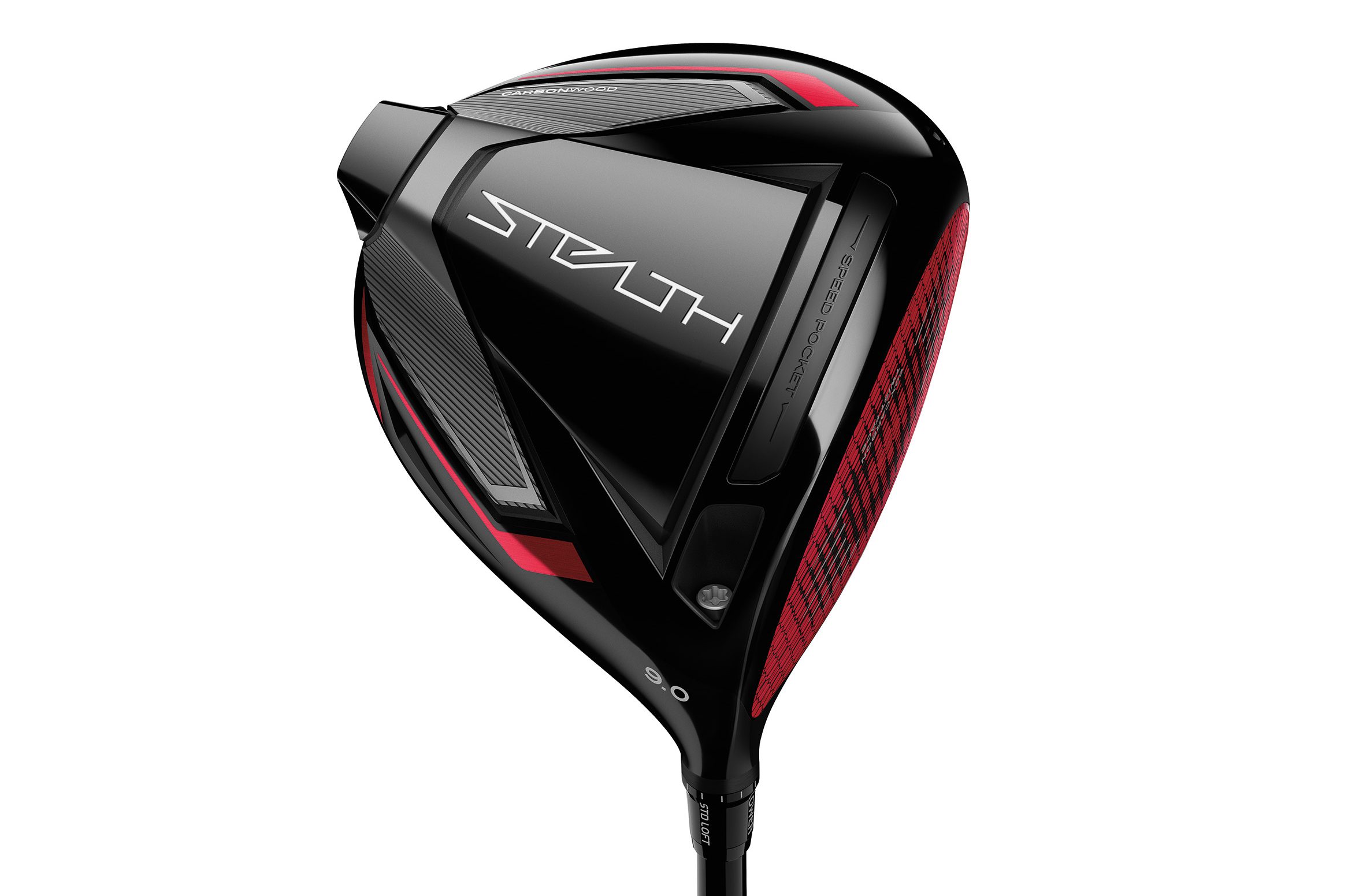 The Stealth lacks a sliding weight track, which frees up even more mass for the Stealth to have a 15% higher MOI than the Stealth Plus with 200-300 rpms more spin. What this means is extra forgiveness and ball speed protection across a larger section of the 60X Carbon Twist Face.
The Stealth will fit nicely into most golfers' hands, its fractionally lighter and more forgiving head optimises speed for a mid-high launch and mid-low spin with a more neutral ball flight shape.
Lofts: 9°, 10.5° and 12°
Shafts: Fujikura Ventus Red 5, Aldila Ascent Red 60, Mitsubishi Tensei Red TM50 (numerous custom shaft options available)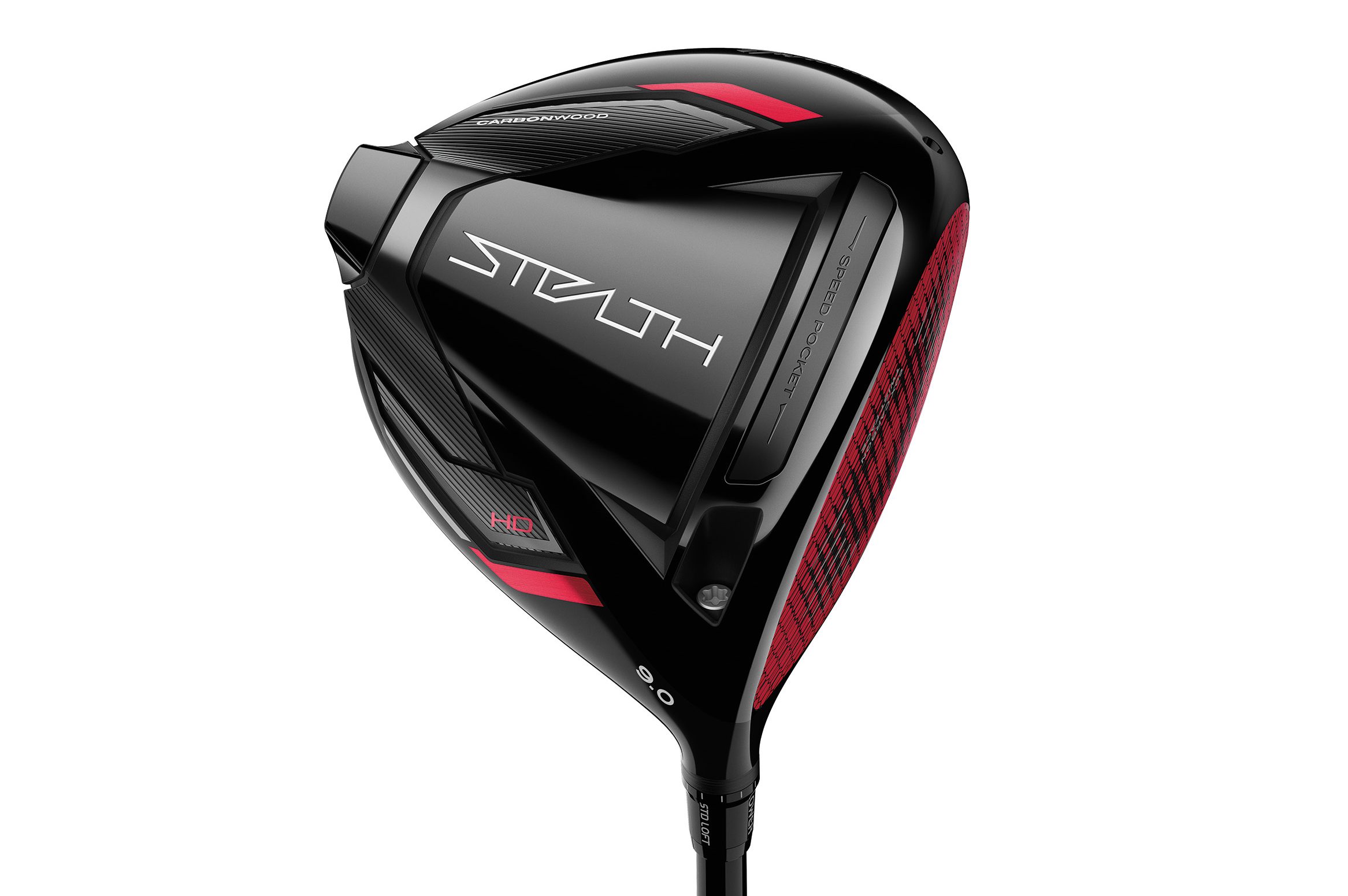 The Stealth HD is unlike most draw bias designs that combat slices and help shape the ball more right-to-left by doing so at the expense of forgiveness. Traditionally, shifting the weight towards the heel lowers MOI and off-centre hit forgiveness, but this isn't the case with the high-draw Stealth HD.
With its lighter, higher launching shaft, the Stealth HD is a high launch, mid-spin driver with maximum draw bias. Shifting the Inertia Generator closer to the heel maintains draw-bias while creating the highest MOI in the Stealth family of drivers. Backspin performance is similar to Stealth.
Lofts: 9°, 10.5° and 12°
Shafts: Fujikura Air Speeder 45, Mitsubishi Tensei Red TM50 (numerous custom shaft options available)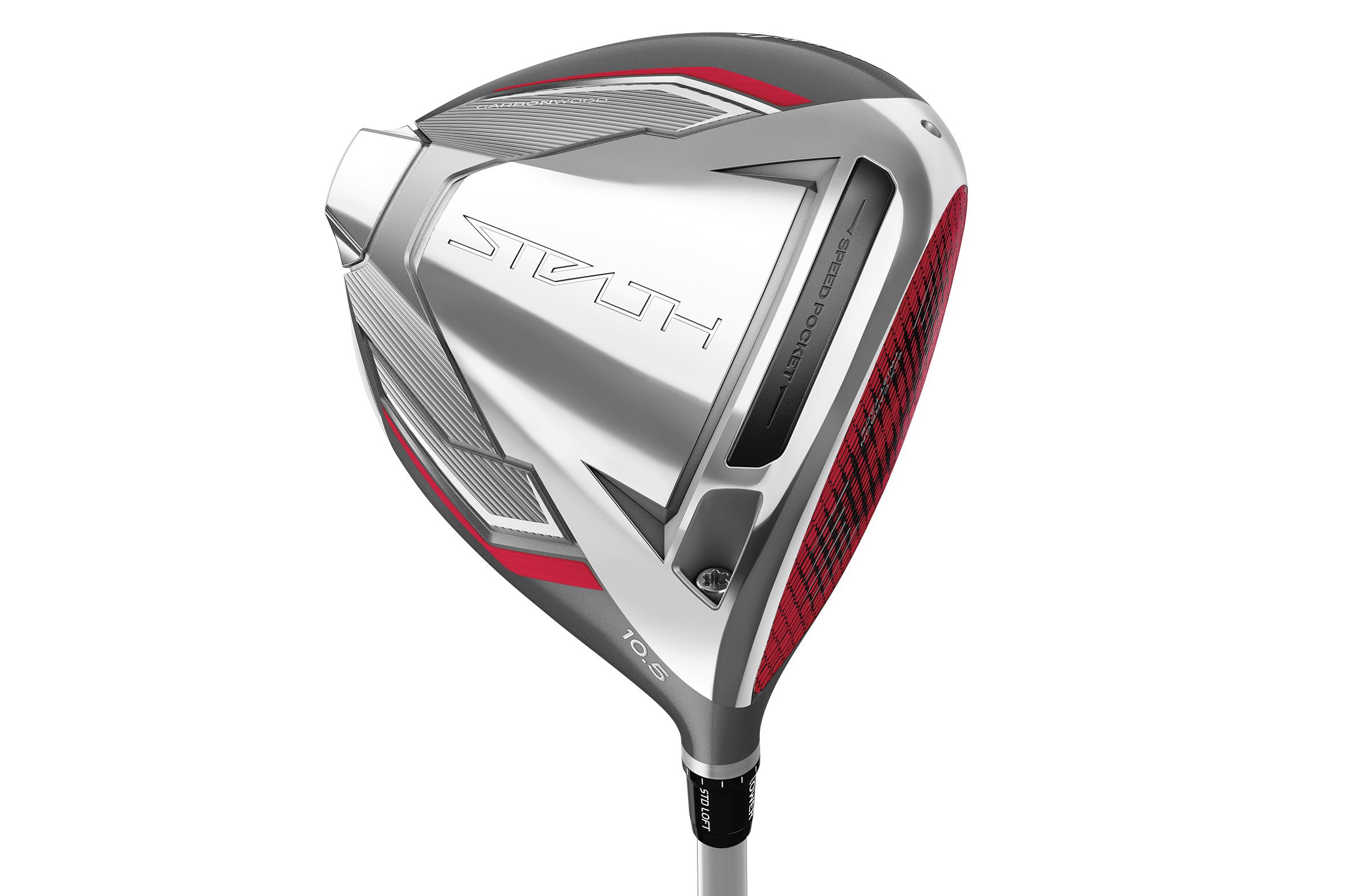 The Stealth Women's driver combines the technology of the Stealth HD in a slightly lighter head weight and with a unique feminine colourway and aesthetic. It maintains the high MOI head design for easy, high launch with a touch of draw.
Shaft: Mitsubishi Tensei Red Ladies with Lamkin Ladies Sonar grip