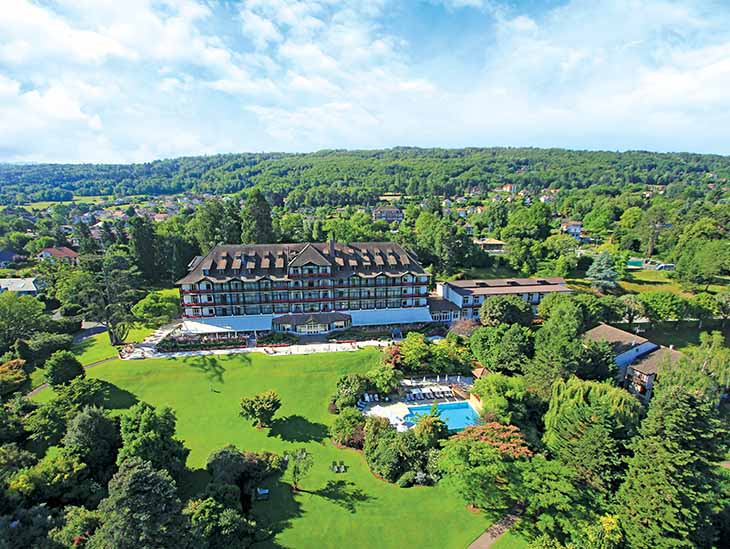 20 Aug 2023
SET AGAINST LAKE GENEVA AND MONT BLANC, THE TOWNSHIPS OF ÉVIAN-LES-BAINS AND CHAMONIX ARE TWO OF THE MOST PICTURESQUE LOCALES ONE CAN DREAM OF AND PLAY GOLF AT.
Imagine living in a town where the water you drink is a luxury commodity elsewhere in the world. Then waking up each morning with the magnificent Lake Geneva at your doorstep and Mont Blanc in the distance. No, this is not a postcard, but it is as picture-perfect as one can fathom it to be. The way in is invariably via Geneva in Switzerland, which is about an hour's drive to Évian-les-Bains, but one can fly into Lyon in France as well and take the inland road that cuts almost equidistant between Evian and Chamonix in Haute-Savoie, site of the first Winter Olympics where Mont Blanc resides. Take the road towards the lake and start there, in a town where everything is available and somehow, linked with one another.
Life around the lake is a peaceful one. Making the sojourn along that great expanse of fresh water, little hamlets litter the journey that makes for idyllic rest stops but be sure to speak some French though since something as simple as ordering lunch could prove to be a tedious process. Otherwise, go directly to Evian and all will be well. The foundations of what Évian-les-Bains is today begun in the early 19th century after the French Revolution where it was discovered that its springs were suitable for medicinal purposes, and thus a spa town was born.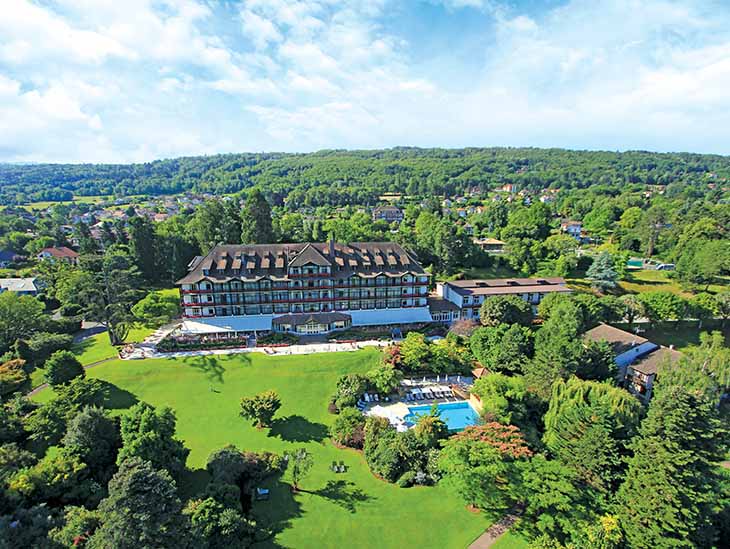 Today, Evian is owned by Danone Group, a French food and beverage multinational company that distributes the mineral water from Evian to the world. In addition to the mineral water, Danone uses the Evian name for a line of organic skin care products as well as one of Europe's finest luxury resort set atop the township and overlooking Lake Geneva. Evian Royal Resort, a member of The Leading Hotels of the World, features two luxurious hotels, golf club, casino and spa with a myriad of treatments, from bain Bretagne to laser therapy.
Ozone and oxygen baths, lymphatic draining, mud sheathings and sudation sessions are some of the treatments used at the spa for thinning, vitality, and smooth remodeling of the body. All the time using Evian's mineralised spring water in the treatment of skin, urinary and nephrological conditions, as well as a diuretic cure.
While the curative qualities of the spa present a raison d'être during the founding years, it is the magnificence and opulence of Hotel Royal that has drawn royalties and high society figures the like of Countess Anna de Noailles, the Maharaja of Kapurthala, King George V and literary greats Frederic Mistral and Marcel Proust to the area.
Built in 1909 by the great architect Hébrard, Hotel Royal remains one of the finest examples of European luxury living ever since with 148 rooms and suites, three fine dining establishments and a spa with a private elevator entrance, among other amenities. Interestingly, the golf club was built earlier in 1904 but since those days of yore, the club and resort has undergone significant upgrades. For starters, an additional Hotel Ermitage, renovated in 2010, joins the original grand lady, offering a cosy four-star accommodation with 80 rooms and suites, a spa, two restaurants and a bar.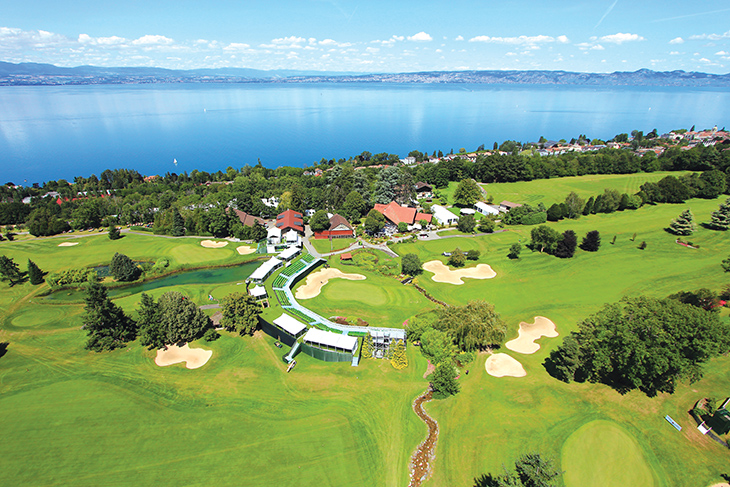 Today, both hotels offer preferred access to the world famous Evian Resort Golf Club, previously host of the LPGA's Evian Masters presented by Société Générale, and now The Amundi Evian Championship, noted for being the site of women's golf's fifth Major championship and the only returning venue amongst the big five.
Last year's tournament was won by Canadian star, Brooke Henderson, who prevailed with a one-stroke victory over American Sophia Schubert, for her second Major championship win after the 2016 Women's PGA Open. The layout at The Champions course at Evian provides the perfect backdrop for the world's best female golfers to return, year after year. It is a beautiful rendition of a golf course design with its mix of elevated par 3s, stadium-like par 4s and 5s and holes that overlook the town and lake presenting many picturesque opportunities as well as shot making challenges.
Much like Augusta National and the The Masters in the men's game, Evian Resort will look to continue innovating to remain competitive for the world's finest year after year after year. The key hole locations to check out are 5, 15, 16, 17 and 18, and they have been redesigned from their previous iteration to introduce more drama and spectator viewing areas. The redesign work, done in 2013, also improved the quality and strategic challenges of the golf course not just for The Amundi Evian Championship but also for guests of Evian Royal Resort.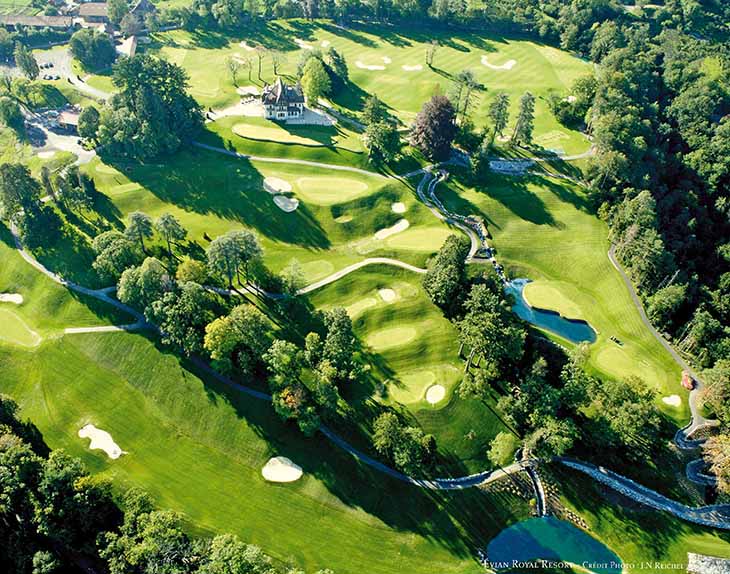 Apart from the The Champions, there is also a 6-hole Lakes Course, built in conjunction with the Evian Resort Golf Club Training Academy and a Leadbetter Academy, making this one of the finest of its kind in the continent. The Training Academy comprises of a 37-acre facility overlooking the lake and consists of 12 different dimensions; eight sheltered range areas working into a blend of different conditions of play.This unique concept provides roughs, fairways, sloping and flat terrain with 10 grass modules designed to the same dimensions and for all the shots encountered on a championship course.
For students of the game, there are six training modules available that reproduces all the situations found on a real course so that they can work on improving one specific golf shot by re-producing the movement as many times as required. The 6-hole Legends course offer three levels of difficulty enabling all golfers, from beginners through to experienced players, to rapidly put their progress to the test in a real-game situation.
At any one time, there can more than 120 students enrolled at the Academy's Golf School, each served by any of the five highly-trained and qualified instructors using state of the art Trackman radar equipment for swing analysis. For those looking to improve on their short stick, the Leadbetter Academy program includes utilising the BigTilt, which is a complete putting training solution that provides players with the opportunity to develop their confidence and their address by practicing visualization and feel on slopes ranging from 0 to 5 percent.
A video projector displays the three different lines to take depending on theslope and speed of your putt. In addition to the BigTilt Pro training application, the player can access a set of exercises that help develop the three pillars of successful putting: Technique, Feeling and Performance. There is also regrip, club maintenance and repair services all year long. It is a unique state-of-the-art facility that sees even touring professionals visit to hone their game all year round come rain or shine, and even has its own clubhouse and lounge.
Elsewhere in Évian-les-Bains, there is a full-service casino with night clubs, a host of restaurants and, of course, bottled Evian water everywhere. From the Lake to the Mountain High atop the northern French Alps in the Mont Blanc region, Evian natural spring water begins as snowflakes and rain-drops falling in one of the most pristine places on earth. It takes years for each drop to filter through mineral-rich glacial sand formations deep within the mountains on the way to its protected spring, Source Cachat, in Évian-les-Bains. But having been there, it is time to head further afield and closer to the source.
Mont Blanc, translated as "White Mountain", is the highest mountain in the Alps, rising up to 4,810m above sea level and ranked 11th in the world in topographic prominence. It lies in a range called the Graian Alps that cradles the regions of Aosta Valley, Italy, and Haute-Savoie, France. Popular for mountaineering, hiking, skiing, and snowboarding, there is also a Robert Trent Jones Snr. golf course for those who make the effort to get up there.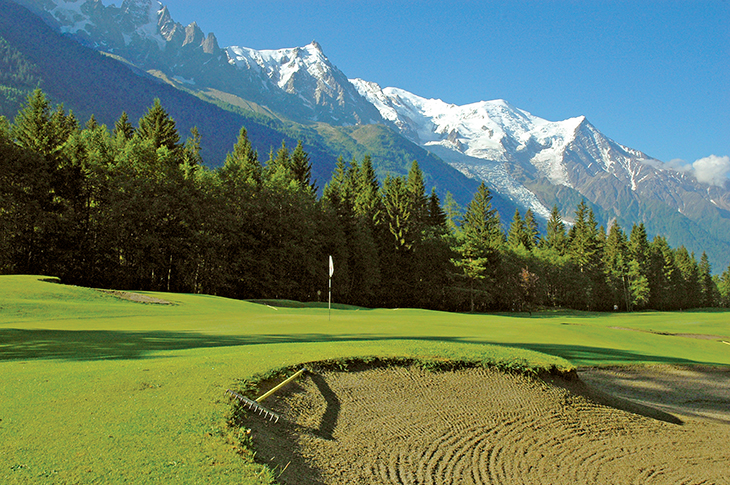 Located in the township of Chamonix in Haute-Savoie, the aptly named Chamonix Golf Club is an 18-hole challenge set between the Mont Blanc range and the massif of the Aiguille Rouges. Like a well-kept secret, this course was built in 1934 as a 3-holer, which was soon extended to nine, and in 1982, Trent Jones Snr., came and completed the rest of this 6,076m, par 72 course. While it may not offer the
championship features or length that is popular with most modern courses, it has a distinct character of its own that intrigues at every turn in every hole.
From an open dogleg left start, one quickly realizes that this is not your run-of-mill golf course. After hitting the approach to an uphill green, you will pass an erstwhile hidden pathway carved directly underneath the fairway that allows people to walk across! This is quickly followed by a tough, elevated par 3, made tougher for the 50 or so meters trek upwards to the back tees. Although buggies are allowed here,
there isn't a route to drive up since this is really also part of a trekking route.
Here is where confidence in yardage, shot, and club selection comes to play, especially when the cold winds blow by. Imagine carrying a few irons and doing that walk? This is well and truly, golf as a sport. The rest of the course features numerous bunkers, water hazards, magical woodlands and streams but despite being atop a mountain, it is mostly on flat ground. Club director David Richalot has this to say: "It's
not a difficult course but you'll need to keep the ball straight, otherwise, the woods will punish you."
Nevertheless, these same woods are what frame the unbelievably scenic surrounds. At times, Mont Blanc stands spectacularly close by and at others, clouds partially engulf the whole atmosphere giving off a surreal feeling of golfing in some esoteric Nirvana that is simply out of this world. What is particularly humble though, is the clubhouse and its entrance. Easily missed for those driving there for the very first time, the pebbled road that leads into Chamonix Golf Club is unassuming as though one were to visit a friend's home.
The single-storey wooden logged houses inside makes up the booking office, proshop and a little cafeteria for the tired and hungry souls making their way around the golf course. There is also a hotel on site for those looking to stay a little longer. But spend some time in Chamonix and a delightful resort town awaits that is constantly filled with revelers and sports fanatics looking to explore Mont Blanc or conquer the trails in the many biking, climbing, skiing or running competitions that are held there throughout the year like the North Face
Ultra Trail du Mont-Blanc late August, or the Marathon du Mont-Blanc in June.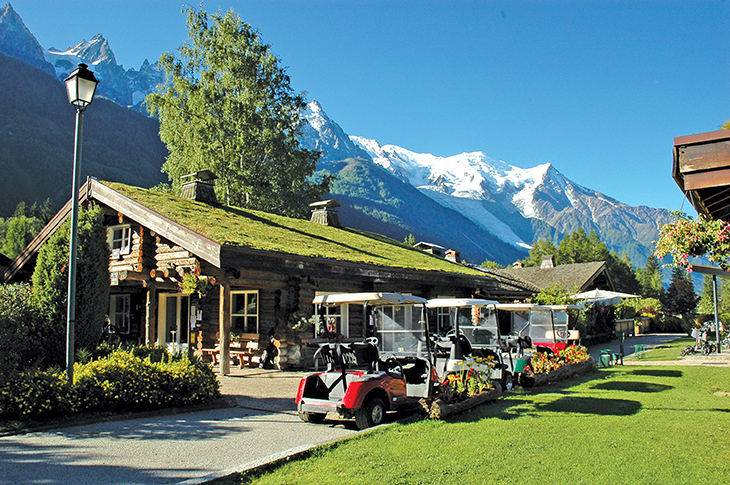 Music lovers may even want to make their way to the Cosmo Jazz Festival here around July each year. In the end, whatever one's penchants may be, Evian and Chamonix are inextricably linked by the purest basic commodity in the world while offering a wonderfully fantastic experience that will certainly be remembered for a lifetime.