10 Jul 2020
If the Hermes Speedster existed in their time, the ancient Greek Gods would have been proud to have the name of their messenger over water.
The Hermes Speedster is a neat classic-styled runabout with traits reminiscent from the 1959 Porsche 356 and the gentleman-style runabout boats of the 30s'. Hermes successfully combines luxury, efficiency, style and comfort. A unique character of its design, the natural curves and the absence of any straight lines, alludes to a dynamic motion.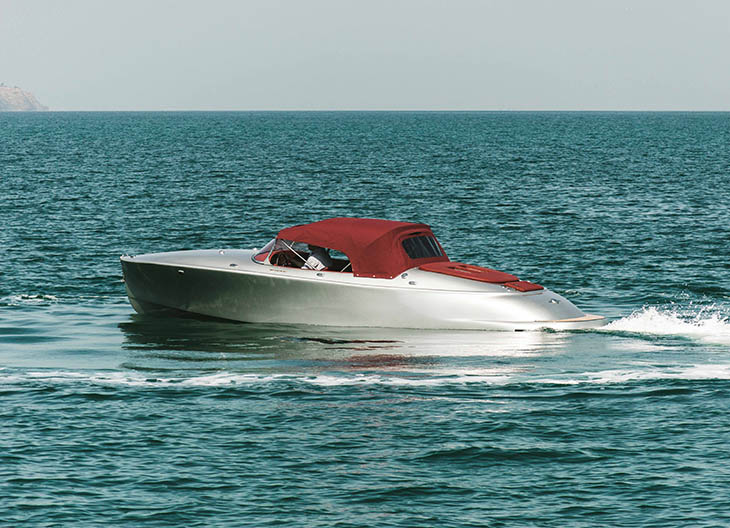 Craftsmanship
Designed and produced by Seven Seas Yachts, every part of the Speedster is painstakingly assembled by master craftsmen, with only the finest materials used. An eight-layer thick hull features an exterior that prevents osmosis; airtight compartments ensure safety and stability, enhanced by a lightweight stiff honeycomb layout. Carefully considered right down to the custom gauges, each component must be durable and of the highest quality.
Every detail from material to stitching and even the exterior colour of the remarkable Speedster can be customised to truly reflect your personality; even unique requests are entertained. Combining the newest in technology folded into a classical design, the result of this extraordinary team effort is a true feast for the eye. An elegant yet rugged, low-maintenance boat destined for your enjoyment.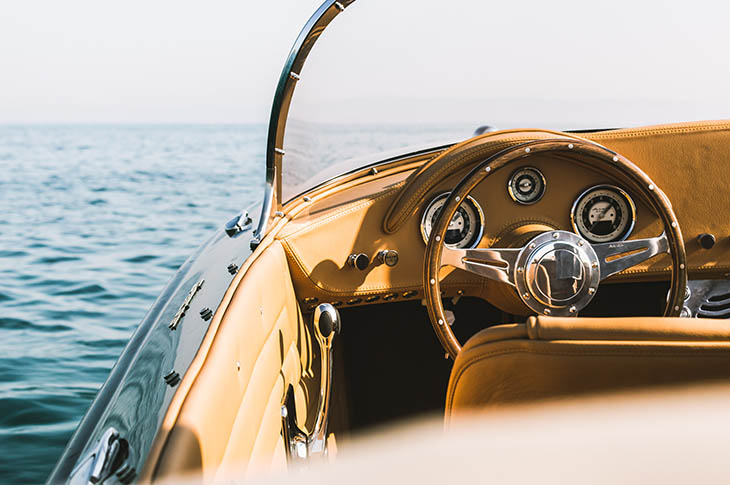 Performance
The innovative Amfihull® performs with a very low drag resistance, allowing for the use of smaller engines while still out-performing smaller sized boats. A really steep entry angle of 72 degrees works in combination with the rest of the hull to ensure a very soft ride as the boat slices through the waves, while cruising speeds are maintained at very low trim angles of between 2 and 2.8 degrees. As speed increases, the hull gradually rises out of the water, maintaining a nearly horizontal attitude at all times.
There is no hump coming on plane whatever the speed, be it as low as 5 knots or up to the boat's maximum speed. Due to its extremely low centre of gravity, this boat is tremendously stable while cruising and at rest. Like its bigger siblings, the Hermes Speedster demonstrates an unbelievable average consumption of 5.5L/h. Claiming once again the title of "The most efficient production boat in the world".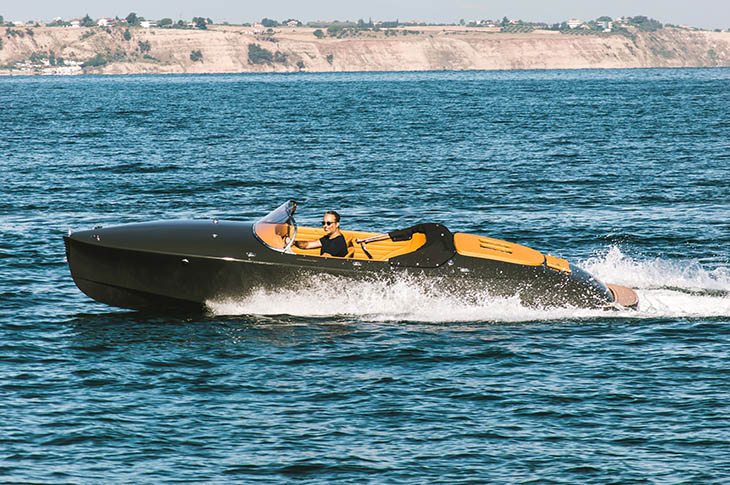 Detail
The Hermes Speedster is painted with certified marine metallic colours before it is coated in an anti-scratch varnish, with a final polishing by hand for the finest finish.
The interior is fully leather-trimmed, with a choice of 15 standard colours. Each part, from the seats and steering wheel to the speakers and the switches, is especially designed and hand crafted with attention to detail. And there are 11 different hood colours to match or contrast the interior. Taking just a few seconds to go from convertible to sunroof up, the convertible top in combination with the optional heater and glass defroster, makes the boat ideal for colder climates, comfortably seating up to 5 persons.