31 May 2023
By Marie Monozca | Beautiful seascape meets mountain in this captivating golf property that mixes parkland with links.
In this country of nearly 100 million people, one name stands out that is synonymous with upscale, high-quality property developments, Ayala Land. After all, this is the group that master-planned Makati City, the Philippines' premier financial district. The same vision, foresight and meticulous planning is evident in the group's first foray into high-end leisure development called Anvaya Cove.
Meaningfully expressed, "Anvaya" means "family" in the ancient Sanskrit language, with a return to family traditions at the core of everything at Anvaya Cove.
Located 2.5 hours from Manila, where America's largest overseas military installation once stood, Anvaya Cove encompasses 470 hectares and spans 3.5 kilometers of pristine coastline with a peak elevation of over 130 meters above sea level. This seaside residential community features neighbourhoods with distinctive environments set against stunning views of Bataan Mountain range and Subic Bay.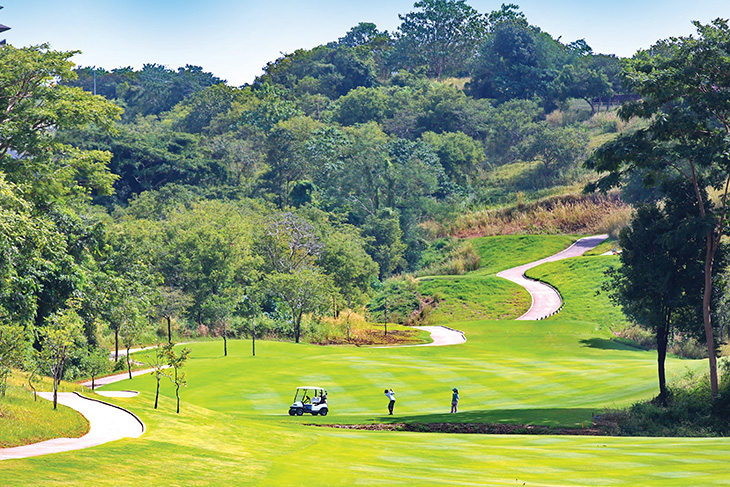 It took close to eight years to complete the entire construction due to the careful and methodical planning imposed by Ayala Land to keep the natural lay of the land and preserve the inherent beauty of the site. As a result, the golf course, homes, and other structures are woven into the terrain on verdant swathes of land, surrounded by splendid panoramas, open expanses, wetlands teeming with life and abundant forests.
At the heart of Anvaya Cove's residential community sits what is surely the nation's finest links. The 7,030-yard (6,429 metres) layout, designed by Golfplan partner Kevin Ramsey, is separated between a 'Mountain Nine' (Holes 1-9) and 'Seaside Nine' (Holes 10-18). Many who have played this hybrid course, leaves its verdant property, properly wowed.
Anvaya elicited that same reaction from none other than the architect himself. "Any time you visit a seaside site you get excited about the possibilities. Anvaya had that and more. It had dramatic topography that allowed us to take advantage of the setting and the views. Flatter sites don't offer this. Combine all this with the diversity of the landscape and you have a very unique setting."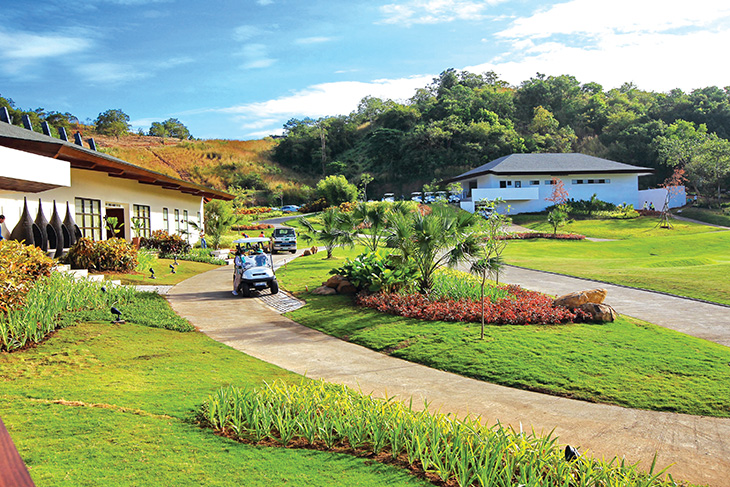 Running directly beside the West Philippine Sea, on bluffs looking straight down on the beach, and along ridges with long views across Subic Bay, one would be hard-pressed to find a hole that is nondescript. Several of Anvaya's holes play directly alongside the beach, with a few tee boxes perched on cliffs. Several more cut daring paths through thick, tropical jungle, while the remaining play along ridges 100 metres above sea level.
"With that sort of elevation change, there are only a few holes that don't have an ocean view, but it's always a thrill to deploy salt water as a legitimate hazard, and we did that multiple times out there at Anvaya," adds the intrepid designer, whose California-based firm has designed hundreds of courses in over 75 different countries.
For Ramsey, seeing Anvaya finally come into fruition can be considered a career highlight. He and his team started work on the site in 2006, and recalls two key challenges, one of which was Mother Nature. "We sequenced the construction in such a way as to minimise any potential for negative impacts from erosion or excessive runoff. This also caused us to slow the construction schedule down so that as the rainy season approached, we only had a small manageable area of earthwork underway."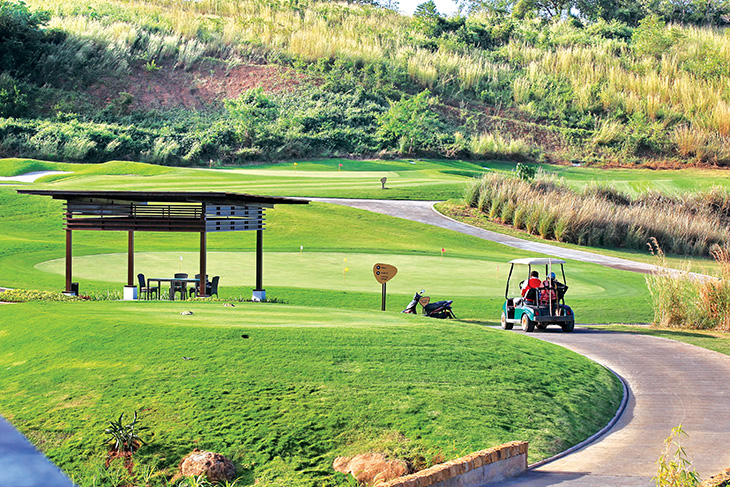 The other difficulty they encountered was the dramatic topography. He notes: "As much as it was an opportunity it was also a challenge to minimise the earthwork, thereby preserving more tress and keeping the golf course more natural."
In doing so, the golf construction process, which would normally take 18 months to two years, took about three years. "Growing in those 18 holes was slow and methodical to limit erosion and preserve Anvaya's natural features," he adds.
In line with its environmental commitment, Ayala Land has implemented sustainable practices across the property, on course and off. Anvaya is perhaps the most eco-sensitive course to debut in Asia-Pacific in the 21st century; its turfgrass a special, salt-tolerant zoysia – its specimen dita and cuphon trees preserved across the expansive property.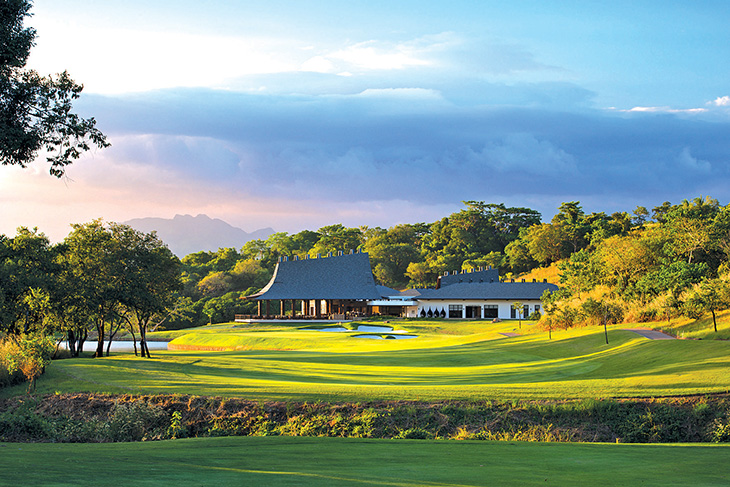 "At this elite level, it's not enough to have built such an exquisite layout on such amazing, seaside terrain. There must be the commitment to maintain the course to the highest standards of conditioning and environmental sensitivity – and Anvaya Cove has made that commitment," Ramsey reiterates.
Playing at Anvaya can be summarised into the distinct environments that golfers will experience, exacerbated by high grassland atop the ridges; tropical rainforest on the inland portions; holes right on the beach and others perched on an adjacent cliff above the sea or set high atop rolling hillsides with 180-270 degree views of the West Philippine Sea and the mountains across the bay to Bataan. In a unique combination of elevation and expanse, the mountains frame everything, yet the ocean is so close that one may even lick the salt off his lips.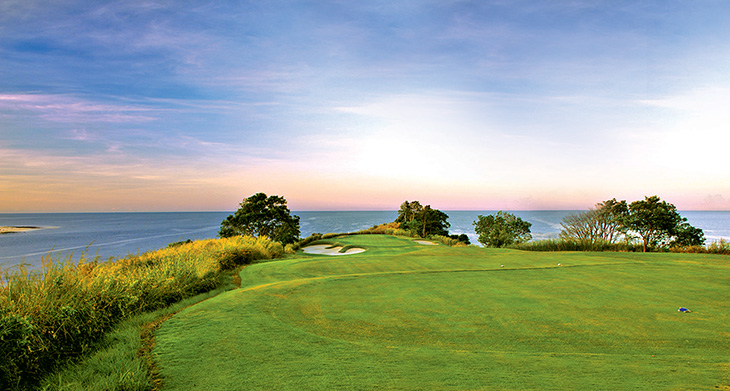 Each hole has its own personality and names (Fortitude, Resilience, Reflection, etc) to signify the virtues that should come in handy to play it. Each is a testament to the coexistence of great golf and the environment.
Take the 11th "Wisdom" for instance. At only 310 metres, it is tempting to hit driver and try to reach the green some 30 feet below. To do this, one must carry a massive bunker that stretches along the cliff from the landing area to the green. The slightest mishit right will end in a low collection area right of the fairway resulting in a challenging approach. The wind coming off the sea is a strong factor here with respect to club selection off the tee.
"Intensity" or the 12th is yet another breathtaking hole; an intense 385-metre par 4 with tees set high above the landing area and green, the golfer must be careful not to be too aggressive as the landing area, 80-feet below is bisected by a natural stream working its way across the fairway and down to the beach.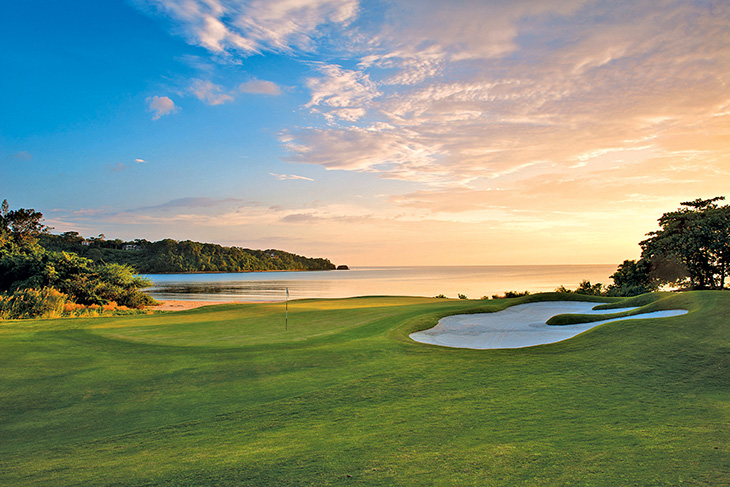 From here, the fairway drops down to the green another 30 feet below separating the beach from the natural hillside; it is the only hole where the golfers can get down to the beach.
Asked for his favourite holes, Ramsey says, there are many. "It is like being a proud parent. It is hard to pick just one. However, I have always gravitated towards the 11th hole. Something about that cliff-top setting and it's the first of the three cliff and beach holes.
On top of that, I enjoy the risk versus reward strategy of a short, drivable par 4. This hole appears harmless due to its length, but it is very tempting to try and drive the green. The views here are some of the best and incredibly distracting."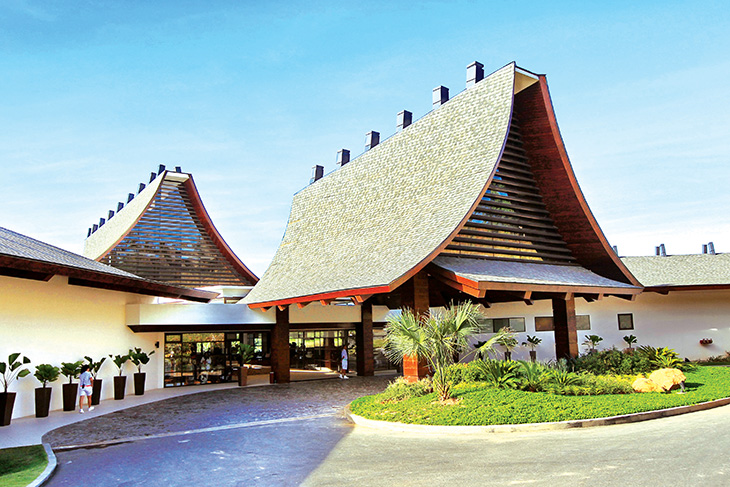 Finishing off a round here, the brand-new clubhouse beckons in a modernist 'Asian Tropical' style enabling golfers to dine in and outdoors, feel soothing sea breezes and enjoy panoramic views over the golf course. With 50 guest cottages or casitas, two restaurants, spa, water sports pavilion, pool complex, gym and health club, and a pristine private beach, it is easy to spend a few days here relaxing to the tune of nature.
Despite being visually striking and intimidating, the golf course fairly challenges all levels of play and provides a mentally stimulating experience for all. "From the tips, it's long and tough enough to challenge tour pros, which is something the client specifically requested – but it's a very playable track from the multiple forward tees we created," says Ramsey. After all, the name Anvaya means family, which means having everyone enjoy the experience here, whatever level they play the game.
Explore more about Anvaya Cove now on www.anvayacove.com.
Erratum:
In the article titled, "The Mountain and the Seaside of Anvaya Cove" published in the May 2023 issue of Golf Asia, we misattributed the article to Benny Teo instead of the actual author, Marie Monozca. We apologise to Ms Monozca for any inconvenience or damage caused by this oversight, and acknowledge her rightful ownership of her work.