16 Jul 2020
By Benny Teo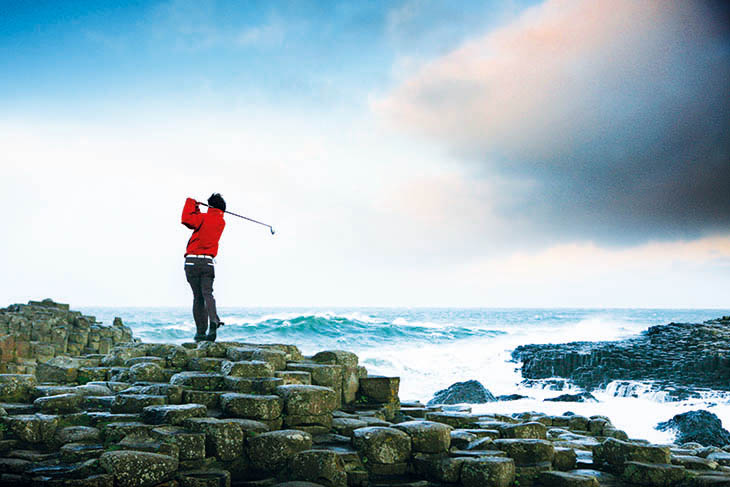 When someone asks why they should holiday in Ireland they are normally given two answers. The 'Craic' or The Guinness. To the uninitiated, that makes Ireland sound like a junkie and drunk strewn hellhole. It is not. 'Craic' is the Gaelic expression for having a laugh. Although, the drunk part largely holds true.
Strange as it may be, craic and booze have long been the main selling points of Ireland. "Where the fun starts," as the Discover Ireland slogan had once enticed; it is now #StayLocal, for obvious reasons.
But back to the 'Craic'. Rather glossing over the fact that, until very recently, the 'fun' could be a stroll in emerald countryside or could involve running for your life, wondering why they've just blown up the Post Office.
As recently as 15 or so years back, I was enjoying a get together in Neds bar, Holywood (famous home of Rory McIlroy). My uncles, father and I were having a pre-dinner pint when the pub phone rang. It was the police. They had been informed that there was to be 'bullets in bars' that day and were passing on the message.
Quietly and quickly, everyone supped up and left. Now, I don't wish to be dramatic. Neds is about the size of a living room. And we strolled home. We didn't clamber into an armoured Jeep. But the point I'm making is the threat of violence. In the wake of a Loyalist funeral that day came the threat of retribution, however misplaced.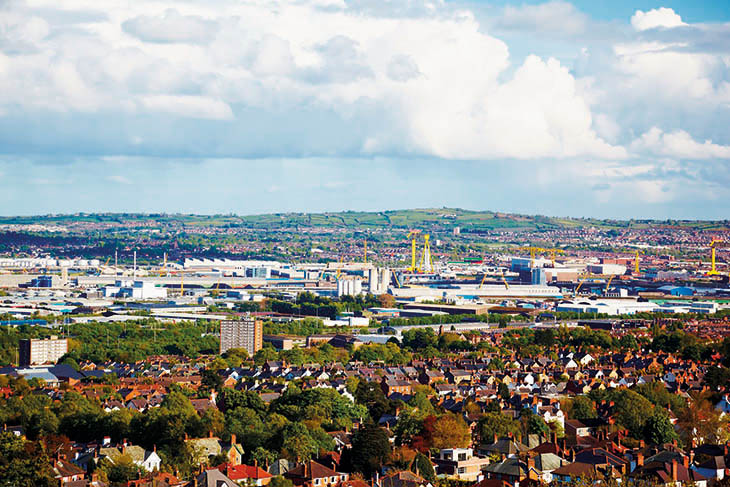 I was reminded of this story when I visited Belfast again, because it seemed so hard to place such mindless violence with the city as it stands now.
The Queen and Barack Obama visited the Republic of Ireland in 2011. Previously, an unimaginable security nightmare. More pointedly, the MTV Europe Music Awards were held in Belfast, Lady Gaga, Rhianna and ColdPlay all performed at the Odyssey Arena. 2011 was a defining moment for the Northern Ireland capital in terms of showing the world how welcoming they can be.
Executive producer, Richard Godfrey, said at the time: "The changes in the city are phenomenal. Artists love playing here. They love staying here. The audiences are brilliant and the hotels are fantastic. There's something very different, unique and special about Belfast."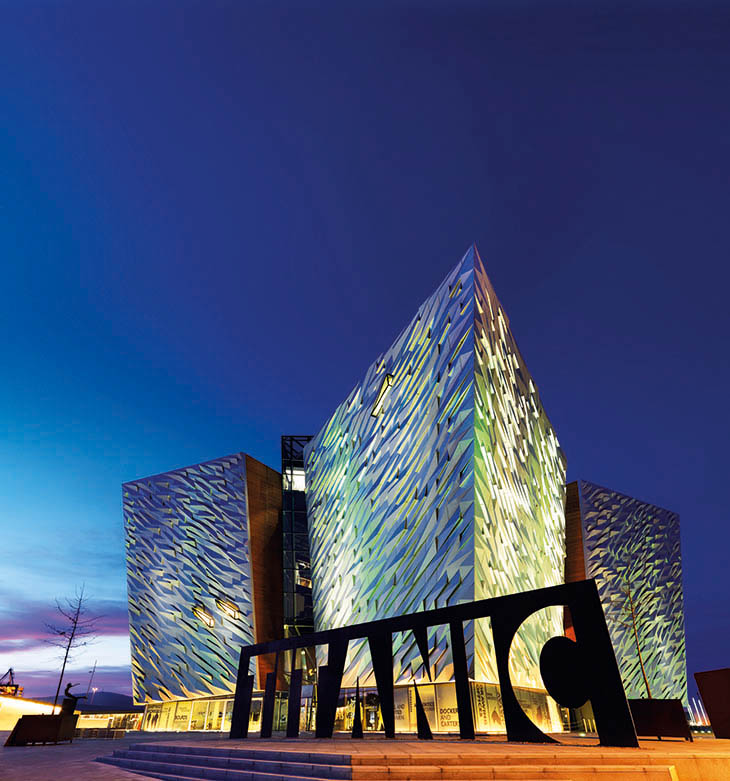 He's right. There is something unique about Belfast. The Holiday Inn I stayed in on the Waterfront wasn't there before. Nothing was. It was a part of town that you drove through quickly and never looked back. Now it's a thriving district packed full of bars, restaurants and hotels.
These were all 'legitimate targets' during The Troubles – a 30-year civil war. Ironic then, that the war which so blighted the landscape and culture for 30 years, has actually allowed a fantastic late blossoming of the city, attracting business headquarters, Hollywood productions, new jobs and a vibrant new culture. To that end I'd recommend taking the infamous 'Black Cab' tour for a first-hand account of some of the history of the area.
And through it all, they've managed to become the world's golfing hotspot and yielded three Major champions with one of them, a current world number one. What's the secret and can we get it? Well, I'm going to find out by testing the good and the great of this wee province.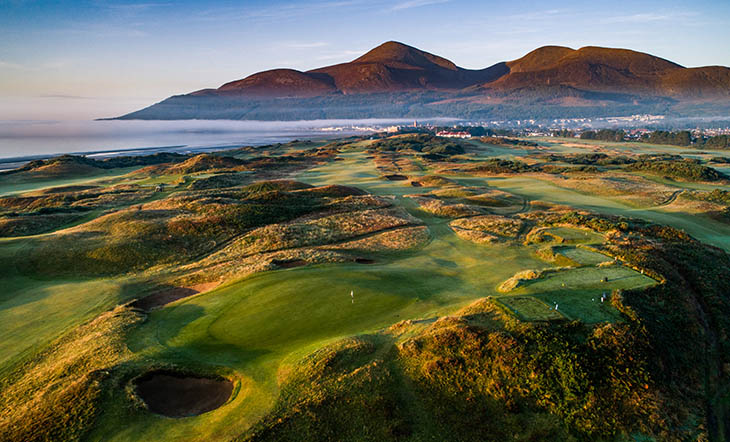 The golf in Northern Ireland is amazing. The weather, sadly, isn't. The day I turned up to Royal County Down they were cancelling football matches and rescuing old ladies from flooded houses. That, and the fact I am literally leaning back into the wind with all my weight and still being held up, should be enough reason to call it off. But a 45mph wind whipping around the Mourne Mountain strangely doesn't deter you.
One glance down the thin first fairway and you know the real grade 'A' 'craic' is out there. What Tom Watson called, "as fine a nine-holes as I have ever played". This course is the craft of some of the greatest minds the game has known.
A sketched layout by Old Tom Morris began it all in 1889, and it was nudged and refined by J.H Taylor, Harry Vardon and James Braid before Henry Colt made some final embellishments that elevated it to today's course. The equivalent would be like taking a painting class with Da Vinci, Michelangelo, Monet and Picasso.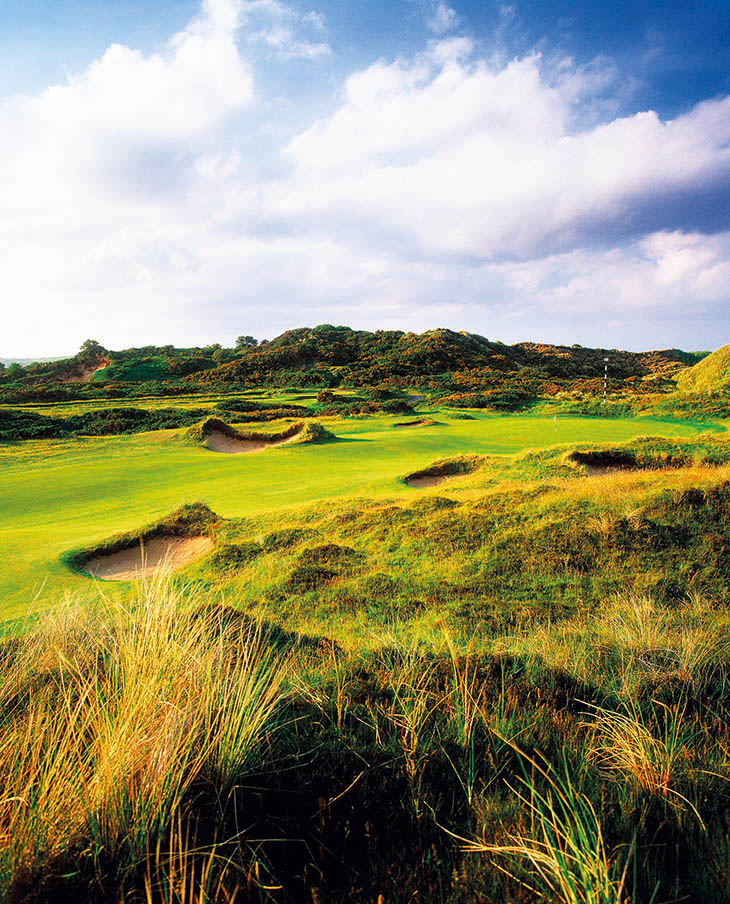 You whistle down the opening bumps and mounds, the gorse tipped banks rise and drown out the rest of the world. They are partly your guide, partly your enemy for the next four hours as you develop a deep-felt lust for closely mown turf that borders on obsessive.
Blind tee-shots fuel this lust as you manoeuvre your way around the course 'fairway and green' occasionally popping your head above the dunes to catch sight of other golfers trying to gamefully do the same.
Then you get to the ninth. A hefty belt you hope sails over the hill and to a fairway beyond it. Upon that hard-earned success you then survey a raised green protected by hillock and sand. It is a par you will speak of forever.
The back nine of RCD I find a more enjoyable experience as it offers more chances for a decent score as well. You still have to abide by your fairways and greens task, but doing so will give you a few shorter irons to bang into the greens, particularly from 12 to 16, before a tough closing par-five offers either an ecstatic or agonising finish.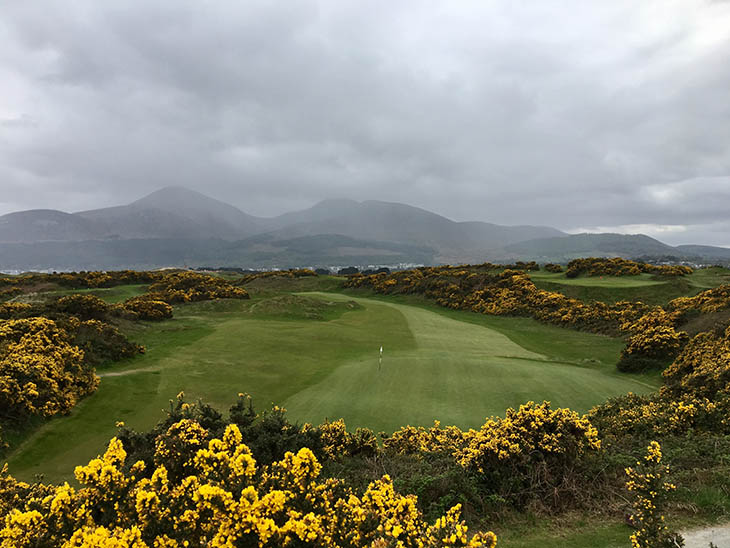 The above is the experience I hope you'll have. On this occasion, I submitted to the elements. My hands froze on the 16th when the hail started pelting and survival became the main game. To give you an indication of how windy it was, my drive down the par-five 12th travelled some 458-yards and I putted my second shot to the green.
I persevered, however. These conditions are the reason that Darren Clarke mastered the Open at Sandwich. They teach you that golf is more than just what your eyes see. It's about what your mind's eye can conceive that makes you great.
RCD is in Newcastle, about an hour's drive from Belfast, but the beauty of Northern Ireland is that you can cover the length and breadth of it in no more than two hours. The downside of that, for us, is the weather is pretty much the same.
We drive through soot black skies in the direction of Bushmills. Whiskey Town. In fact, the first-ever town licensed to distil whiskey. We're headed for Royal Portrush, playground of Darren Clarke and Graeme McDowell that bejewels the Antrim coastline between Bushmills and the natural wonder that is Giants Causeway.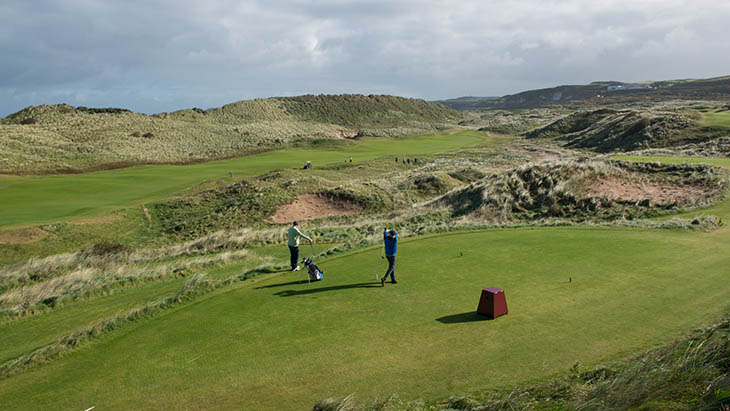 Portrush has been making headlines since Clarke's Open victory. A course he regards as "every bit as good as any venue we play now," he has led the calls to bring the Open back to Northern Ireland ever since.
It was last here in 1951, when Max Faulkner won. It since fell off the rota citing poor infrastructure, though it was bolstered by the announcement of the Irish Open being a roaring success there in the ensuing years from 2013 onwards.
The Northern Irish government pledged to "provide substantial financial backing" to bring the Open back to Portrush. To bolster that intent, they opened a £100m visitor centre at Giants Causeway and sanctioned a new golf course, hotel and housing development to go ahead at Runkerry, next to the Causeway.
The drive to bring the Open back, therefore, looked the part of a broader cultural regeneration programme, one with Clarke, McDowell and McIlroy as its poster boys. Lucky enough to have a championship-ready course at its disposal. When the Claret Jug did return to Royal Portrush for the staging of the 148th Open Championship, it could not have been more of a fairytale ending with Offaly man Shane Lowry's heroics in 2019.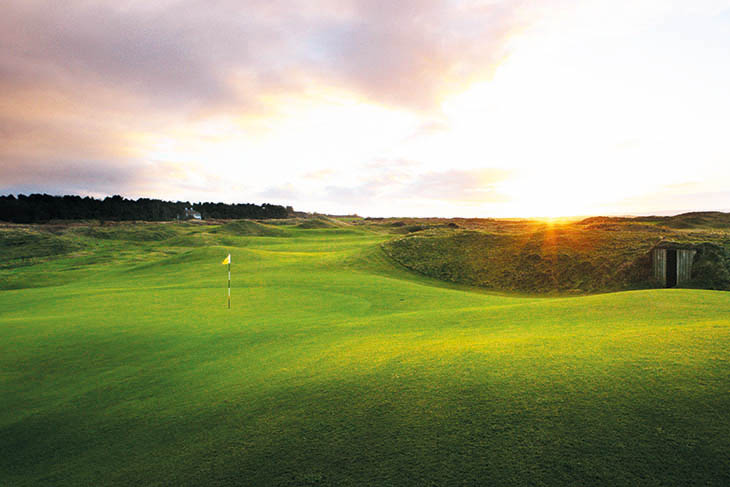 An inauspicious start loosens you up as you stroll down towards the Strand and the fifth tee. There, you'll have a moment that will form the basis of every description you give as to what links golf is like.
It's a view, much like the 10th at Turnberry, 5th at Lahinch, 10th at Ballybunion, 9th at RCD or 17th at the Old Course, that makes you flush with majesty and fear. Mounds of marram grass confront you. Beyond them, a strip of fairway that shimmers in the light. The green seems tantalizingly reachable, but truly isn't. The sea crashing against the Strand for added affect.
I once played Portrush with one of their greenkeepers, Eul. He explained to me the concept of the 'links yard'. The kick or bounce that will work for or against you. There's a lot of 'yards' to discover on Portrush and I learnt of one on this fifth hole, playing for safety where my partners braved the challenge. 'Knowing where the good shots hide,' as Eul described.
My tip to you is that a lot of these good shots hide on the fairway. This is a dazzlingly stupid thing to say, but the course is a lot easier from the fairway. Even in a 25mph crosswind I found a way round with dignity intact.
Taking the more cavalier approach will make for a long afternoon, so enjoy the view and save your best effort for 'Calamity', the 14th. I'll leave the surprise for you to savour. This far in your journey you would have already spent £300 on two rounds of golf. It's expensive. I'd go as far as to say obscene.
The result of the large influx of American golfers you will find being shepherded around. It forces it into that 'once in a lifetime' bracket, that clashes with the warm hospitality of the area.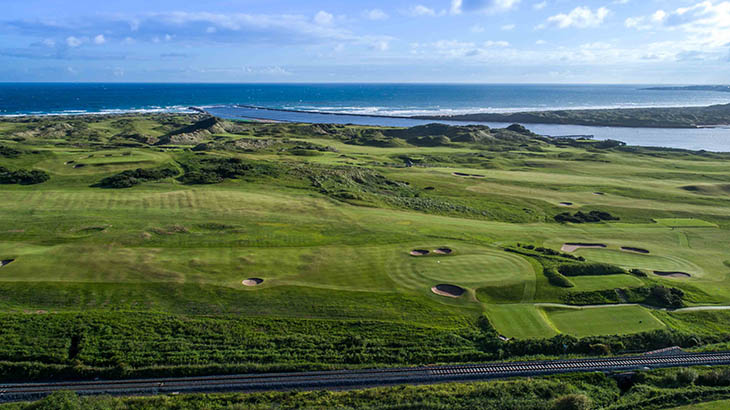 While the limelight shines firmly on its more famous neighbour Royal Portrush, Castlerock Golf Club, dubbed the hidden gem of links golf on the Northern Coast, is every bit as good and should not disappoint. This is one of the toughest links courses around, with some exceptional holes. It sits quietly on the banks of the River Bann and you will not miss out on a glorious time by playing here.
A scrappy start guides you out to the coastal rail line that you follow out before looping back into the Dunes around the river's mouth. Daunting to say the least, visiting them kills your calf muscles, let alone the slim chance that you'll find your ball. Best to focus on staying on the fairways and avoiding the bunkers that Ben Sayers annoyingly sprinkled in all the right places.
Castlerock teaches you 'take your medicine' golf. I found myself often playing short for the chance of getting up and down and focusing on just hitting the glassy greens rather than aiming at pins.
The weather, once again, played an instrumental role in our round, but you come to accept that this is part of the very nature of playing golf in Ireland. When Rory McIlroy blew the Masters in 2011, many questioned his bottle. Unfazed by the psychological impact of that day, he promptly won the US Open by 15 shots. I believe that attitude is cultivated on these courses where a change of wind can turn the sun to hail and a dodgy kick sees a birdie become double-bogey.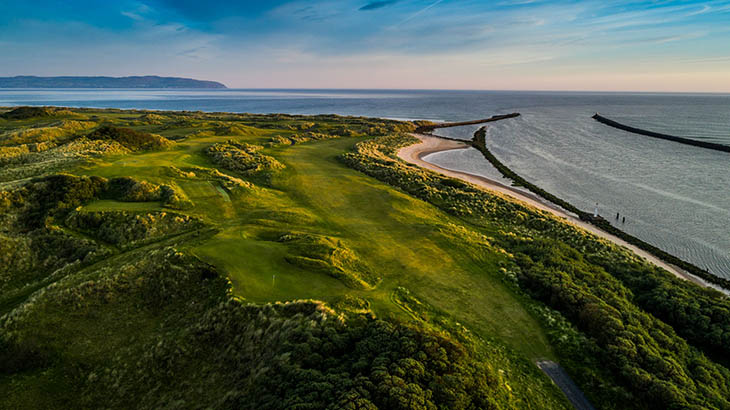 Links courses teach you a refined way of playing the game. The natural amphitheatres of the dunes force you to focus on precision, the cavernous threat of pot bunkers enforce strategy, blind shots force you to trust your swing.
All of these talents are required in the closing stretch of Castlerock as you emerge from the valley, over the ridge and head home. I find the 18th to be one of the most delightful holes I played on this entire trip.
I can't honestly say that I found the secret to becoming a Major Champion on this pilgrimage. However, I definitely did experience a Renaissance. Since the peace agreement of 1995, Northern Ireland has been piecing together elements that will make it a strong and vibrant country.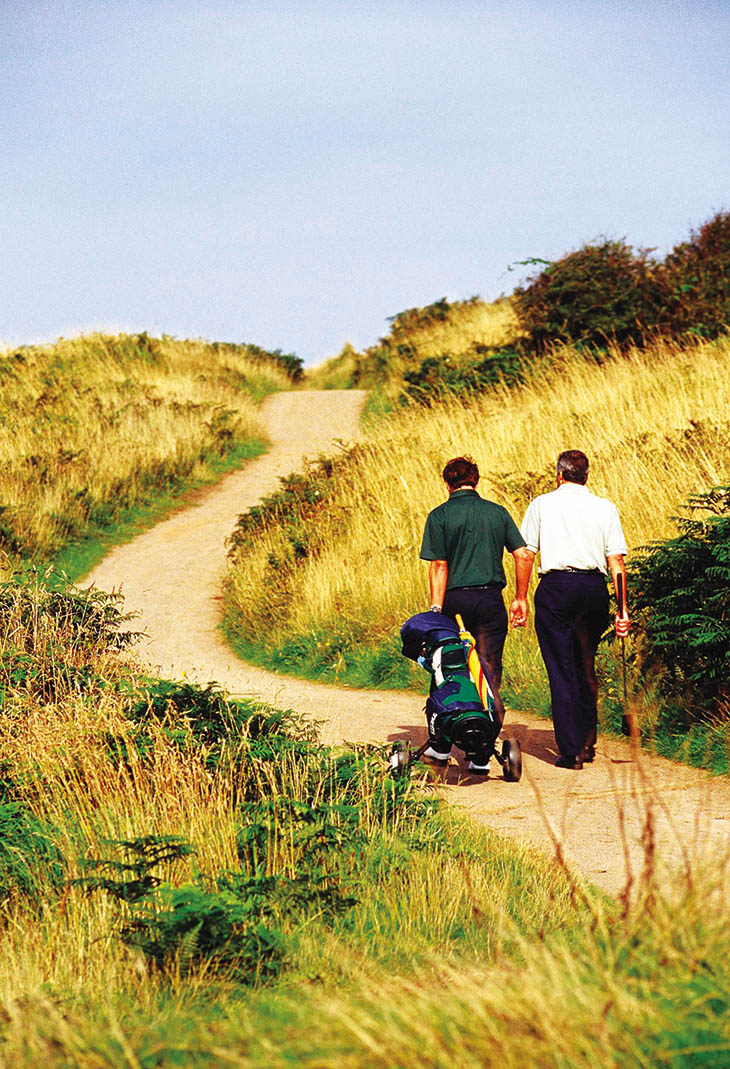 This physical regeneration has given rise to a cultural change. Belfast is a foodie hotspot and the film productions have rocketed here as well. HBO's 'Game of Thrones' was filmed here, for example.
US President, John F Kennedy once said, "the best road to progress is freedom's road." In golfing terms, Ireland's road has always been decorated with fabulous courses, but it was blocked by armed patrols and politics. Now that they have disappeared, the new generation has emerged.
It used to be about the 'Craic' and the Guinness. Now it's about so much more. Go on, enjoy yourself. Preferably in Spring or Summer.
WHERE TO STAY
HOLIDAY INN, BELFAST, ORMEAU AVENUE
Right in the heart of the newly transformed town, this hotel delivers the unfussy treatment required for people stopping in for business or using it as a base from which to explore. There are a lot of restaurants, bars and shops to access in a short walk and the Waterfront entertainment venues are two minutes away.
www.holidayinn.com
BUSHMILLS INN, BUSHMILLS
I cannot sing the praises of Bushmills Inn highly enough. It's a magnificent Irish experience providing comforting rest to travellers since the 19th Century. Open log fires, snug bars, deep leather chairs, deep baths, soft beds and a top notch restaurant make it one of the best boutique hotels in the world.
www.bushmillsinn.com
FOOD REVOLUTION
Northern Ireland's produce is some of the finest you'll find. Locally sourced seafood, some of the finest beef in the world, fantastic local vegetables and a wave of chefs who are taking this wealth of crops and transforming them into some fabulous haute cuisine. It is no surprise that the two biggest employers in the region are a food processing manufacturer and Tesco's, the supermarket.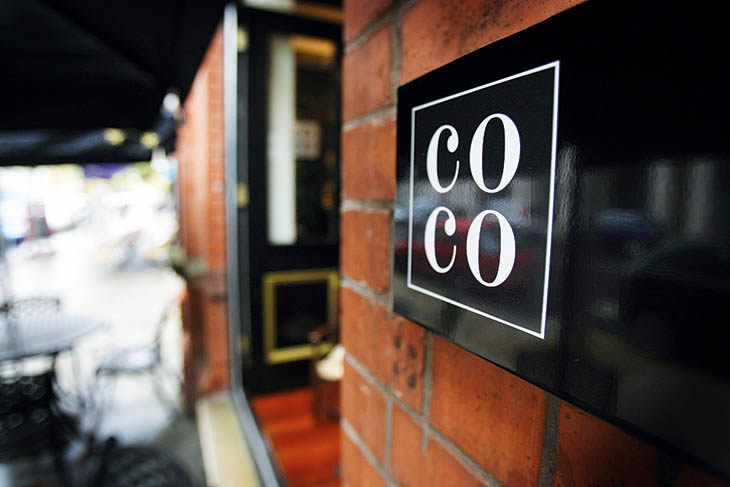 We ate in Coco's in Belfast city centre. Pop art décor mixes with exposed brickwork managing to stay on the chic side of garish and doesn't distract you from the reason you're here. I started with mussels plucked from Strangford Lough, 20 minutes down the road followed by a rump of lamb on a Moroccan theme.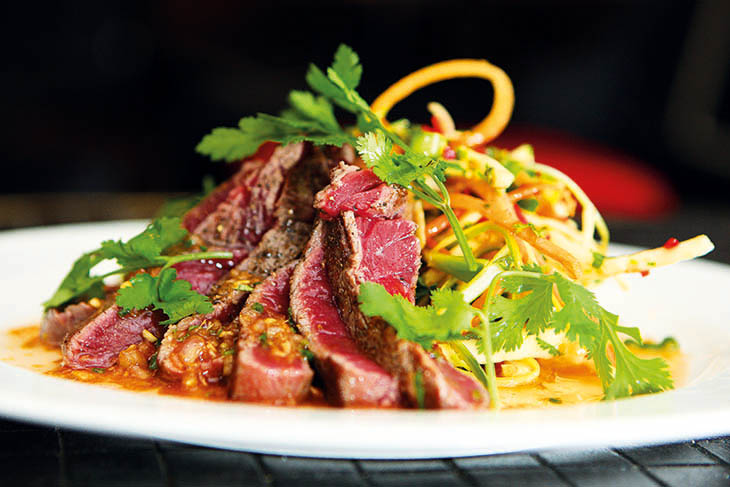 Rare fillet of beef salad 
Both delivered a lightness of touch that allowed flavours to really come through. With such great local produce, all that is really required is to cook well and marry with flavours that allow the central elements to shine. Coco do this superbly, across a broad and global style menu that showcases the ample skill their kitchen holds.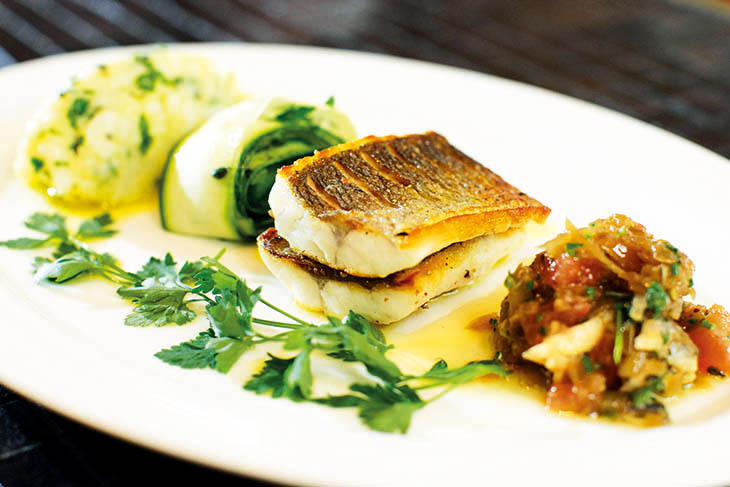 Pan roasted seabass with crushed new potatoes
www.cocobelfast.com