20 Mar 2022
A Classically Luxe Condo In Kuala Lumpur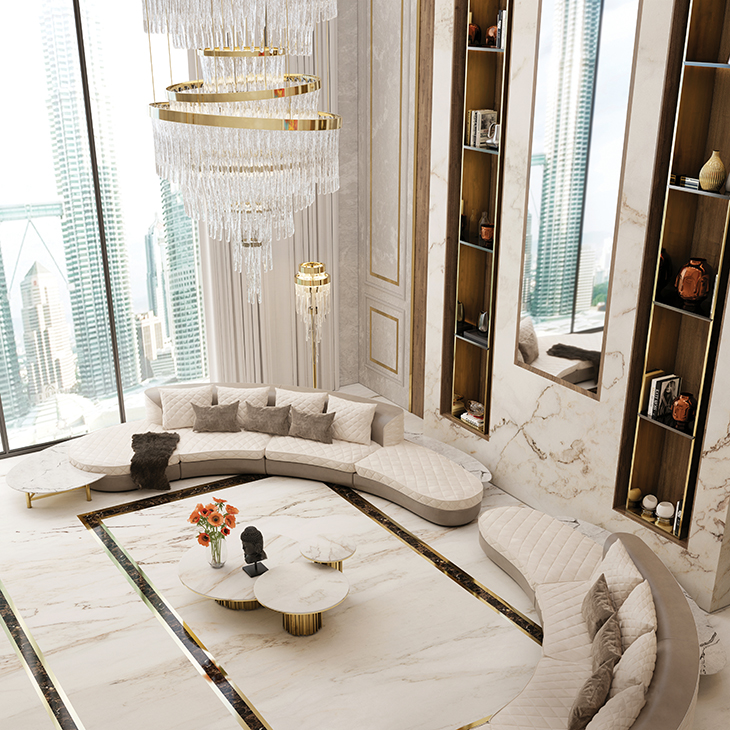 Right in the heart of the Malaysian capital's city centre is a luxury apartment with sweeping views of the skyline punctuated by the silhouette of the famous Petronas Twin Towers.
Befitting its prestigious location, the apartment's interior decor is classically styled in a luxurious combination of marble and gold, materials that have been silent signs of wealth since ancient times. Here, marble's unique veined style, accented by finishes such as rose-gold and bronze, have been reimagined for an elegant and modern décor.
Proof of this is in the opulent entryway with design pieces from Luxxu and PullCast . The impressive Vertigo console, conspicuous and elegant, strikes a dynamic pose, its linearity offset by the round custom Armour stool. On either side, PullCast's Skyline door hardware fittingly reflects the inspiration of the Twin Towers visible in the distance.
The apartment's elevator opens to a great first impression emphasised by the grandeur of the lighting fixtures. Twin Pharo wall lamps pair perfectly with the Empire Square Plafond, lighting up the area with a subtle and sublime glow. The Spear console and the pair of Armour stools add exquisite golden details, enhancing the decor with high-end materials.
A bright and opulent living room, generous in height, allows the grandiosity of the Babel XL chandelier to take centrestage and shine freely while the trumeau wall complements the elegance of the brass inlaid marble floor. Traversing the expanse of the living room is the long custom Senzu sofa, a statement in itself with leather highlights and a curved profile. The integrated side table made of Kenya black marble and stainless steel grants a different dimension to the concept of the living room sofa. The Empire set III centre table in gold-plated brass and Nero Marquina marble continues the theme of the apartment. For the ultimate expression of luxury, the Babel floor lamps emphasise the magnificence of the chandelier with their complementing crystal design.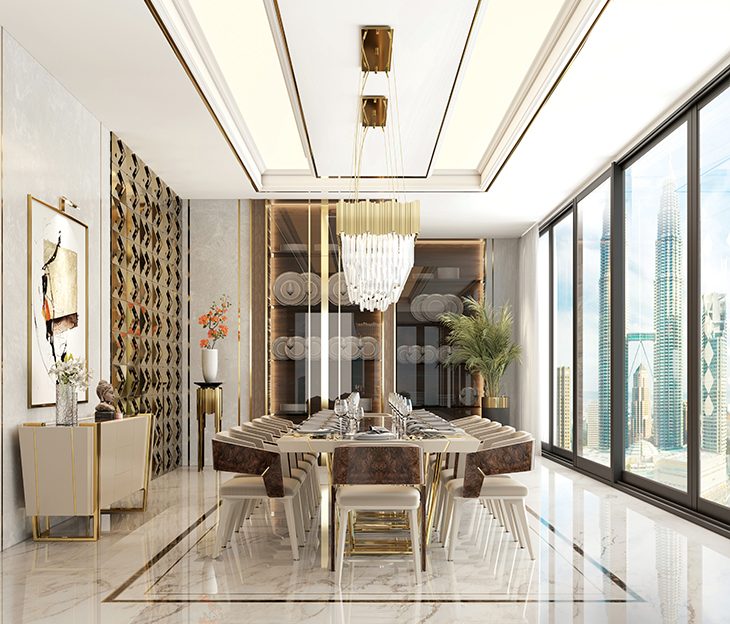 Dining becomes an occasion with the gorgeous Apotheosis XL dining table alongside the sweeping views of Kuala Lumpur's landscape. Seen through the floor-to-ceiling windows during dinnertime, the Petronas Twin Towers adds glamour and is a guiding light in the night sky. Galea II dining chairs blends ancient with modern design in complement to the marble aesthetics of the dining table.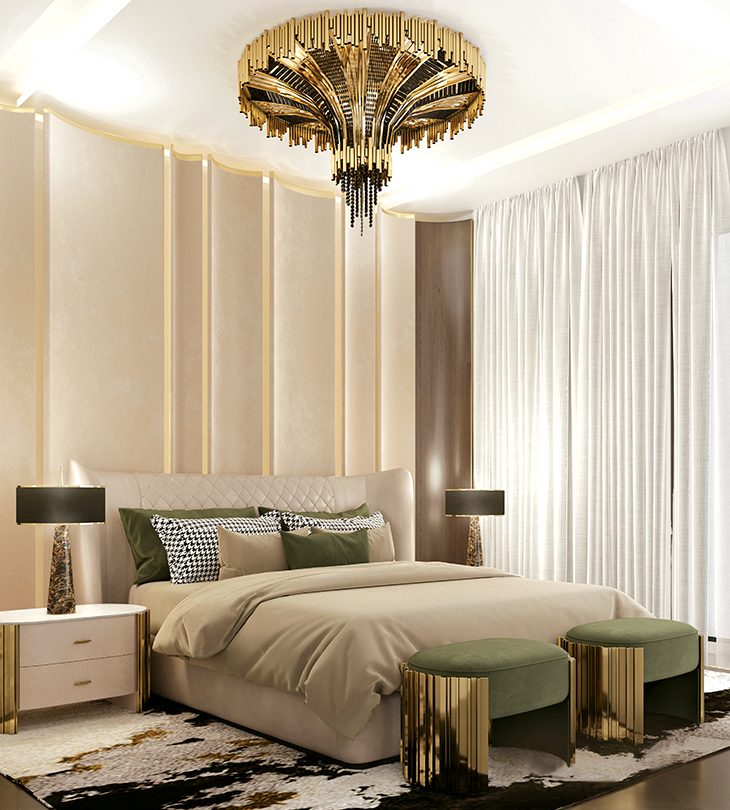 Within the bedroom, there is the softness of pastel shades and the glow of mood lighting that transitions well with the full-length wood panels and complementary carpeting. The one contemporary yet classic concession to opulence is the Scala Plafond lamp of brass and Swarovski crystals descending from the ceiling. The Charla bed, impeccably crafted from grey and black leather is the epitome of comfort and a luxurious night's sleep, an impressive statement highlighted by the curved headboard with quilted detailing. The Empire benches at the foot of the bed sit well with the design of the nightstand lamps.