15 Sep 2023
THE COASTAL REGION OF PORTUGAL'S ALGARVE IS A SENSE-SATIONAL EXPERIENCE FOR GOLF AND THE GREAT OUTDOORS.
by Benny Teo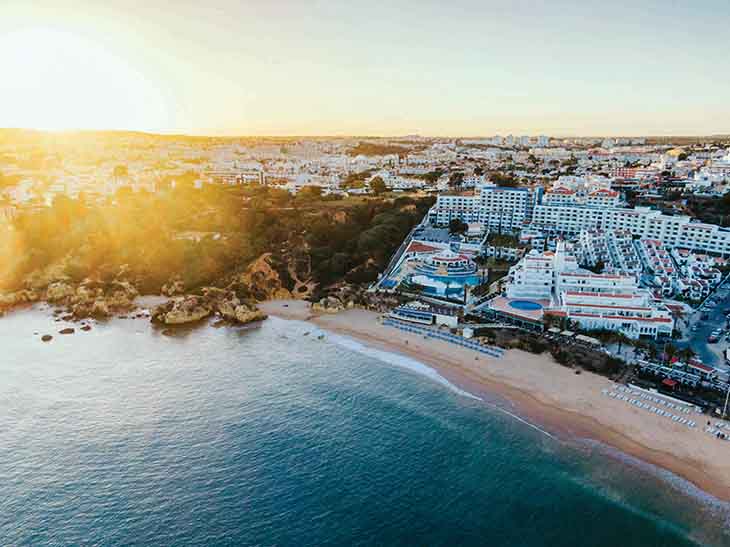 Despite Portugal's small size, the country is perfect for exploring on a family road trip. In the Algarve region, camping is an incredibly popular activity with motorhomes and campervans working their way through the area no matter the time of year.
And given that the Algarve has very little rain from April to October, camping is the perfect way to truly experience the beautiful coastal south of Portugal, where hanging cliffs along the coast or the mountains of Monchique offer many campsites to base your various excursions from.
Apart from good weather, also renowned are the golden sand beaches along 150km of pristine coastline that boast incredible rock formations chiselled out by millions of years of coastal abrasion.
Start your trip from Tavira, arguably Algarve's prettiest town with over 30 churches and famous sites. Sited along the banks of the Gilão River with rows of pretty houses that is a precious blend of Portuguese traditions and Arab influences lining narrow cobbled streets, you can walk to places like the Roman bridge, the ruins of the 11th Century Tavira castle, and Igreja da Misericórdia – a church that was once a mosque, which explains its mix of Gothic, Manueline, and Baroque architecture styles.
Another attraction of Tavira is its tower. An old water reserve transformed into a dark room where panoramic views of the city are projected. It is also strongly advised that you visit the bustling morning market, the best place to experience Portuguese daily life. Tavira has a spectacular coastline of beaches located on sandy islands.
The closest beach to Tavira is Praia de Tavira. It is a heavenly place, connected to the city by a ferry leaving from the port. The shores of the island are ideal for walking and for a family holiday in Portugal, with its calm and welcoming atmosphere.
And just 10 kilometres east are two of the region's finest courses, Monte Rei Golf Resort and Country Club, and Quinta da Ria Golf Course, both offering views of the Atlantic Ocean and the Serra do Caldeirão mountains.
At Monte Rei, you can experience one of the Golden Bear's finest collection under his 'Signature Course' umbrella, numbering just a handful around the world.
Check in at one of the many spacious villas dotted around a centralised clubhouse with swimming pools and tennis courts and enjoy a luxurious stay while you golf.
The course features an abundance of water hazards and very alluring yet deadly bunkers. Its Par 4 13th hole ranks high as a favourite with a downhill drop to a lakeside green. A 400-yard hole that rolls all the way down to the lake, its undulating surface will make putting a difficult task.
Walking to the next hole will open up to the course's prettiest hole – the 14th – which is a medium-length par 3 of 180 yards that hugs a lake all of its left, requiring a precisely hit tee shot to avoid a watery grave.
The finishing 18th hole is a 500-yard par 5 that doglegs to the right with a green protected by a lake. This is a cracking finishing hole and one that lulls long-hitters into big drives but then requires a precise
second shot into the green.
If you have more time, hop over to Quinta da Ria and play its Ria and Cima courses. Perfectly integrated into the Ria Formosa Nature Reserve comprising a line of barrier Islands along the coast, it's unsurprising to come across various animals during your round.
The Ria course is a natural habitat for wildlife. Built into the relatively flat natural landscape with thousands of ancient olive and carob trees, the iconic point at Quinta da Ria is the 17th hole, which has a small island on the lake that also functions as a sanctuary for endangered and rare birds.
But the crown jewel here is Cima, the Championship Course with wide fairways, well-placed bunkers and
several lakes and streams which calls for a good deal of precision play. The water hazards of the course and the long fairways emphasise the need for a good club selection, challenging even the most experienced players.
From Tavira, head west towards Faro to the old town of Lagos, which is larger than Tavira but no less picturesque. Before that, make a pit-stop to the largest collection of golf courses in the region with as many as 12 within close proximity of each other.
The first of these, Quinta do Lago, not only owns three superb 18-hole layouts but also top class facilities like the Paul McGinley Golf Academy and Southern Europe's only TaylorMade Performance Centre.
The North Course was totally redesigned in 2014, by renowned architect Beau Welling, in conjunction with former European Ryder Cup captain Paul McGinley. The new layout has been rebuilt to the highest specifications, with all the greens, tees, bunkers, cart paths, as well as irrigation and drainage systems done using innovative technology. Four sets of tees have been introduced on each hole to accommodate players of all levels. Golfers are challenged by a combination of undulating greens, well-positioned bunkers and water hazards.
Then, its South Course is regularly included in Golf World's 'Top 100 Golf Courses in Europe'. The par-72 layout is widely praised for its strategically placed hazards and varying difficulty across the 18 holes. Having hosted the Portuguese Open on no fewer than eight occasions, this is definitely a course not to be missed.
And finally, the Laranjal course, designed by Jorge Santana da Silva, is situated in the grounds of an orange grove. It was named 'Portugal's Best Golf Course 2011' at the Portuguese Travel Awards, and also poses a serious test for players.
Parked at the edge of the Quinta do Lago estate with fairways sown with Bermuda grass, this 6,480 metre-long track features distinctive rolling terrain that is long, wide open, and perfect for big hitters. The 9th is a beautiful Par 5 with water protecting the green but be prepared for the 7th, which may be the longest Par 3 in the country. At 236m from the pro tees, it is a stretch to reach the green in one.
If time is on your side, this golfing mecca offers up Vale do Logo and Dom Pedro. The first is home to two 18-hole courses and the next has a total of six golf courses.
One of Algarve's oldest golf resorts, Vale do Logo is an original that has gotten a spectacular makeover. Also known as "Valley of Wolf", it was first built by Sir Henry Cotton in the 1960s, but his original layout is now split to become parts of the Ocean and Royal courses.
At the Royal, the cliffhanging Par 3 7th hole from the original is now the 16th in its current incarnation and remains a breathtaking experience with the beach and ocean to its left. The 18th is a tricky hole on which to finish, with its narrow fairway and a deceptive green.
Though the prime real estate is given to its sibling, the Ocean course has loads to offer too. At Par 73, it starts with a long opening hole that meanders its way to a picturesque 9th with waterfalls flowing from fairway to green. Then onto the 11th and 14th where the greens seem to be floating in the ocean, before arriving at the beautiful 15, a par 3 along the beach. Coming here is akin to playing in a divine-given land.
Then, there is the former Vilamoura courses, now called Dom Pedro. A truly magical destination for all, Dom Pedro is well served by six top quality golf courses – Laguna, Millennium, Pinhal, Old, Victoria, Vila Sol and Pine Cliffs – all within a 5-minute drive from each other.
Just 30 minutes away from Faro Airport, at its centre is the energising Vilamoura Marina offering superb bars and restaurants serving gastronomical cuisine from local Portuguese dishes to international favourites.
While all of its courses are very playable and range from parkland to links-style layouts, the jewel of this crown is the Victoria course, considered among the finest in Europe, having hosted the Portugal Masters since 2007.
Relatively flat yet undulating with huge fairways and greens, it is tough to get near the pin when the oceanic winds blow in. Extensive water hazards at the back nine and cleverly positioned bunkers make strategic play imperative to making par here.
The 7th is a very long Par 4 with a small lake in front of the tee where the wind is normally against, but it is the back nine, particularly the final two holes, where championships are won, or lost.
If by any chance you're able to peel yourself out of this slice of golfing heaven, continue onwards to Albufeira, a coastal town with a slew of lively restaurants and vintage shops.
Here, you will enjoy marina living, and for sun-worshippers, there is a string of small sandy coves further afield with remarkable rock formations that have been eroded by the Atlantic swell into a network of stacks, arches and caves.
The beaches of Praia dos Arrifes and Praia São Rafael are created by the sea breaking through one such cave to create a secluded cove hidden behind a cliff, providing a perfect respite for a quiet afternoon of contemplation.
After the idyllic life of the bay, finish up your trip at Lagos. This strikingly picturesque and historic town is set within parts of the original remaining walls. A UNESCO World Heritage site that dates back to the 12th Century, today it fuses old-world charm with lively bars and restaurants along narrow streets.
While in Lagos, two golf resorts are a must-visit – Palmares Ocean Living and Golf Resort and Boavista Golf and Spa.
The 27-hole Palmares Golf Course has been totally transformed by the American course architect Robert Trent Jones Jr. who has created a mixture of parkland and links along the side of a south-facing hill overlooking the Bay of Lagos.
It is easy to see why Trent Jones Jr. built it this way. There are three 9-hole circuits, namely, the Alvor Course, the Lagos Course, and the Praia Course. Starting from forested land above, the thus-named Alvor runs through woodland and winds its way towards the beach with lovely views of the Alvor Estuary, while the Lagos nine takes the player even further down. The final nine holes are located on the actual beach among sand dunes.
Whichever nine you play, the sights here at Palmeres are always breathtakingly stunning. A high-end residential resort, this is prime real estate that combines villas and apartments with a hotel and clubhouse, all with an eye on the 27 holes of beauty on its property.
And finally, we come to Boavista Golf & Spa, a luxurious escape unlike any other. Its accommodation is the unique Bela Colina Village, renowned as one of the most prestigious holiday destinations in the Western Algarve.
The local area is defined by a spectacular coastline with azure seas and sandy beaches framed by naturally sculpted limestone rocks which have formed magnificent caves and grottos. Exceeding all expectations, Bela Colina Village's luxury accommodation affords magnificent views of either the pristine waters of the Atlantic Ocean or the rolling Monchique mountains.
Each well-furnished townhouse provides two double bedrooms and living areas. Guests have direct access to the heated pools and leisure areas set in private landscaped gardens amongst palm, olive and almond trees, and it's perfectly manicured 18-hole golf course.
Preserving the natural lay of land, the Boavista layout by Howard Swan of Swan Golf Designs features two distinctive segments, the Resort Section (the 1st to the 3rd and the 13th to the 18th) and the Country Section (the 4th to the 12th), offering a variety of attractive and interesting holes, starting with the first hole, a meandering downhill Par 4.
This is followed by the Par 3 6th which requires a tee shot over a natural ravine, and then its signature 7th hole, set against a glorious backdrop of the Atlantic Ocean with stunning panoramic views.
At the back, lake holes 14, 15 and 17 provide an intriguing array of water features, with a replica of St. Andrews' famed Swilken Bridge found on the Old Course.
Golf at the Algarve is one of the best in Europe, and it is certainly not an exaggeration. The slew of scenic backdrops, historic monuments and great dining and entertainment make for perfect holiday golf.