16 Sep 2022
A Primal Culinary Journey Where Land Meets Sea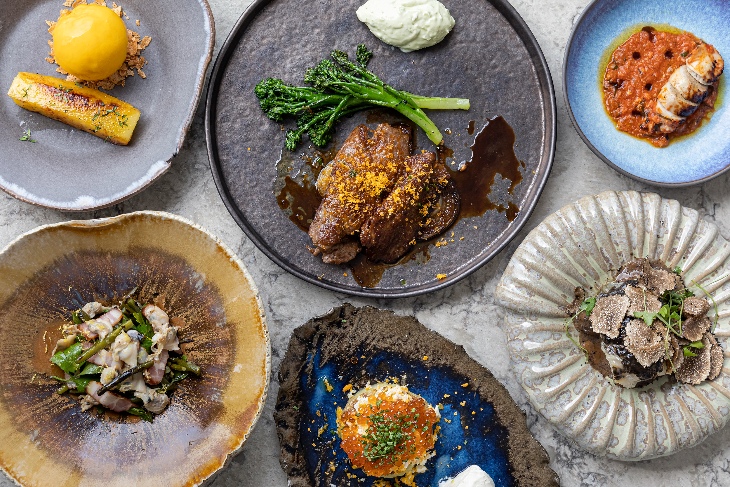 Bedrock Origin's The Great Beef & Reef Series returns in celebration of the best bounty from land and sea, showcasing primal culinary techniques such as dry ageing and curing, as well as grilling and smoking with woodfire to elevate the flavours of hand-picked seafood and meats.
Until end of November, embark on an epicurean journey with a 6-Course dinner tasting menu either with or without caviar, and the option of enhancing the experience with Château du Pommard in a 3-wine or 6-wine pairing.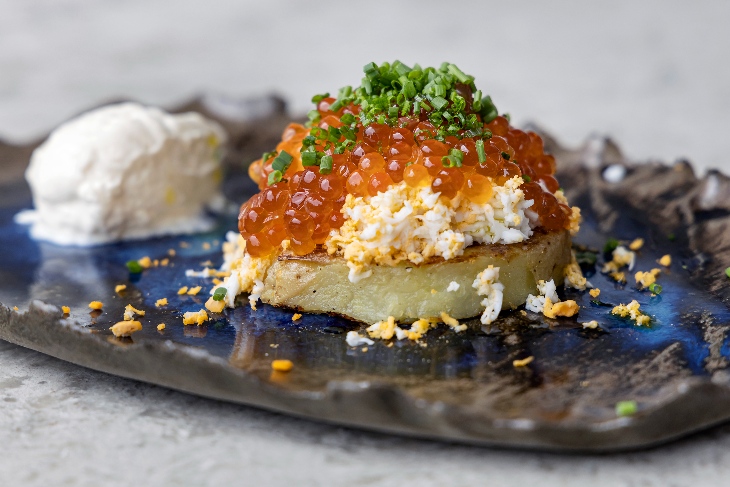 First to the table is Smoked Salmon Roe or Caviar atop smashed Yukon potato, chopped boiled eggs, and sour cream. Cold smoked with applewood, choose from savoury salmon roe or the Smoked Kaluga Caviar with a silky, buttery texture and brightness that complements the moreish potato cake and eggs. This appetiser is best paired with the Bourgogne, Chardonnay, 2019, which carries floral and mineral notes on the nose, peachy aromas, and citrus notes.
Clam & Smoked Bacon Salad sees clams cooked in white wine and sous-vide bacon in a salad of parsley, celery leaf, and grilled garlic chives, then drizzled with a clam vinaigrette of emulsified white wine clam juice with a touch of lemon juice and zest. The crisp and full-bodied Château de Pommard Meursault, Chardonnay, 2018, redolent of tropical fruits and vanilla alongside the rich, creamy notes of honey and amber rum pairs perfectly with the salad.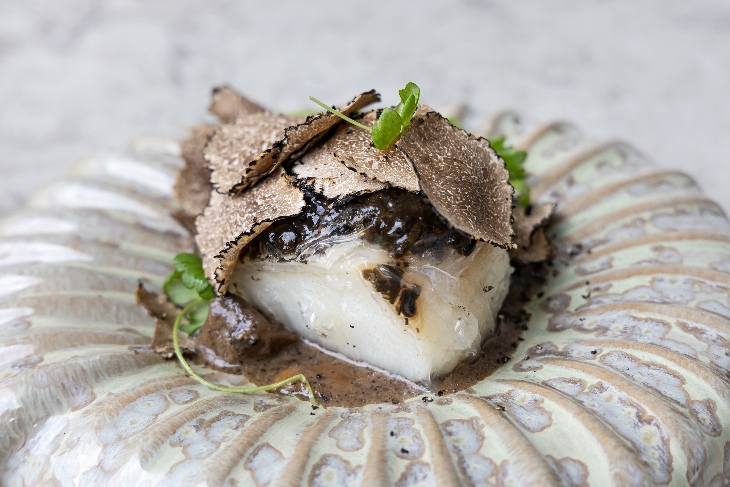 Relish in the Kombu-Cured Chilean Seabass, a testament to Bedrock Origin's culinary expertise and a standout on the tasting menu. Chilean Seabass is prepared kombu-jime – cured with layers of kombu to intensify the fish flavours while infusing it with the briny umami taste of the kombu. The rich-tasting seabass, coated in black olive paste and steamed in delicate Vietnamese rice paper, is complemented with a fresh porcini mushroom and truffle sauce, and finished with Italian black summer truffles and micro greens. Pairs well with the intense and full-bodied Château de Pommard Puligny-Montrachet, 2017, brimming with aromas of acacia, green apples, and notes of honeysuckle and flint.
The Applewood Grilled Whole Squid sees whole baby squid stuffed with Italian fennel sausage braised in a house-made tomato sauce. Best enjoyed while sipping on Château de Pommard, Bourgogne Pinot Noir, 2019 with velvety tannins, and notes of ripe black fruit, peony, rose and nuances of spices.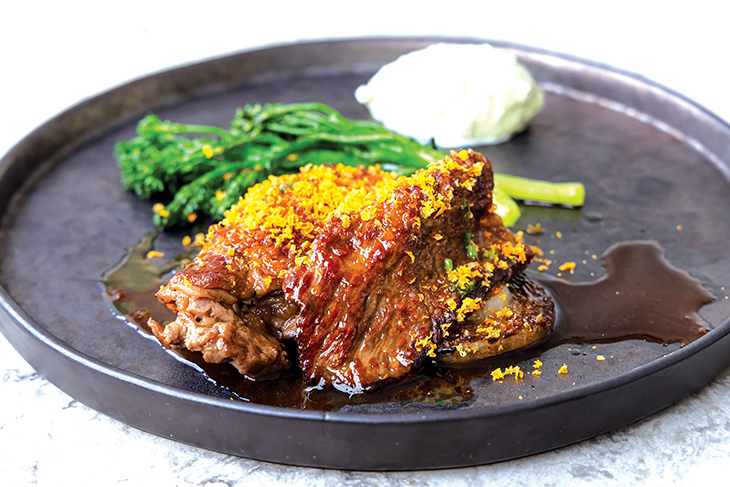 Another star on the tasting menu is the 21-Day Dry-Aged Miyazaki Wagyu Ribeye, seared with a savoury house-made sukiyaki sauce, topped with grilled onions and served alongside grilled broccolini. A nod to the raw egg dip in sukiyaki, cured egg yolk is grated over the beef and served with wasabi cheese cream. Hand-picked to perfectly pair, the Château de Pommard Volnay Premier Cru, 2017 is a Pinot Noir with a profile of peonies, strawberries, raspberries and cherries on the nose, and silky-smooth tannins with notes of pomegranate, vanilla, and cinnamon.
Caramelised Pineapple brings a sweet note to the night. Sous-vide with caramel syrup and grilled with black pepper and fresh thyme, the subtly spicy ripe pineapple is presented with refreshing mango sorbet on a crushed feuilletine to conclude the gastronomic meal along with Cockbun's White Port, a sweet and dry port wine with crisp flowery aromas evocative of a summer evening.