04 Sep 2022
10 Tour-Inspired Mallets Feature Cameron's Greatest Designs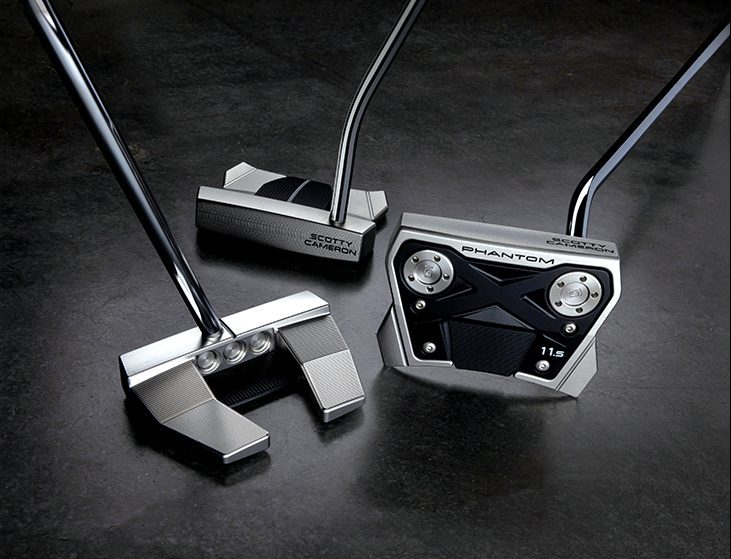 Famously known for his Newport and Newport 2 putters, Scotty Cameron was thought of as more of a blade designer some twenty years back. It drove him crazy when he was told he couldn't be great at everything. Today, Cameron says: "Now I'm designing blades and mallets and couldn't be happier."
For 2022, Scotty Cameron's most high-tech putter, the Phantom X, has evolved into a 10-putter line featuring entirely new head shapes as well as updates to popular models. Apart from a new textured grip, graphics and premium styling, Tour-preferred milled 303 stainless steel face construction carries through to nearly every model.
New designs prompted by overwhelming response have led to Scotty redesigning the Phantom X 7 and 7.5 models and creating the brand-new Phantom X 9 and 9.5. Model refinements include the Phantom X 5, 5.5, and a straight-shafted Phantom X 5s; the Phantom X 11 and 11.5; and the Phantom X 12.
"With these new Phantom X mallets, I have the benefit of the past few years of input from players and a line that's already established on Tour. The 2022 Phantom X mallets feature the 'greatest hits' of what we've developed – the solid stainless-steel faces, the new necks, the new shapes – rolled out in high-end, premium precision milled mallets designed to inspire us all to play better. I believe there's a putter in this line that will appeal to just about every mallet player."
– Scotty Cameron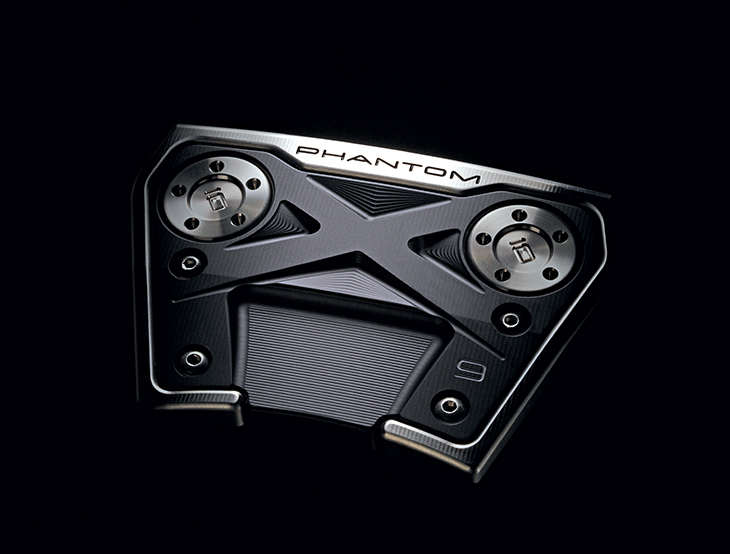 Each new Phantom X putter is an integration of steel and aluminium, with nine of the 10 models engineered with a solid, precision-milled 303 stainless steel face and body that's fused with a 6061 aircraft-grade aluminium sole and flange – this produces performance and playability with a consistent sound and soft feel. Only the Phantom X 12 employs an aluminium face/sole with stainless steel wings for maximum MOI, while its slimmed down flange section and extended alignment create a longer-looking, easier-to-aim update to the prior model.
Designed with tour feedback and validated with multiple victories worldwide in 2021, the new Phantom X mallets also feature sleek putter head profiles, refined alignment cues, high durability finishes, and specific shaft and neck configurations.
The refreshed Phantom X 11.5 will continue to feature a low-bend stepless steel shaft installed over a milled topline spud, while the updated Phantom X 7.5 and all-new Phantom X 9.5 will employ small slant/jet necks like the recently revamped Phantom X 5.5. The Phantom X 5, 7, 9, 11 and 12 models each have a stepless steel shaft engineered to minimise face rotation with a single mid-bend aimed directly down the target line. The Phantom X 5s has a straight stepless steel shaft installed near the centre point of the topline with zero offset.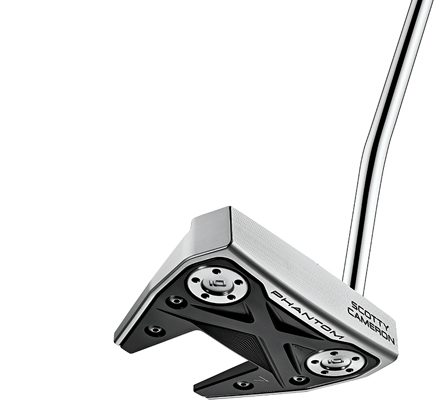 Phantom X 7
Introduced as the 2021 My Girl Limited and updated for 2022, this angular wingback mallet with a single bend shaft includes dual-purpose alignment features and a new sole plate design. Its long, sharp wings not only create alignment value but reposition weight farther back, increasing stability and MOI.
Phantom X 7.5
Identical to the Phantom X 7 but with a small slant/jet neck to promote slight toe flow, the all-new angular wingback mallet shape has enhanced alignment options in its longer, sharper wing design.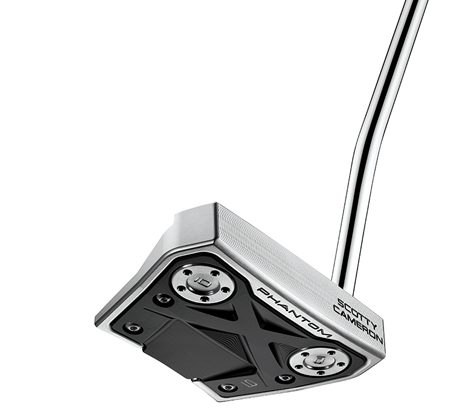 Phantom X 9
Inspired by the Phantom X 5 and 11 shapes, this all-new near-face balanced compact wingback mallet features a rounded aluminium flange-sole for a unique profile with simple alignment cues, a "connected" or "solid" look at address, and modern appeal.
Phantom X 9.5
With its small slant/jet neck, this is the follow-up to the 2021 Phantom X 9.5 Triple Black Limited. This brand new high-MOI mallet features a unique profile with enhanced alignment features and toe flow.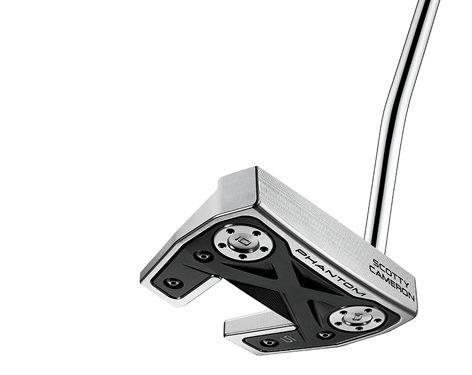 Phantom X 5
Updated with a new sole plate design and graphics, this Tour-proven, near-face balanced mid-mallet with a single bend shaft returns with a precision milled face of stainless steel, an updated aluminium sole plate and customisable sole weights.
Phantom X 5.5
The small slant/jet neck setup inspired by Justin Thomas' prototype gamer retains all the best of what made it popular and returns as the latest Phantom X 5.5. Also available left-handed.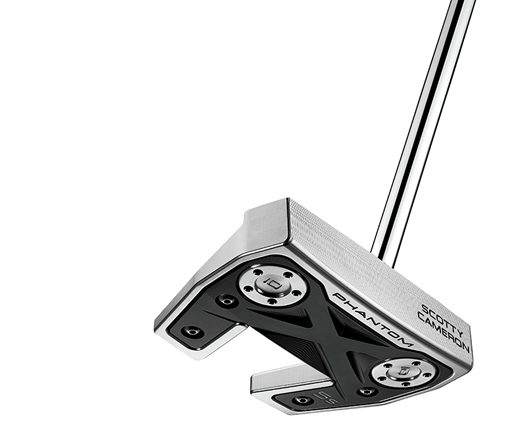 Phantom X 5s
The wingback mid-mallet shape is now straight-shafted with a milled topline sight line, for players favouring a straight-back-straight-through putting stroke and zero offset.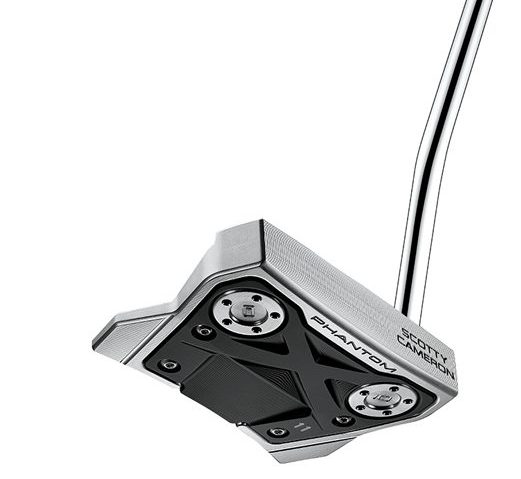 Phantom X 11
With an updated X sole design and new graphics, this high-MOI face-balanced wingback arrives with a mid-bend shaft and simple alignment cues. Sharing design similarities with the X 12 and X 5, the Phantom X 11 adds a new option for high MOI and stability in a more compact shape.
Phantom X 11.5
Identical to the Phantom X 1, the new 11.5 features a different low-bend shaft for slight toe flow in a more compact shape with simple alignment cues.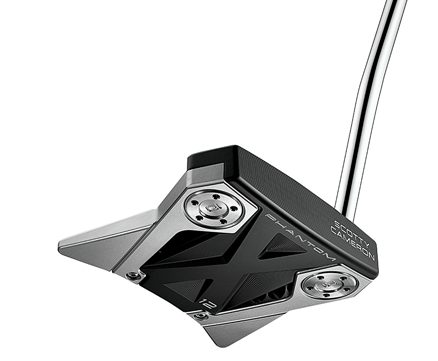 Phantom X 12
Redesigned with a single continuous alignment line, a thinner mid-section profile and new graphics, this is the highest MOI Phantom X. With its single mid-bend shaft, aluminium face/body and precision milled steel wings, this mallet promotes forgiveness, superior sound and feedback. Available left-handed.
All Phantom X putters feature advanced stability weighting with two customisable stainless-steel heel-toe weights and stepless steel shafts. The updated non-slip Pistolero Plus grip has less taper in the low hand for the ideal combination of size, feel and feedback.
Finishing on the steel putter heads include Scotty's silver mist process for a radiant, yet glare resistant appearance and texture. The aluminium components have been misted and anodised black. Scotty's three-dot theme are milled into the back cavities of the Phantom X 5, 5.5, 5s, 7 and 7.5 as unpainted raw circles. The sight lines on the Phantom X 5, 5.5, 5s are painted black, while sight lines on the Phantom X 7 and 7.5 are a combination of black and white lines. The Phantom 9, 9.5, 11, 11.5 and 12 models' have sight lines in light grey.